Making Christmas Memories
December 14, 2022
For more holiday ideas visit these special sections in this issue :
Be sure to scroll to the bottom to enter the contest and see the freebies of the month!
---
Mercy Every Minute
Deborah Wuehler, TOS Senior Editor
Making Christmas Memories
Is it beginning to look like Christmas at your house? With a little decorating, it is starting to look better here except for the kitchen. The dishwasher decided to flood under the flooring without our knowledge so now we are in the middle of demolition for a remodel. With family and guests arriving to host and feed, I could easily become stressed at the demolished work space, but I have been through home improvements before and have learned to let my high ideals go, humble myself, and enjoy the real people the Lord brings to our home. The beautiful part is that I have a new kitchen to look forward to when this is all done. For the joy set before me, I can endure the mess.
What does this have to do with Christmas?
Christ came to our mess, to rescue us in our sorry state, to demolish and do away with the old, and to make us brand new. What an amazing gift!
Over these 20 years, The Old Schoolhouse® Magazine has had the gift of amazing authors speaking on the holidays, gift giving, food, and more, and we'd like to share some of these with you.
Giving Gifts from the Heart – learn how to redefine the perfect gift.
Gifts Preschoolers Can Make – Creating holiday fun with the littlest ones.
The US History of Celebrating Christmas – Enjoy your own traditions or ones borrowed from the past.
The History of Holiday Food – What is the history of fruit cake, ginger bread, the candy cane, and more?
Enhancing Christmas for Active Learners – give the gifts of time, creativity, and knowledge.
Learning Through the Holidays – Make enjoying the holidays a wonderful educational experience.
Real Men Do Christmas! – Don't miss out on one of God's greatest gifts to fathers—Christmas!
7 Ways for Dad to Teach Spiritual Lessons – Children remember when dad is involved in their lives.
Rewriting Holiday Traditions – Sometimes, we have to leave room for embracing new traditions.
Start an Advent Study – It's not too late to start this Christmas study written with your family in mind.
Make a Graham Cracker Nativity – Instead of making gingerbread houses, try making the scene of the birth of Jesus!
The list would not be complete without a holiday Hey, Mama! – Gena Suarez talks about balance in the Christmas season.
And what is more fun than making memories with kids in the kitchen?
Here are two recipes to try for your own holiday preparations.
Molasses Crinkles
Ingredients
¾

cup

soft butter

1

cup

brown sugar

1

egg

¼

cup

molasses

2 ¼

cups

flour

2

teaspoons

baking soda

¼

teaspoon

salt

½

teaspoon

cloves

1

teaspoon

cinnamon

1

teaspoon

ginger
Instructions
Preheat the oven to 375°.

Mix butter, sugar, egg, and molasses.

Mix together the dry ingredients, then stir them into the butter mixture.

Chill one hour.

Roll the dough into balls and dip the tops in sugar.

Place the sugared side up on a greased cookie sheet.

Sprinkle each cookie with 2 or 3 drops of water.

Bake 10 to 12 minutes.
Aunt Sylvia's Apple Crisp
Ingredients
4-6

cups

peeled and sliced apples

⅔

cup

brown sugar

½

cup

flour

½

cup

rolled oats

1

tsp.

cinnamon

¼

tsp.

nutmeg

⅓

cup

softened butter
Instructions
Grease an 8x8x2 square baking pan or round pie dish.

Place sliced apples in prepared dish – fill pan up with apples as they shrink some.

Mix all remaining ingredients together until you have crumbs. (We double this because we like lots of crunchy sweet topping.)

Pat down the crumb mixture on top of the apples.

Bake until a nice golden-brown color and apples are tender—about 30 minutes.

Serve warm with vanilla ice cream for dessert or plain for a breakfast treat.
May the LORD richly bless your holiday celebrations and traditions. Remember the incredible grace of God to rescue us from ourselves and our despair. His idea of redeeming mankind came in the form of His grace. And grace came in the form of a child born for our redemption. And His name shall be called, Jesus! May your family worship Him and enjoy Him this Christmas! All the staff here at The Old Schoolhouse® celebrate Christ with you this holiday season.
~ Deborah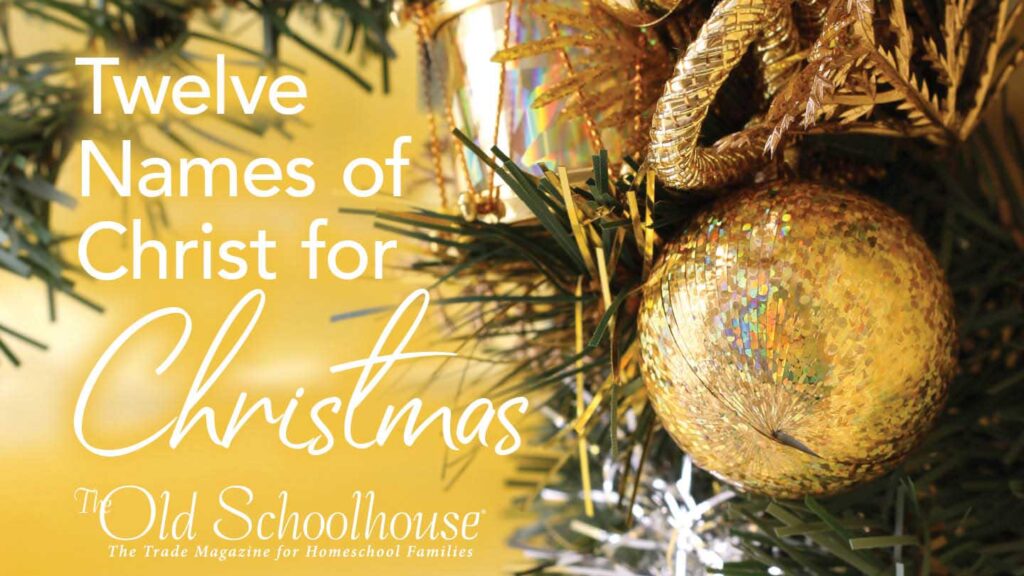 Twelve Names of Christ for Christmas! Celebrate Christ by learning to treasure the gift of His Name this Christmas. Twelve days; twelve names: Wonderful, Counselor, Mighty God, The Everlasting Father, The Prince of Peace, Emmanuel, Savior, Jesus, The Lamb of God, The Light of the World, The Good Shepherd, and The Alpha and Omega. A twelve-day family Bible reading plan with activities for children included. Bring Christ back into focus this Christmas! See YouVersion's Bible.com Bible reading plans and search for "Twelve Names of Christ for Christmas"
---
FREE GIFTS FROM IEW for teachers, parents, and students! Learn more and register at IEW.com/Christmas2022
---
Seasonal Fun
Enjoy this collection of winter and holiday-themed articles from The Canadian Schoolhouse and our Homeschooling with Heart blog.
Winter Books for Homeschool Families
Gather around the fire and snuggle up with these captivating winter books that the whole family can enjoy. Be sure to have your hot cocoa prepared as you cozy up and . . . read more
Cookie Baking Season
'Tis the season of hustle, bustle, and lots of baking. As a mom of three, there are always little helpers in the kitchen wanting to help cook and bake.
During the holiday season, my kiddos and I usually bake several dozen cookies. I attempt . . . read more
Hot Chocolate Mix and Mingle
Warm and delicious, hot chocolate is the perfect drink for a chilly day. With tasty toppings and unique flavor combinations, this is the beverage that can appeal to every age and preference. In celebration of our winter season . . . read more
---
GIVE THE GIFT OF FUN, USEFUL LEARNING!

Go to thelearningfunmall.com to access a growing selection of fun resources. Request "Using Games to Make Learning Fun" at brianyocom@gmail.com.
Put freegamespdf in the subject line. Give name and email.
---
In the Holiday Spirit
Take a break. Recharge. Wrap yourself in the Christmas spirit with timeless messages from these contributors to the Homeschooling with Heart blog.
The Gift of Giving
'Tis the season to . . . be running from store to store to get that one hot item for our kids for Christmas. Sadly, gift-giving has come to focus on gift-getting. Everywhere we take our children they are asked, "What do you want for Christmas?" I wonder what people would think . . . read more
Christmas Life Skills
With Christmas being America's most-celebrated holiday, there are expectations and responsibilities that come along with the festivities. This is a perfect time to teach our teens and children life skills! Things we adults do like . . . read more
Head Off Holiday Stress
The holidays can be stressful for homeschoolers. Not only do we have to keep the homeschool fires burning, but all of the extra domestic chores and endeavors seem to pile on this time of year. Some of us have been known to attempt . . . read more
Christmastime Recipes
Pumpkin Apple Cake
In our first year of homeschooling, our local support group held a Thanksgiving Celebration, and everyone was asked to bring foods which the Pilgrims and Indians might have eaten. A friend baked this delicious spicy pumpkin cake with diced apples and raisins throughout. I've been making it every fall since then, as soon as the new crop of apples is ripe. It's always a hit at potlucks.
Ingredients
½

c

butter (softened)

1

c

sugar (or ¾ c. honey)

2

eggs

1

tsp

vanilla extract

2

medium apples, peeled and diced (1½ cups)

1

c

pumpkin puree

2

c

whole wheat flour

1

tsp

baking powder

1

tsp

baking soda

½

tsp

salt

½

tsp

cinnamon

¼

tsp

nutmeg

¼

tsp

cloves

¼

tsp

ginger

½

c

raisins
Instructions
Preheat oven to 350 degrees.

Cream together butter and sugar, or honey.

Add in eggs; then stir in vanilla, apples, and pumpkin.

Mix together dry ingredients.

Mix together wet and dry ingredients, adding in raisins.

Pour into a greased 9×11 pan. (May also be baked in a 9″ Bundt pan.)

Bake at 350° (or 325° if using honey) for 25-35 minutes, or until it tests done.

Sprinkle with powdered sugar, or drizzle with powdered sugar frosting, if desired.

Serve with vanilla ice cream. (optional)
Looking for more holiday recipes? Try these:
Holiday Crafts
Gift Box Ornament Craft
We give gifts to show the people we care about how much we love them. With this easy and fun craft, you can make this gift ornament to hang on your tree as a reminder of what Jesus did for us or make it as a gift itself for your friends and family.
Equipment
Box template PDF (see instructions step one to download)

Scissors

Tape or glue

Markers, crayons, paint, glitter, or stickers

(optional for decoration)
Ingredients
Paper for printing box template. (Regular computer paper is easy to fold but not very sturdy as a box so if you need something sturdier then use cardstock. With cardstock it may be harder to fold depending on the thickness. Choose what you think will work best for your kids to use.)

Ribbon or small bow (any color)

String or thread (any color)
Instructions
Print the box template PDF (download here) on white, colored, or patterned paper.

Follow the directions on the template to cut out and and assemble the box.

Decorate the box using whatever embellishments you like. If you're using a patterned paper, you might want to leave it as is.

Tie a ribbon around it or place a little bow on top as a final touch.

If it's a gift, you can make a little gift tag and attach it to your gift box.

Attach a string or thread loop for hanging it on the Christmas tree. 
Video
Looking for more fun craft ideas? Try these:
---
Joining the SchoolhouseTeachers.com community means your entire family has access to over 400 courses, a print subscription to The Old Schoolhouse® Magazine, FREE access to World Book Online, Total College Success, and RightNow Media. Pay only $90 today and lock in your next nine months of homeschool curriculum. Use code: FRESHSTART23 at checkout to gain access to these essential homeschooling tools.
---
---
Amy Fischer, Learning Starts with Healthy Living
Resuming homeschool lessons in January comes with challenges. Read all about the steps to having healthy children and a happy homeschool in The Old Schoolhouse® Magazine.
---
Ready to recharge your homeschool? Have the Winter issue of The Old Schoolhouse® Magazine delivered to your door. Find tips on midyear perseverance, family Bible study, healthy habits (including healthy tech habits), how to start blogging, homeschooling and self-sufficiency, and so much more. Limited quantities available. Go ahead and gift yourself a copy today. https://bit.ly/3EBXtqc
---
---
Congratulations to our October winner, Tonya Sinner from Minnesota!
Contest Corner
for the month of December
Susanna's Midnight Ride and Dolley Madison and the War of 1812
Sagebrush Publishing
Susanna's Midnight Ride: The Girl Who Won the Revolutionary War tells how a 16-year-old girl exhibited unbelievable bravery and thereby changed the course of history. The tale unravels over twenty-six chapters. The book also includes an epilogue, afterword, and acknowledgments. It is 219 pages.
The Study Guide for Susanna's Midnight Ride is sixty-one pages long. It includes one page of academic information and how it applies to Virginia Standards of Learning, a page about the author and the book, and two pages on the House Joint Resolution No. 649 for Susanna Bolling Day. (She truly deserves her own day!) The study guide devotes one page to each chapter of the novel. Answers are included.
Dolley Madison and the War of 1812: America's First Lady consists of thirty-two short chapters plus an epilogue, author's note, selected bibliography, and acknowledgments. Also included are four of Dolley Madison's favorite recipes woven into the story. The book is 237 pages long.
The Study Guide for Dolley Madison and the War of 1812 is seventy-two pages long. It includes two pages of academic information and how it applies to Virginia Standards of Learning, a page about the author and the book, and a complete synopsis of the story. The study guide devotes one page to each chapter of the novel. Answers are included.
McNamee's novels are examples of living books at their finest. These are stories from long ago that seem to be taking place in real-time. McNamee wrote in first person and present tense, allowing readers to live the adventures and fully experience these historical moments. Readers and listeners will feel the characters' emotions, picture the surroundings, join the excitement, and even smell the smells of the settings.
---
This is part of a review of two historical novels Susanna's Midnight Ride and Dolley Madison and the War of 1812. Read the full review on our site which includes more details about the stories and accompanying study guides.
Go to the contest page of our site where you can ENTER TO WIN Dolley Madison and the War of 1812 and the accompanying study guide.
---
Freebies
Bible Reading Plan for Christmas
Go to Bible.com's Bible Reading Plans for the Twelve Names of Christ for Christmas, a family Bible Reading Plan with a devotion for the parents and activities for the children. Bring Christ to the forefront of your Christmas celebrations with this simple 12 day reading plan written by Deborah Wuehler, senior editor of The Old Schoolhouse® Magazine.
This free product and more are found in our 2022 Freebie Directory: TOS Freebie Directory – The Old Schoolhouse®
---
FREE E-Book!
The Old Schoolhouse® CHRISTmas Greetings
Find recipes, traditions, and stories from staff and favorite authors in The Old Schoolhouse® CHRISTmas Greetings edition. In it, you can read about Deborah's Oranges for Christmas, a true story of God's provision.
Find more freebies at The Old Schoolhouse Homeschool Store: Freebies Archives – The Old Schoolhouse®
---
Share this newsletter with a friend, and be sure to let those CONSIDERING homeschooling know about the enormous FREE info-pack which awaits them here: www.TryHomeschooling.com.
---
If you liked today's Homeschool Minute, please email the editors and tell us what part you liked most. It's a huge blessing to receive feedback!
Please add publisher@theoldschoolhouse.com to your email contacts so that our emails to you don't land in spam.