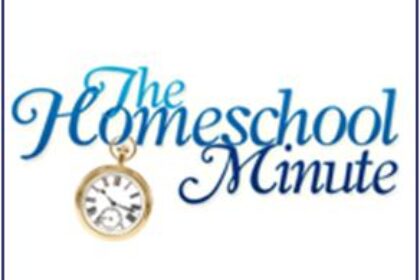 Teenage Rebels, Wayward Children, and Prodigals
March 9, 2022
Be sure to scroll to the bottom to enter the contest and see the freebies of the month!
---
Mercy Every Minute
Deborah Wuehler, TOS Senior Editor
Where's the Reward?
Hey, Mama,

There is a deep pain you would love to forget, but it is etched in your inner being. You feel it rise in a fresh way at the sound or sight or thought of your child, and the heaviness of heart crushes you. The pain of a prodigal.
1. Your reward is found in God Himself, not in your child.
What kind of reward was this after all the years of sowing the Word of God into my prodigal's heart? Has it all been in vain? I was putting my hope in my own efforts and looking for an earthly reward rather than recognizing that God Himself was my reward.
"Your words have been hard against me, says the LORD. But you say, 'How have we spoken against You?' You have said, 'It is vain to serve God.'" (Malachi 3:13).
"Fear not . . . I am thy shield, and thy exceeding great reward" (Genesis 15:1).
2. What I believe about God should be greater than what I believe about my child.
I believed that my child was unreachable; I believed that change wouldn't come. I put more faith in my own thoughts than I did in the God Who created the universe with the breath of His Word. Who is greater: the prodigal or His Maker? Nothing is too hard for Him.
"Behold, I am the Lord, the God of all flesh: is there any thing too hard for me?" (Jeremiah 32:27).
3. I learned where to find help.
I had one place to run: God alone. Though my earth was shaking, I found God to be my strong fortress.
"For God alone my soul waits in silence; from him comes my salvation. He alone is my rock and my salvation, my fortress; I shall not be greatly shaken … (Psalm 62:1-2ESV)
4. I learned that I can love the prodigal; not their sin.
Unconditional love—agape love—gives and lets them go but watches in hope for their return. When the father was a great way off, he ran to his son even though he didn't know if his heart was changed yet or not. Our love is so fickle. God's love is eternal and unconditional.
Though we keep our Biblical standards high, and hate the sin that entangles them, we love them enough to do battle for their souls in effectual, fervent, daily prayer. Though you may not see it now, there will be great reward in spending your life in obedience to God.
Let me know if I can pray with you for your prodigal,
~Deborah
Read the rest of the story at The Pain of a Prodigal, 7 Lessons Learned.
And check out these other articles on the subject from The Old Schoolhouse® Magazine:
God's Unlikely Candidate: When a Rebel Becomes a Homeschool Parent by Elizabeth Odach
When Prodigal Mamas Grow Weary, Four Things You Need to Know by Lori Hatcher
Vending Machine Homeschooling by Marilyn Rockett
Homeschooling the Teen Rebel by Deborah Wuehler
---
Have fun and boost your child's learning. Massive discounts for Old Schoolhouse readers: Math, Word Skills, Typing and Reading for learners aged 5 – 15+ www.edalive.com
---
Todd Wilson
He Comforts the Brokenhearted
Of all the conversations I have had during my almost two decades of speaking at homeschool conventions and meetings, the ones that break my heart are the stories about wayward children.
The tears flow, and hearts break, and parents look at me for answers to complex issues. The one I recall vividly is the conversation I had with Harry, a dad who had heard me speak for several years, and each time he'd trot up to me and talk . . . and talk. He was animated, focused, loved God, and had lots of answers.
Then one year while I was at my book table, I saw him slowly walking toward me . . . and he looked different. There was no sparkle . . . no animation. He looked like he had been pulled through the wringer.
He told me through tears and a broken heart about how his two children had walked away from everything he loved. His son's ambition was to kill Christianity, and he had to pick up his daughter from the police station just the night before.
"The thing is," he said, "if I had seen my children last year . . . I would have been so judgmental and thought, what kind of parents do these kids have? Now everything is different."
He paused. "You know sometimes I wonder if God did this for me so I could learn something."
Mom, if you have a wayward child, I'm not saying God did this to teach you a lesson. But I do know how much I have learned from my children—things that I was so proud about, I have softened . . . because of them.
But I will say to you as I said to Harry, "Don't give up on them. Keep loving. Keep expecting their return." The truth is, your love . . . is the way HOME.
Be real . . . I mean it.
Todd
---
Understand why they struggle. Our psycho-educational assessments with personalized consultation give understanding to your child's unique abilities. Visit sailawaylearning.com or call 865-376-7005!
---
Kerry Tittle
Showing Love to the Rebel
At some point in almost every parenting journey, there will come a point when your sweet, compliant child will become a willful, disobedient rebel. When that happens, we want to fix it, to pinpoint what went wrong and make the corrections, but too often that leads to superficial solutions rather than lasting ones. This I have learned the hard way.
Here are a few things that have been a game changer for me.
As crazy as it sounds, it may not be you.
Even if all their ire seems directed at you, oftentimes this is the secondary problem. Sometimes there are deeper heart-level issues that remain uncovered but are manifested in a myriad of negative behaviors.
It is key to approach the topic of asking what their major pressing issue is when everyone is calm . . . not during an already escalated moment.
It is possible that the problem bothering them is not a "big deal," and you know it's not worth worrying about. Make it a big deal to you anyway. This world they are growing up in is newer to them. Don't downplay their concerns or you will lose their trust to open up to you.
Don't be surprised if they open up and it is you.
If it is . . . don't react. Let them share. It can be hard to humble yourself and accept blame when you have checked your own heart and know that your child has a legitimate appeal. Parenting has been a chief vessel to sanctify me, and I have had to apologize on many occasions. Take your child's concern to the Lord and ask him to check your heart.
"Prove me, O Lord, and try me; test my heart and my mind" (Psalm 26:2).
Pray with your child.
Accept the fact that the Lord is molding and using this conflict in both of your lives. There is an incredible strength in unity when we are in the habit of praying with our children. If this can't be done at this time, pray for them anyway. Pray behind the slammed door. Pray while they sleep. Pray, pray, pray.
"Do not be anxious about anything, but in everything by prayer and supplication with thanksgiving let your requests be made known to God. And the peace of God, which surpasses all understanding, will guard your hearts and your minds in Christ Jesus" (Philippians 4:6-7).
It's insane to believe that the Lord loves our rebels more than we do. But it's true. He is not going to cause you one extra tear that isn't needed for this trying time.
Pray.
About the author
Kerry Tittle is a mother of nine children and a 20-year homeschool veteran. She was the owner of ReformationKidz with her husband Rob until a tornado destroyed their home and business in 2014, taking the lives of Rob and two of their daughters, Tori and Rebekah. Kerry is the founder of Refined Family, which is created to encourage others to find hope in the gospel in the midst of trials.
---
At Basic Skills we help parents give achievement tests on their own or with the guidance of a qualified and experienced examiner. www.basicskills.net
---
Roger Smith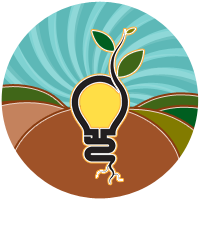 Pillar of Knowledge
Roger Smith – Rebellion at Home!
"The thing worse than rebellion is the thing that causes rebellion."
– Frederick Douglass.
Rebel Without a Cause, the title of a 1955 movie, suggests at first glance, rebellion may not have a cause. None of us really believe that, because when we experience it, we intuitively ask, "Why?"
I have a very simple way of thinking about it, and I call it "relationship math."
R + R – R = R + R
Simply stated, Rules and Regulations in absence of a deep Relationship, yields Resentment and Rebellion. If resentment and rebellion are present in your home, it's likely that rules and regulations are in some way OUT OF BALANCE with the relationship that child experiences.
The natural instinct of the parent is to make stronger rules, but the solution is to improve the trust and genuine care communicated in the relationship. Children must FEEL that you love them, so your rules do not communicate hate.
In Rebel Without a Cause, the people rebelled because they did not feel loved, though the cause was not apparent initially. If rebellion is in your home, bravely ask, "How is it that I make you feel unloved?" Then listen until you understand.
About the author
Dr. Roger Smith is a family doctor in rural Louisiana, where he and his wife, Jan, raised four adventurous children who are all grown, making their own mark in the world. He speaks and writes on parenting issues and produces brief videos that can be found on Facebook @ParentingMattersNow.
---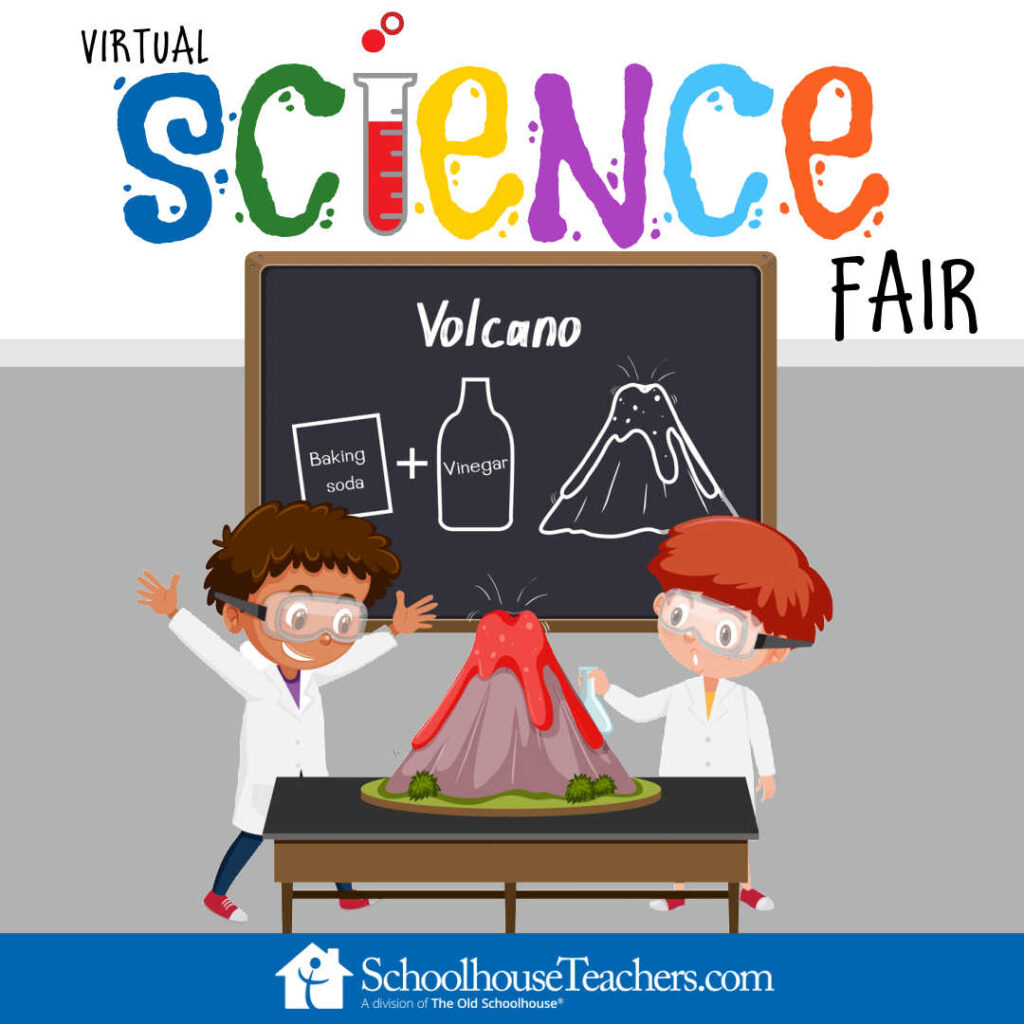 Calling all scientists!
It's time for the 2022 Virtual Science Fair at SchoolhouseTeachers.com. If you have a budding scientist in the house, we want to know what your child discovered this school year! Entries may include science research projects or exhibits. Award certificates will be presented for first, second, and third places in each category.
Visit the Activity Calendar section of your Member Dashboard to find full details and to submit your children's scientific entries.
Student submissions are being accepted from February 1 through March 11, 2022.
---
Whether you started teaching from home on day one or you recently pulled your child out of public school, we are all in this together, heading toward the same goal. We want to help you finish well by giving you the chance to homeschool your family for only $15 a month. Purchase a SchoolhouseTeachers.com Quarterly Membership so you can finish this quarter in style. New members can use code: FINISHWELL to pay only $45 (now $59.97) quarterly. Lock in this low price to not only complete this school year in confidence but in the years to come.
---
SchoolhouseTeachers.com Corner
Did you know?
Every class is INCLUDED for ultimate members!
No limits.
Parenting a teenager is a challenge for most parents. At SchoolhouseTeachers.com, you'll find resources to help you get through these trying times, including courses like Parenting a Teenager. Be encouraged in topics of identity, turmoil, rebellion and legacy with your teen and be assured that you are not alone in this journey.
---
---
Read this article
in the spring issue of
The Old Schoolhouse® Magazine.
---
Discover deals & discounts for homeschoolers inside The Old Schoolhouse® Magazine. Inspiring articles + ads that connect you to products for the homeschool life. TOSApps.com or www.TOSMagazine.com.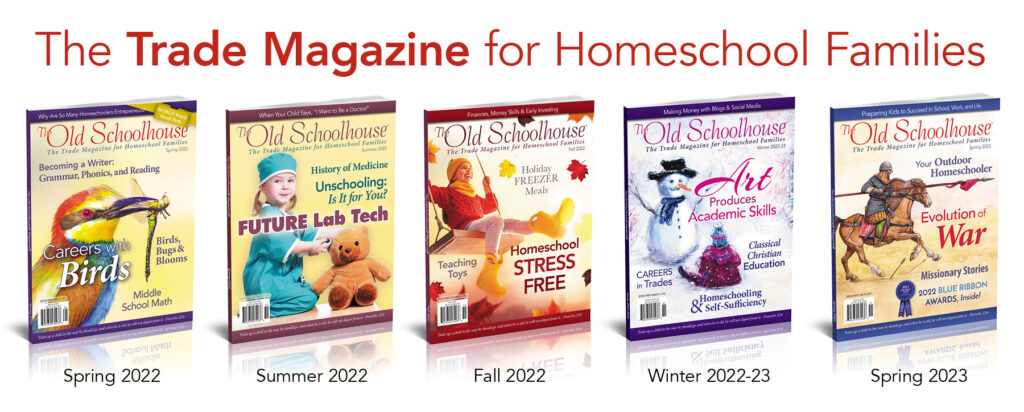 ---
---
Congratulations to Tina Ford from Grand Forks, North Dakota, who won our January giveaway!
Contest Corner
for the month of March
Skunk Tales: Making Sense Of Scents A Family Devotional
Skunk Tales: Making Sense of Scents is a genuine and enjoyable family devotional for all ages. Skunk Tales includes thirty-six chapters of original stories from the author, Lynn Marie. The book foreword has some encouraging insight for parents that includes Scripture, written by the author's friend. In the "About this Book" section, Lynn Marie explains her inspiration for the book and how to use the book with your children.
All thirty-six chapters of Skunk Tales are just the right length. I usually run into issues with family devotionals being too short with not enough substance for my older children while still captivating the attention of the younger ones. Skunk Tales was the perfect balance of engaging and entertaining. The chapters were lighthearted, relatable, insightful, and plainly applied Scripture in our lives. I loved how many of the stories in the book used animals as a topic. All my children enjoy nature and learning more about animals.
The Scripture choices for the chapters were spot on. At the end of each chapter is a section called "Pooky's Timeout," which has a few different enrichment activities for the chapter. The discussion questions are thought-provoking, and we had some excellent conversations because of it! More Scripture, worship songs, prayer, a fun activity, and a way to apply the theme of the chapter are included. I especially enjoyed the idioms for every chapter!
---
Read the full review on our site from a mom with lots of details about using this as their family devotional.
Go to the contest page of our site where you can ENTER TO WIN Skunk Tales: Making Sense Of Scents.
---
Freebies
Building Brilliant Minds
FREE Download: The Top Ten Reasons to Study Architecture and the Arts. This freebie from Building Brilliant Minds includes a reading and supply list for young designers + BONUS tips. The music, art/literature and architecture courses provide students hands-on learning experiences with challenging projects. The courses encourage critical thinking, as students are coached to design creative solutions—all done "with an element of FUN!" Building Brilliant Minds is project-based learning with a purpose! Go to www.buildingbrilliantmindsonline.com for your copy!
This free product and more are found in our 2022 Freebie Directory: TOS Freebie Directory – The Old Schoolhouse®
---
FREE E-book!
The Value of Homeschool Conventions
Are you discouraged with aspects of homeschooling? Have you fallen behind schedule? Do you have curriculum that's not working for you? Do the textbook choices in catalogs make your head spin? Do you feel alone in your tedious, daily endeavors? Would talking to an expert help you? Attending a homeschool convention could really perk you up and encourage you, while adding a whole new perspective to your home learning atmosphere!
In the pages of this WeE-book™, you'll find answers to your questions and important insights, guiding your path to that rewarding homeschool convention experience.
Find more freebies at The Old Schoolhouse Homeschool Store: Freebies Archives – The Old Schoolhouse®
---
With the TOS Mobile App, search topics of interest spanning more than a decade, share articles, browse interactive content, and follow the links to hundreds of related resources. Each issue can also be downloaded and read offline.
---
Share this newsletter with a friend, and be sure to let those CONSIDERING homeschooling know about the enormous FREE info-pack which awaits them here: www.TryHomeschooling.com.
---
If you liked today's Homeschool Minute, please email the editors and tell us what part you liked most. It's a huge blessing to receive feedback!
Please add publisher@theoldschoolhouse.com to your email contacts so that our emails to you don't land in spam.