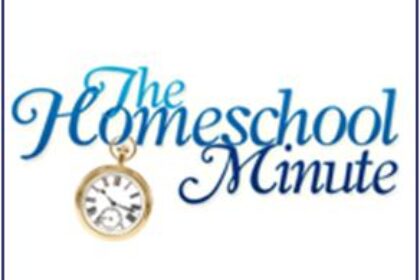 The Importance of Art . . . Even for the Non-Artsy Parent
March 16, 2022
Be sure to scroll to the bottom to enter the contest and see the freebies of the month!
---
Hey, Mama!
Art Makes Learning Fun
Hey Mama,
Yesterday was a good day. Your kids learned (something). You had meaningful conversations with some or all of them. You again, for the bazillionth time, solidified in your children's hearts and minds that you are dedicated and committed forever to loving them, teaching them, speaking truth to them. They don't doubt your love. They may not say how much they love you now, but don't forget the adult versions of these little turnip heads. So in your mind for a moment, fast forward. That day is coming.
You kept the priorities straight (for the most part) yesterday, the things that matter. Your house even got picked up (a bit). People were fed. Family members felt cared for. Hubby wonders how you do it all. Even the pets think you're awesome.
Your kids love that you try to make school fun. You get out crayons, construction paper, poster board, paint and paintbrushes and let your children create. You even let them use slime! Incorporating art into academics can make every subject more interesting. They remember science better if they can draw cells and mitochondria – and if your little guy can make the cells blow up or explode, he'll remember the lesson even more (grin). History sticks with them if they make a diorama of a battle scene. If they have imaginary canons and weaponry so they can "act out" those battles, you've really created a strong memory of that lesson. Yes, it's loud. But it's their "art" so just bear it, LOL. You don't have to be artsy yourself—just shower praise on them as they make or don their worthy creations, and they will enjoy it—and remember it—that much more.
Here are some articles from The Old Schoolhouse® Magazine that underscore the importance of bringing art into the classroom:
Teaching Art in the Homeschool Environment by Sharon Jeffus
Connecting to the Creator Through Art by Bonnie Rose Hudson
Gospel Chalk Art: For Such a Time as This? by James H. Pence
Mama = Caregiver. And while you don't dot every "i" or cross every "t" 100 percent of the time, you do the "Mama thing" quite well. I'll bet I could take a survey: I could ask your three closest friends what kind of Mama you are, and you know as well as I do what they'd say. You know why they'd say it? It's the truth. And they view YOU as a good and faithful friend. You have been there for them, too. You're always there for everyone.
See? Yesterday was a good day. Perspective, Mama. Keep it before you constantly because it's what keeps you balanced—and sane. Be encouraged all day, every day, in this journey called Motherhood. You wear it so well, Mama. Today will be a good day, too, because His hand is on your head.
-gena
---
New from Greta Eskridge, 100 Days of Adventure features 100 indoor and outdoor activities, projects, experiments, crafts, recipes, and field trips, divided by season! https://www.thomasnelson.com/p/100-days
---
Stacy Farrell
Who Decides What is Beautiful?
The Barometer of our Culture
When I sat down to ponder why art is important, a quote by Nancy Pearcey came to mind: "Artists are often the barometers of society."
As goes our culture, so goes our art.
A wicked and perverse society does not produce God-honoring art. But the fact that art reflects our culture is not what makes it valuable in the first place.
Art possesses value because it is the byproduct of creativity—a beautiful characteristic of God the Creator.
Training Their Appetites
In her book, Saving Leonardo, Nancy Pearcey hit the nail on the head. She said: "Art is a visual language, and Christians have a responsibility to learn that language."
Art moves people. As parents, it's our responsibility to ensure it doesn't move our children in the wrong direction.
Just as a well-trained palate can distinguish between subtle flavors, when we train our children's art "palate," they recognize true beauty—and they're not deceived into embracing its counterfeit.
Great art intensifies whatever message it holds (and you can be certain it is conveying a message).
The underlying worldview preached within a masterpiece may be completely contradictory to our own . . . but oh how beautiful and enticing it may be!
That's why it's so important to apply Biblical standards to art.
Discernment Required
We should be especially discerning in matters where culture tries to define what is "good."
Art is one such matter.
As Francis A. Schaeffer said in, Art and the Bible: "The greater the artistic expression, the more important it is to consciously bring it and its worldview under the judgment of Christ and the Bible."
Recognize that artwork has a "voice"—and we discern the validity of its message by comparing it to the principles outlined in Scripture.
This involves critical thinking and reading between the brushstrokes.
Do you have resources to teach critical thinking?
True Beauty is a Gift
Don't be afraid of art, dear Momma. Do be vigilant in training your students to discern its underlying meaning—and enjoy its beauty when and where it exists.
His love,
Stacy
P.S. – Equip your students to write skillfully, think critically, and speak clearly as they explore the history of ideas—from a Biblical worldview—with Philosophy Adventure.
Free Picture Writing Printable for Students!
Is your budding writer a visual learner? Picture writing prompts may be just what you need to get their creative juices flowing! Get this FREE printable with two visual writing exercises that solve the "I don't know where to start!" dilemma.
https://homeschooladventure.com/op/freebie-picture-prompts/
---
Upgrade your kids STEM education, with a self-paced and scaffolded Computer Science curriculum, designed to match their learning needs. No experience needed to start! www.gocoderz.com
---
Beth Mora
The Goal of Art is Different Than You Might Think
Art? No way, not until I finish academics with my kiddos before dinner.
Art? Absolutely not; I can't draw myself out of a paper bag. So how can I teach art to my children?
Art? Are you serious? Oh, the mess! I can't add a layer of paint and mixed media to the already swirling vortex that I call home.
I get you.
I am not an artist, and yet my children and my co-op students loved my art classes. Why?
Because I learned early on that art is a hug for the brain and a weighted blanket for the soul.
Art is s a hug for the brain
Think about your child's brain. During the homeschool academic portion of the day, your child's language and math centers of their brain work hard to grasp information. Constant stimulation of one part of the brain is stressful. One doesn't realize it until you shut off that part of the brain. And that's what art does; it relieves the brain's academic side and hugs the brain's creative function.
Art is a weighted blanket for the soul
One of my students, a gifted little lady with perfectionist tendencies, told me she loved art because she could never be wrong. Another student, who's a "can't-sit-still" kind of a young man, would sit for the whole class intent on his project. Like a weighted blanket, art centers young people and helps soothe emotions. Interestingly, memory care facilities and mental health facilities all include art therapy as a positive piece of the puzzle to mental health.
You don't need to be an artist; anyone can . . .
Create space and time for art
Pair your time with soothing music.
Keep art supplies well stocked
Use online tutorials to inspire
Copy a masterpiece
Explore different art styles
Start a Nature Journal
Engage in drawing books
Join an online art class
Your child probably won't become a famous artist, but that's not the goal. Instead, the purpose of engaging in art is to create an avenue to decrease stress and find pleasure in the beauty that surrounds us.
About the author
Beth Mora, creator/teacher-on-camera for Here to Help Learning's Homeschool Writing Program (grades 1-6) and homeschool conference and women's events speaker, loves to blog at Home to Home. She serves up HTHL's Writing Tip of the Week for those teaching their kiddos to write. Everything she does, whether laughable or heart gripping, is done to honor One. God's grace is the salve that has healed her own life and is what she offers liberally to others.
---
BUCK Academy helps parents to educate children about personal finance. We are making personal finance easy for children to understand, retain, and value. www.buckacademy.org 206 226 1843.
---
David West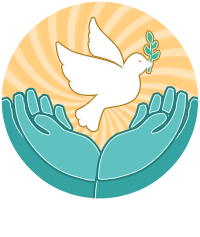 Pillar of Hope
David West – Art and Image-Bearing
Christian parents should help children understand what it means to be made in the image of God. Because God is the Creator, we create things. We build homes, prune trees, design software, write sentences, and draw pictures as a reflection of the God who created a good, useful, and beautiful world.
When I recall God's creative acts, I'm reminded that all creative acts in this world have an ultimate source. Whether we are "artsy" or not, this truth is something we can pass along to the image bearers residing in our homes.
When I was 13 years old, my grandmother paid for me to take a painting class. The product of that first class, two daisies in brilliant yellow hues, was the first of several paintings. My parents continued to pay for classes, and each Saturday morning, for several years, my teacher helped a room of private students churn out oil paintings. After graduating from high school, painting faded from my interest.
That first painting hangs on the wall in mom's dining room, a reminder of a season of my life when image-bearing took the form of oil painting. My parents weren't "artsy" themselves, but they found a way to teach me about art and image bearing.
About the author
David West is an ordinary father serving an extraordinary Savior. He is husband to Danette, father of six, deacon at The Cornerstone Bible Church, past chairman of the Sacramento Organization of Parent Educators (scopehome.org), sales manager by vocation, and a lover of books and writing.
---
Look What's Happening!
Deborah Wuehler and Angela Quigley from The Old Schoolhouse® Magazine would love to meet you at the Midwest Parent Educators conference on April 1 and 2, 2022! Deborah will serve as a speaker as well. You can hear her speak on these topics: 
The Importance of the Bible in the Homeschool
Reading Struggles & Overcoming Obstacles
Homeschooling the Rebel
Why The Teacher Should Be YOU!
Homeschooling through Hardship
https://midwesthomeschoolers.org/events/homeschool-conference/
---
Considering flying the coop? Don't give up on homeschooling; simply change your method. SchoolhouseTeachers.com is an affordable option for home-educating families looking for one low price to cover each member of their families. A little birdie told me that a way for new customers to pay $15 a month is to use the code: FINISHWELL on the Quarterly Membership at checkout. This guarantees a locked-in rate of only $45 (now $59.97) for the lifetime of the membership.
---
SchoolhouseTeachers.com Corner
Did you know?
Every class is INCLUDED for ultimate members!
No limits.
Art doesn't have to be complicated! With flexible unit studies for kindergarten through twelfth grade students, parents can teach one art lesson to the whole family using the Everyday Easels course from SchoolhouseTeachers.com. You'll be introduced to a particular piece of art in context of other subjects like Bible, history, geography, science, and writing. Lessons also provide hands-on activities to engage students.
---
---
Read this article
in the spring issue of
The Old Schoolhouse® Magazine.
---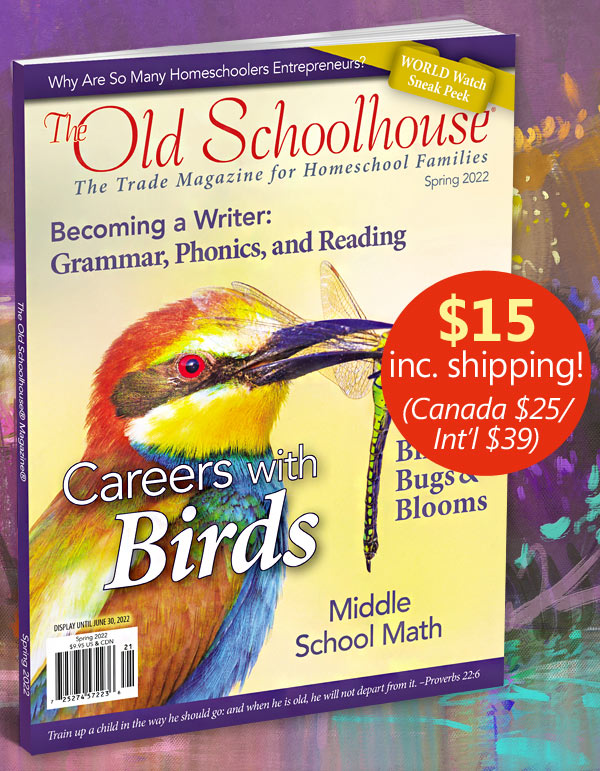 How would you like the motivation and encouragement of a homeschool convention right in your hands? We've gathered the best and latest homeschool inspiration, advice, and more for you inside the spring issue of The Old Schoolhouse® Magazine. But quantities are limited, so reserve yours today! www.GrabIssue.com.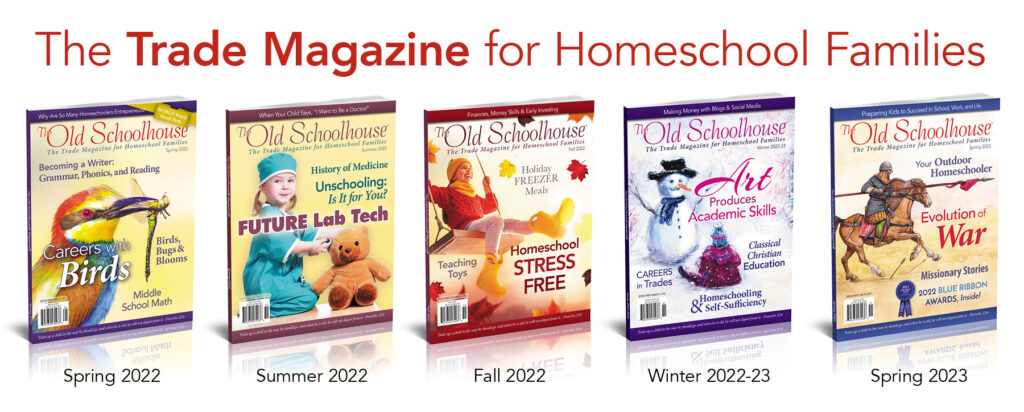 ---
---
Congratulations to Tina Ford from Grand Forks, North Dakota, who won our January giveaway!
Contest Corner
for the month of March
Skunk Tales: Making Sense Of Scents A Family Devotional
Skunk Tales: Making Sense of Scents is a genuine and enjoyable family devotional for all ages. Skunk Tales includes thirty-six chapters of original stories from the author, Lynn Marie. The book foreword has some encouraging insight for parents that includes Scripture, written by the author's friend. In the "About this Book" section, Lynn Marie explains her inspiration for the book and how to use the book with your children.
All thirty-six chapters of Skunk Tales are just the right length. I usually run into issues with family devotionals being too short with not enough substance for my older children while still captivating the attention of the younger ones. Skunk Tales was the perfect balance of engaging and entertaining. The chapters were lighthearted, relatable, insightful, and plainly applied Scripture in our lives. I loved how many of the stories in the book used animals as a topic. All my children enjoy nature and learning more about animals.
The Scripture choices for the chapters were spot on. At the end of each chapter is a section called "Pooky's Timeout," which has a few different enrichment activities for the chapter. The discussion questions are thought-provoking, and we had some excellent conversations because of it! More Scripture, worship songs, prayer, a fun activity, and a way to apply the theme of the chapter are included. I especially enjoyed the idioms for every chapter!
---
Read the full review on our site from a mom with lots of details about using this as their family devotional.
Go to the contest page of our site where you can ENTER TO WIN Skunk Tales: Making Sense Of Scents.
---
Freebies
Building Brilliant Minds
FREE Download: The Top Ten Reasons to Study Architecture and the Arts. This freebie from Building Brilliant Minds includes a reading and supply list for young designers + BONUS tips. The music, art/literature and architecture courses provide students hands-on learning experiences with challenging projects. The courses encourage critical thinking, as students are coached to design creative solutions—all done "with an element of FUN!" Building Brilliant Minds is project-based learning with a purpose! Go to www.buildingbrilliantmindsonline.com for your copy!
This free product and more are found in our 2022 Freebie Directory: TOS Freebie Directory – The Old Schoolhouse®
---
FREE E-book!
The Value of Homeschool Conventions
Are you discouraged with aspects of homeschooling? Have you fallen behind schedule? Do you have curriculum that's not working for you? Do the textbook choices in catalogs make your head spin? Do you feel alone in your tedious, daily endeavors? Would talking to an expert help you? Attending a homeschool convention could really perk you up and encourage you, while adding a whole new perspective to your home learning atmosphere!
In the pages of this WeE-book™, you'll find answers to your questions and important insights, guiding your path to that rewarding homeschool convention experience.
Find more freebies at The Old Schoolhouse Homeschool Store: Freebies Archives – The Old Schoolhouse®
---
With the TOS Mobile App, search topics of interest spanning more than a decade, share articles, browse interactive content, and follow the links to hundreds of related resources. Each issue can also be downloaded and read offline.
---
Share this newsletter with a friend, and be sure to let those CONSIDERING homeschooling know about the enormous FREE info-pack which awaits them here: www.TryHomeschooling.com.
---
If you liked today's Homeschool Minute, please email the editors and tell us what part you liked most. It's a huge blessing to receive feedback!
Please add publisher@theoldschoolhouse.com to your email contacts so that our emails to you don't land in spam.