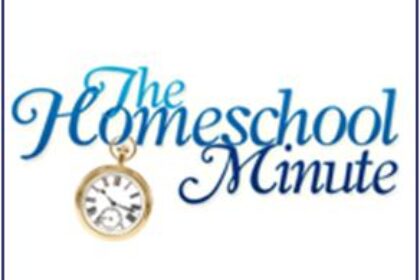 All About Boys
July 20, 2022
Be sure to scroll to the bottom to enter the contest and see the freebies of the month!
Hey, Mama!
The Gift of Sons
Hey Mama,

Look at your son. Sometimes it's hard to believe how loud he can be. Man, he's a chatterbox. And he sure makes his wants known. Some call that "whining." And why is he so scruffy, sweaty, and dusty all the time? Oh my, the smells! Is that normal? Ahhh, and can he eat. That boy can put it away. How on earth do you afford it?
Stop listening to the negativity. It's toxic. Don't do that to yourself. Let's focus on what's TRUE:
Mama, you want to know something? That little crackerjack tiger is going to be a man someday, a man who will love you fiercely and who would protect you against anything that dared to come against you. He talks a lot because he's figuring out who he is; his identity is being formed now. He whines at times and expresses himself fully, but that's because he'll be a leader someday and he's learning and testing his limits. Someday his expressions will be eloquent and clear. He will walk and speak with a confidence that will make your heart swell.
Yeah, he's sweaty because he's not afraid of physical activity and hard work. Dirt? It doesn't faze him. As a man, he won't be sniveling and lazy, afraid of getting his hands dirty. Like his dad (and his mama), he will get it done and with high standards; his family will be his priority. And as you are getting the word of God into his heart, his great Lord and Savior will be his Everything.
Take a look at these articles from The Old Schoolhouse® Magazine for suggestions on raising Godly young men:
52 Godly Men: The Gift of a Lifetime by Craig Thompson
A Challenge for Young Men by Rhea Perry
ALERT Academy by John Boulden
Keep walking, Mama. Don't give up. Yes, he's a pressure cooker of popcorn, ever popping off and not all that well reigned in. But he's a work in progress, and ultimately, he is the Lord's business. You plant; God waters and harvests. You pour into him now and reap the blessings later.
See that boy? Close your eyes and fast forward a decade or two. See that man? He's yours now, and you'll be his then. Those scrawny little arms are the ones that will lift you up in your old age.
Embrace this time. What a gift. In the meantime, your Father's hand is on your head.
-gena
---
Etron Circuit Labs is the best STEM-Based 'Intro to Electronics Curriculum. Help your student – "Unleash the Innovator Within" by learning Electronics. etroncircuit.com
---
Raising Real Men
Hal & Melanie Young, RaisingRealMen.com
Strategies for Teaching Boys
All about boys? Where do we start? After all, we have six—in a row. We homeschooled them all from the beginning all the way to graduation, too. Boys really are different from girls, both their sisters and their moms. Here are a few ways that those differences impact homeschooling:
Boys like to learn in a spot that is cool and brightly lit. A fan and a good light can help keep your guys awake and learning.
Boys develop small motor skills later than girls. When you are teaching handwriting, have him drag that pencil across the paper, but when you are teaching other things, boys who do less writing in the early years tend to enjoy school a lot more—and it won't hurt them later.
Boys learn better after they use their big muscle groups. Instead of nagging him to sit still and work, get him up running laps, doing push-ups, or jumping on a mini-trampoline, and he'll focus better on his work afterward.
Boys love to wrestle with ideas. Take the time to discuss what you're learning and don't get put off if he seems to question you, "How do you know?" Boys love to debate and discuss ideas to understand them better.
Boys go through their intellectual growth spurt in high school—if they try! That's why one of the most important things you can do for your boys in elementary and middle school is to preserve their love of learning and their academic confidence. Make time for hands-on activities and field trips. Get excited about what you are teaching. Show your boys that you love to learn, too, and the coming years will be easier!
Want to find out more about homeschooling and parenting boys? Get 15% off Raising Real Men: Surviving, Teaching, and Appreciating Boys with the coupon code boyschooling here!
Your friends,
Hal & Melanie
About the author
Hal & Melanie Young are the award-winning, best-selling authors of Raising Real Men, No Longer Little, and Love, Honor, and Virtue. They are publishers, writers, bloggers, and popular conference speakers internationally, known for their Christ-centered focus and practical, real-life stories. They are the parents of six real boys (five grown!) and two real girls and live in noisy, messy happiness in North Carolina.
---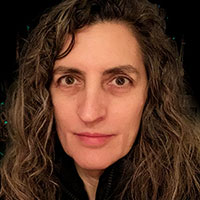 Stacy Farrell
Celebrating Our Sons
Biblical Definitions are Under Seige
Though current culture may try to blur (or downright obliterate) the lines between boys and girls, we hold fast to the truths revealed by the One who created us: "So God created man in his own image, in the image of God he created him; male and female he created them." (Genesis 1:27).
Boys are distinctly different from girls because God intended it to be so.
Sadly, the radical breakdown of genders and aggressive assault on manhood will impact our boys if we don't defend against it.
Misguided Stereotypes are Adopted
Beyond that, there is another danger. Even the differences that we celebrate based on biblical truths can be twisted into something extreme.
Like the culture that blurs lines, there is a counterculture that births stereotypes not rooted in Scripture. Our boys should not have to conform to societal stereotypes or meet unbiblical expectations. (My sons each had a doll given to them by a grandmother, and one son frequently wore neon pink shorts.)
They need only be constrained by the same guidelines that should constrain all of us—those given by our Loving Creator.
Important Opportunities Are Surrendered
Gender differences and societal norms aren't the only lines being blurred. The transition from boys to men is more distorted than ever. (Why are 40-year-old "boys" still playing video games in their parents' basement?)
Before my sons were born, while in the process of writing an article about fatherhood, I learned about the positive impact of rite-of-passage events on the lives of young men—a powerful opportunity erased from our culture today. I discovered how devious forces have attacked and undermined both the authority and confidence of fathers. Many men today don't know how to do for their sons what no one has done for them.
That discovery inspired me to write a blueprint to help families host a special rite-of-passage evening for their sons. I pray we stand against such solemn cultural shifts by celebrating our young men of integrity!
His love,
Stacy
P.S. – Mark your son's transition from childhood to manhood with a special evening – Celebrate Manhood!
About the author
Surprised by Jesus, Stacy went from an unmarried, childless, 30-something career woman to a Christ-following wife of more than twenty-eight years with two sons she homeschooled K-12. She battled fear and overwhelm, but survived and thrived. Author of more than ten books—including the award-winning Philosophy Adventure—she loves to equip and encourage homeschool families. Visit her at HomeschoolAdventure.com
Welcome Your Son to the World of Men with a Free Printable Poster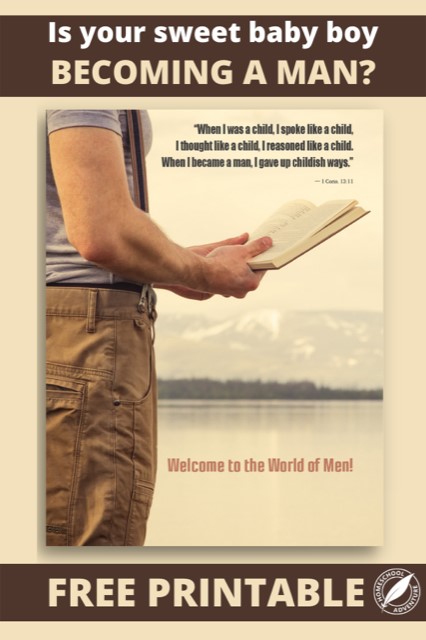 The "war on men" is raging, the authority of fathers is undermined, and the once-honored rite of passage is now neglected. Stand against such solemn shifts by celebrating your young men of integrity with this stunning printable poster.
---
David West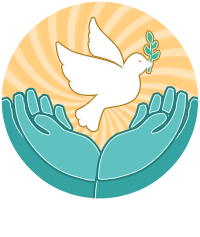 Pillar of Hope
David West – Live So Your Sons Imitate Christ
As I write, my boys are forty thousand feet above the earth. The two of them are flying across the United States to attend a youth conference with cousins. They are 18- and 15-years-old, yet I find myself checking the flight status and waiting for them to text me when they've landed safely. An adventure like this is good for boys; it helps them spread their wings and grow. But there's something even more important that I desire for them. There's something more important for them than doing hard things, attempting grand projects, or leading brave charges.
I desire for my boys to mature into Christlikeness. The Lord may give them opportunities for leadership; they may use their gifts to make the world a better place; and they may build great things and create great things and dream great things; yet the greatest thing for them is to be more like Christ.
One way that I can help them do this is by my example. The Apostle Paul said to the believers at Corinth, "Imitate me, just as I also imitate Christ." My own growth in Christ is one of the best ways I can help my boys become the men I desire them to be. Much of the time, this will not look amazing, epic, or fantastic. It will be ordinary and mundane – little moments when the fruit of the Spirit is evident, when temptations are beaten down, when heavenly realities are shown to be more valuable than earthly vanities. The most important things in life are often this way, seemingly unimportant in the moment, ultimately important in the end. Boys need to learn these eternal truths, and they do so by watching wise parents.
About the author
David West is an ordinary father serving an extraordinary Savior. He is husband to Danette, father of six, deacon at The Cornerstone Bible Church, past chairman of the Sacramento Organization of Parent Educators (scopehome.org), sales manager by vocation, and a lover of books and writing.
---
Are you looking for new learning options, Christian content, and other engaging products for everyone in the house? You'll find something good in our annual Homeschool Shopping Days eBlast, arriving in your inbox on July 25th. There's lots to discover!
---
Fin-tastic savings are swimming your way! Begin your SchoolhouseTeachers.com membership today for only $199/yr. Sign up now and receive a free year and stylish new tote when using code: BOGO22. New members only. Sorry, no refunds. Totes are available in US only.
---
SchoolhouseTeachers.com Corner
Did you know?
Every class is INCLUDED for ultimate members!
No limits.
Keep those hands busy with the Science Experiments with World Book course at SchoolhouseTeachers.com. These 50+ experiments come with illustrations and videos, and they are sure to engage your curious learner with topics like microscopic life, plants, machines, and more!
---
Read this article
in the summer issue of
The Old Schoolhouse® Magazine.
---
School year resolution: keep the homeschooling inspiration coming! Subscribe to The Old Schoolhouse® Magazine, discounted for you in July, and homeschool all year long with quarterly print issues plus new BONUS digital content. https://www.theoldschoolhouse.com/product/the-old-schoolhouse-magazine-1-year-print-subscription/
---
Take your homeschool back to the basics, back to the Bible, and back to what matters most with the "Homeschooling: You Are Not Alone" Supplement from The Old Schoolhouse® Magazine. Learn. Discover. Be inspired. Download your FREE digital issue.
---
---
Congratulations to our May winner, Krysten Traylor from Louisville, KY!
Contest Corner
for the month of July
FAMTIMEbox: The Fruit of the Spirit & FAMTIMEbox: Adventuring with Paul
Family Time Training
http://www.famtime.com
My children love to learn; they love learning hands-on as much as they can. The FAMTIMEbox: The Fruit of the Spirit and FAMTIMEbox: Adventuring with Paul from Family Time Training made that happen during our family Bible time.
To use these boxes, Family Time Training recommends sitting down as a family once a week and working through the activity. Each box comes with a Family Time Training Resource, which is like a leader's guide or teacher's guide. This will have each activity that you will be working through laid out for you.
Both Family Time Training Resource books are similar to each other. They start with the big idea or teaching goal followed by the key Scripture for the activity. Next, they list the needed materials for the activity. The materials are in the box. They even have words in bold that the teacher/leader can use to read for the activity. We end with a memory verse for the week and a prayer.
Once again in this box, we learn these lessons with fun hands-on activities. My children take in so much more and retain so much more by getting their hands in and having fun with their lessons. The last lesson stood out to them where we learned about bad choices and why we should always make good choices to stay close to God.
My children call the FAMTIMEbox sets their Vacation Bible School in a box for at home. These sets are a fun way to bring the family together and dig deeper into your faith with fun activities. If your children like to get hands-on with their learning, I would highly recommend these fun boxes for a family Bible study.
---
Go to the contest page of our site where you can ENTER TO WIN one of these activity boxes. We will have two winners for this giveaway!
---
Freebies
Let's Go Geography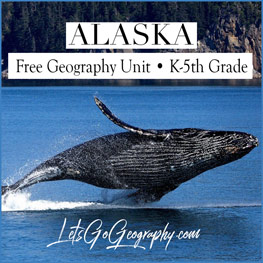 Your K–5th Grader will love learning geography with engaging videos and creative projects! Get the stand-alone Unit on the USA–Alaska from Let's Go Geography and discover what "hands-on" geography is all about. Each curriculum year introduces kids to almost thirty different countries around the globe, or pick and choose from almost ninety individual countries sold separately. Make geography the best part of your week with Let's Go Geography! Click here for the free lesson: www.letsgogeography.com/register/Guest
This free product and more are found in our 2022 Freebie Directory: TOS Freebie Directory – The Old Schoolhouse®
---
FREE E-Book!
Like a Refiner's Fire
Find more freebies at The Old Schoolhouse Homeschool Store: Freebies Archives – The Old Schoolhouse®
---
With the TOS Mobile App, search topics of interest spanning more than a decade, share articles, browse interactive content, and follow the links to hundreds of related resources. Each issue can also be downloaded and read offline.
---
Share this newsletter with a friend, and be sure to let those CONSIDERING homeschooling know about the enormous FREE info-pack which awaits them here: www.TryHomeschooling.com.
---
If you liked today's Homeschool Minute, please email the editors and tell us what part you liked most. It's a huge blessing to receive feedback!
Please add publisher@theoldschoolhouse.com to your email contacts so that our emails to you don't land in spam.