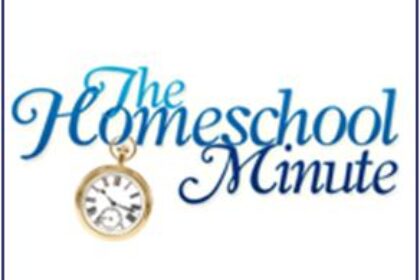 The Homeschooler, Plenty Socialized
April 20, 2022
Be sure to scroll to the bottom to enter the contest and see the freebies of the month!
Mercy Every Minute
Deborah Wuehler, TOS Senior Editor
Building a Better Society
In all of my experience with school-aged children, I have found that homeschooled children are the most positively socialized children of all—hands down. In fact, it was the influence of positively socialized homeschooled children that convinced us to home educate over thirty years ago. It's no surprise that homeschooled children are different in the best way. Looking at the culture around us today, gladly so. This has not just been my own experience; there is also current research that confirms the existence of this phenomenon (National Home Education Research Institute, www.NHERI.org).
Still today, some ask me what we are going to do about socializing our children. That is, until they get to know our children. The naysayers and skeptics hear about all the things our children are doing and see what they are good at—their art and music, their entrepreneurship, and their community service. Suddenly, the socialization question goes away . . . until we meet the next stranger.
I have watched homeschooled children grow into young people who are able to hold a meaningful conversation with adults; they are respectful and engaged. They ask good questions. They become good neighbors, good citizens, and are kind and compassionate.
Homeschool families seem to be masters of socialization, as they are very active in their communities and have a wide range of people with whom they interact. The children are also able to interact comfortably with every age group in a variety of settings, instead of only age-grade peer levels. The myth of lack of socialization has been debunked time and again. Dr. Brian Ray tells us more here: Scholars Still Want to Know: What About Socialization?
Socialized or Civilized? by Robert Bortins
Homeschooling, Socialization and the College Environment by Tim Rice
Inveterate Ironies of Socialization by Emily Hoffhines
Some may still misunderstand what home-educated children do all day, and think we are bringing the public-school idea of education home. Parent-teachers seek out opportunities of all kinds for their children: educational, mental, physical, social, and spiritual. They enjoy museums, co-ops, park days, field trips, elective classes, community events, and other learning experiences outside the home on a regular basis. Many homeschoolers practice their socialization skills outside the home almost nonstop and have to guard their time so that they do not become over-committed.
Socialization is not just about social activities but rather positive social development. And home is a safe place from which our children learn to impact their world. We teach our kids to give of themselves, love their God, and serve their community. We are building a better society for our future in the process as we keep them Home. Where They Belong.
~Deborah
---
Looking to purchase a complete curriculum package? Consider Homeschool Supercenter. Your one-stop curriculum shop! www.homeschoolsupercenter.com to shop now or learn more!
---
Todd Wilson
Your Kids ARE Socialized
I can't believe I even need to say anything about socialization. I mean, we all KNOW that the old, "What about lack of socialization?" question just doesn't hold water. I mean none—not even a teaspoonful of it.
You know that; I know that; we all know that. BUT when the question comes, we still find ourselves thinking, "Well, maybe they've got a point . . . maybe they do need to be around other kids more."
Mom and Dad, stop it! Don't fall for that old lie. Your kids are fine; they certainly don't need to be around kids all day long to be socialized. You know it. Don't waiver. Don't get weak in the knees. Stand firm, not only in your response to the "questioner," but even more importantly, in your own mind and convictions.
Now Dad, here's where you are vital, because sometimes dads fall for the lie even more than moms. Oftentimes, it's the dad who hears one of the "questioners," and then all of a sudden, he becomes a "questioner" too.
"You know, maybe it would be good for Josh to take a couple of classes just so he can be around other kids and learn how to interact," a dad might say to his wife.
NO! Dad, don't go there. If you do, you'll only increase the uncertainty in your wife's mind, and you need to be the one who stands firm and leads the way.
Now hear this! There is no uncertainty! Your kids are perfectly socialized, and they don't need other kids to be better socialized. It's the TRUTH. Believe it; cling to it; and don't make me come over there and write another article about it!
Be real,
Todd
Need more convincing? Check out the classic homeschool book Lies Homeschooling Moms Believe. You'll be glad you did.
About the author
Todd Wilson is a husband, dad, grandpa, writer, homeschool conference speaker, and former pastor. Todd's humor and down to earth realness have made him a favorite speaker all across the country and a guest on Focus on the Family. As founder of The Familyman and The Smiling Homeschooler, his passion and mission are to remind moms and dads of what's most important through weekly emails, podcasts, seminars, and books that encourage parents. Todd, and his wife Debbie, homeschool four of their eight children (the other four are homeschool graduates) in northern Indiana and travel America in the Familyman Mobile. You can read more at www.familymanweb.com.
---
CHECK OUT NEW lesson plans and video workshops at DickBlick.com/lesson-plans. For students of all ages!
---
Beth Mora
Socialized Fears to Rest
A perfect stranger asks me in front of my children, "Aren't you afraid that your child will become a social misfit?" Or a family member questions, in the name of love and concern, my decision to homeschool based on their perception of the awkward homeschooler they met at some gathering or because the media reports about a homeschool family who went sideways.
Over the years, my responses have evolved from super defensive to sarcastic, to apathetic, and finally to diplomatic and confident:
Super defensive:
I was beginning my homeschool journey, and I had done the research. However, I was unsure if what I was reading was true. I was shaky at best with the data and experience of what others were telling me. So when questioned, I came out strong, but my fears lingered after each encounter.
Sarcastic:
Now I had experience. I began to see how my children interacted with people of all ages, and I noted the flaws in the socialization argument. They were laughable, and my sarcastic tongue got the best of me. However, amid my one-liners, I strengthened my resolve; what we were doing as a family was the right path to develop healthy social beings.
Apathetic:
Years went on, and I became the taxi driver for my kiddos, hurrying from one end of the county to the other so they could participate in a bazillion activities, classes, and events. I didn't have the energy to respond, and I fear I missed opportunities to share the positive vision of homeschooling with my fellow citizens.
Diplomatic and Confident:
At this point, my young adults were driving themselves. They engaged well in all types of social settings. Above all, they valued relationships. As a result, I had a little more time to share with those who questioned, and family members were finally admitting, "You were right."
My dear fellow homeschool educator, your homeschool child is equipped to negotiate social settings better than most. My advice? Put your fears to rest, and jump to the confidence and diplomatic stage. Your homeschooler is plenty socialized.
About the author
Beth Mora, creator/teacher-on-camera for Here to Help Learning's Homeschool Writing Program (grades 1-6) and homeschool conference and women's events speaker, loves to blog at Home to Home. She serves up HTHL's Writing Tip of the Week for those teaching their kiddos to write. Everything she does, whether laughable or heart gripping, is done to honor One. God's grace is the salve that has healed her own life and is what she offers liberally to others.
---
Dara Halydier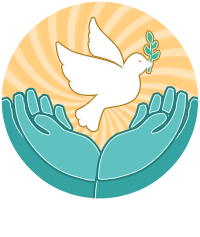 Pillar of Hope
Dara Halydier – Socialization Begins at Home
According to Open Education Sociology Dictionary, socialization is "The lifelong process of an individual or group learning the expected norms and customs of a group or society through social interaction." Like most skills in life, socialization needs to be practiced, and there is no safer place to practice than the home with loving parents and siblings. Would you rather your child be taught proper table manners at home or in a cafeteria with three hundred other second graders?
Homeschooled kids are, in fact, very well socialized through their interactions with adults and children of different ages vs. the peer socialization of public and private schooling. The average homeschooled student has three activities outside of the home each week. These include sports, music, crafts, extracurricular classes, church and religious activities, and volunteer work.
Parents being available to teach their children proper social skills begins with the parents having proper social skills. There is no list of what these skills are; however, this author would include:
Meal-time social norms
Work-place social norms
Communication with various groups including parents, elderly people, teachers or supervisors, siblings, and age equivalent friends.
Cultural habits defined by your area of the world (Taking shoes off at front door, how to address adults, etc.)
Learn more at https://www.theetiquettefactory.com/
About the author
Dara Halydier is an author, speaker, and mom of five grown boys! She homeschooled for twenty-one wonderful years and is now encouraging other homeschooling families. She is the executive director of Abiding Truth Ministry and the author of the Practical Proverbs series and other books. Dara has learned life's lessons the hard way—experience! The lessons she shares come from truths that she has learned from dealing with chronic pain, having moved thirty-three times, having four boys with learning disabilities, and having overcome a past of abuse to proclaim God's grace, forgiveness, and freedom. Find out more at www.abidingtruthministry.com .
---
Look What's Happening in Massachusetts:
April 21–23, 2022
MassHOPE 2022 Homeschool Convention
Sturbridge Host Hotel & Conference Center
Sturbridge, Massachusetts
Meet two familiar faces from The Old Schoolhouse® Magazine: Gena Suarez, Publisher, and Deborah Wuehler, Senior Editor. Gena began publishing The Old Schoolhouse® Magazine over twenty years ago. Her "Hey, Mama!" articles have blessed many homeschooling mamas through the years. Deborah's passion is to encourage homeschool families to keep their focus on Christ and His Word, and to let them know they are making the best educational choice possible when they choose to keep their children Home Where They Belong. Take in Deborah's workshops in Massachusetts including:
Why Homeschool?
The Cost of NOT Homeschooling
Why The Teacher Should be YOU!
Homeschooling through Hardship
Homeschooling the Rebel
https://masshope.org/convention/
---
"Each time SchoolhouseTeachers.com does something new I am just thrilled. Our family is so blessed having this be our homeschooling resource." –Tracey. Be in the know with new benefits added all the time. Use SPRING22 or MONTHLY22 at checkout. New members only. No refunds.
---
SchoolhouseTeachers.com Corner
Did you know?
Every class is INCLUDED for ultimate members!
No limits.
Am I doing the right thing? Is there a better way? How do I know if it's working? These questions are asked by beginner homeschoolers as well as those who have been homeschooling for a while. Find answers and encouragement with the Growing in Homeschool Confidence course for parents on SchoolhouseTeachers.com. Topics include starting or improving your homeschool, socialization, child development stages, and more!
---
---
Read this article
in the spring issue of
The Old Schoolhouse® Magazine.
---
For the first time ever, The Old Schoolhouse® Magazine includes extra homeschool encouragement and support with a newly enhanced magazine format to meet the needs of today's generation of homeschooling families. Our Summer 2022 issue includes BONUS digital content!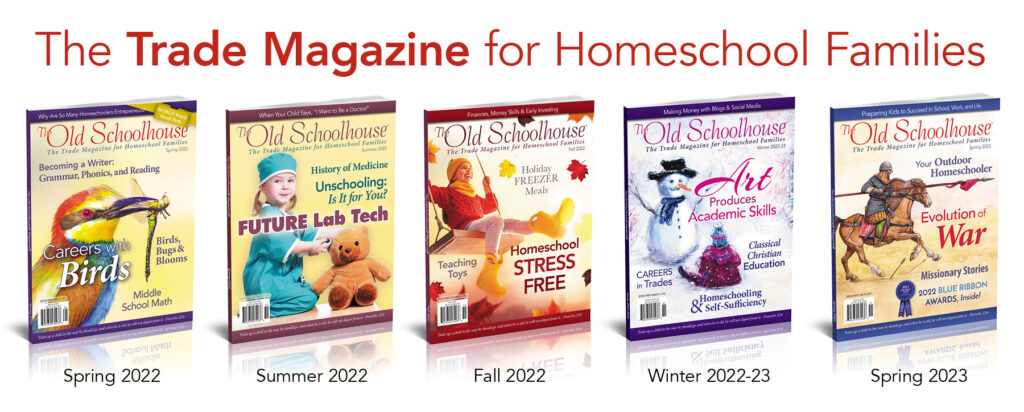 ---
---
Congratulations to Patricia Leverknight from Boswell, PA who won our February giveaway!
Contest Corner
for the month of April
Bible Memory App PRO
The Bible Memory App PRO
BibleMemory.com
As Christian homeschoolers, we want to infuse our hearts and the hearts of our children with Scripture. We do this by memorizing Bible verses. The Bible Memory App PRO from BibleMemory.com makes it easy!
The Bible Memory App – Bible Memory PRO incorporates Kinesthetic Memory, Visual Memory, and Audio Memory. Both the free version and PRO version use the three-step Kinesthetic process for memorization.
The first step is Type It. The Bible Memory App includes three options for Typing Mode. The first option is typing the first letter of each word. The second option is Type Everything Speed, and the third option is Type Everything Accuracy. In this step, all the words are visible. This is because you are learning by typing. Other typing options include choices for the verse reference and punctuation.
The second step is Memorize. Again, you'll type the verse, but some words will be missing. Each time you practice, the app will change which words are visible and missing.
In the final step Master, all the words are missing, and you must type the entire verse (or the first letter of every word in the verse).
Each Pro Account allows you to add up to three more accounts so you can memorize Bible verses as a family! In addition, you can start or join a group to work together on your memorizing goals. The Bible Memory App PRO is a fun and easy way to memorize Bible verses.
---
Read more on our site along with 30+ reviews from other homeschool moms.
Go to the contest page of our site where you can ENTER TO WIN a lifetime access to Bible Memory App PRO.
---
Freebies
Daily Grammar Publishing
DGP Publishing Language Arts is excited to offer TWO freebies! First, get a set of printable, hands-on reading comprehension activities for elementary students. Your free PDF includes written instructions, an instructional video, and three different activity pages. The second freebie is for high school students: a video lesson with great tips for writing college application essays and scholarship essays. If your high schooler isn't heading for college, these tips are useful for other types of writing as well! Enjoy both freebies without signing up for anything or providing personal information.
This free product and more are found in our 2022 Freebie Directory: TOS Freebie Directory – The Old Schoolhouse®
---
FREE Expo Recording!
May 2010 Schoolhouse Expo sessions by Deb Wuehler
Deborah Wuehler invites you to experience the mercy of God, which is new every minute. As a busy homeschool mom, Deborah knows that we all need that mercy minute by minute! Three full sessions of encouragement straight from God's Word and Deborah's heart, right to your home! Deborah is senior editor of TOS Magazine and shared these three inspiring sessions during the May 2010 Schoolhouse Expo. Listen in as Deborah shares her need for grace and peace in her heart and home, and how God supplies those needs. Deborah shares how to desire the Word of God when desire has ceased, and you can also follow Deborah as she takes you by the hand and shows you "Who Your God Says He Is."
Find more freebies at The Old Schoolhouse Homeschool Store: Freebies Archives – The Old Schoolhouse®
---
With the TOS Mobile App, search topics of interest spanning more than a decade, share articles, browse interactive content, and follow the links to hundreds of related resources. Each issue can also be downloaded and read offline.
---
Share this newsletter with a friend, and be sure to let those CONSIDERING homeschooling know about the enormous FREE info-pack which awaits them here: www.TryHomeschooling.com.
---
If you liked today's Homeschool Minute, please email the editors and tell us what part you liked most. It's a huge blessing to receive feedback!
Please add publisher@theoldschoolhouse.com to your email contacts so that our emails to you don't land in spam.