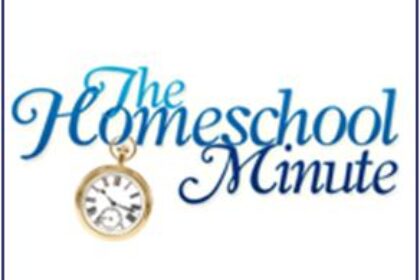 Staying Sane while Homeschooling Multiple Ages
April 13, 2022
Be sure to scroll to the bottom to enter the contest and see the freebies of the month!
Hey, Mama!
You Don't Have to be Superwoman to Homeschool Multiple Ages
Hey Mama,
I heard you are drowning. You thought you were going to wake up and start a fresh new day, lots would get done, and you'd go to bed tonight content that so much was accomplished. It's not looking that way, though, and the day is already underway and moving too fast. Man, can I relate with how you're feeling right now . . .
Your first inclination is to go back to bed (or hide underneath it). I just wanted to drop in and encourage you. Don't hide; don't run away. God has your day ordained. He orders our day. And He is not surprised at this one.
His word tells us to wait on Him, to take courage, to be joyful. I find that when I start to get overwhelmed, God's word is the place I need to be. He speaks to us through His work. Have a look . . .
Psalm 31:24
Be strong and let your heart take courage, all you who hope in the Lord.
Isaiah 35:4
Say to those with anxious heart, "Take courage, fear not. Behold, your God will come with vengeance; the recompense of God will come, but He will save you."
Philippians 4:6
Be anxious for nothing, but in everything by prayer and supplication with thanksgiving let your requests be made known to God.
Psalm 94:19
When my anxious thoughts multiply within me, Your consolations delight my soul.
Isaiah 41:10
Fear thou not; for I am with thee: be not dismayed; for I am thy God: I will strengthen thee; yea, I will help thee; yea, I will uphold thee with the right hand of my righteousness.
Mama, get into the word today if you can. Read all of the above passages in context, and get to know the Heart of your great God and Savior, Jesus Christ. He is with you. He will never leave you.
Don't beat yourself up for the slow start today (as early—or late—as it is). Look, you have a bunch of kids, and you're homeschooling multiple ages. Do you think you're supposed to be super-woman or something? Of course not. But you have what it takes.
These articles from The Old Schoolhouse® Magazine are a good reminder of that.
Teaching Multiple Ages by Kristen Hamilton
Homeschooling Multiple Ages and Grades: Teacher Tips by Marla Szwast
Staying Sane As You Homeschool by Kathy Kuhl
My advice to you:
Know that it (whatever "it" may be) will not be predictable today.
Understand that your day's plans will blow up at least once a week (if not once a day).
Give yourself a break; God smiles on you, so smile back.
Say under your breath or in your heart, "Lord, I don't know what to do, but my eyes are on YOU." (Deborah Wuehler's best saying)
Accept that you are a child of God, walking this walk, obeying Him, doing your best, and in the words of Keith Green—HE'LL TAKE CARE OF THE REST.
Embrace the madness, Mama.
It's your crazy, mad, insane, over-filled life. Love it. He gave it to you. And He gave YOU to your children. He has a plan.
Now get out from under the bed and go find your kids. Hug them and move on with the day. It's a gift. Make the BEST of it, and may God be glorified. In the meantime, His hand is on your head today.
-gena
---
Benefit from our 30+ years of experience. Guidance and help for a joyful homeschool! Free PDF Homeschool Planner with coaching sessions. https://www.bransonacademy.net/homeschool-coaching.html
---
Raising Real Men
Hal & Melanie Young, RaisingRealMen.com
Teaching Several Grades Doesn't Have to Be Hard
We have eight children and homeschooled them from the beginning! At one point, Melanie was teaching five grade levels . . . with a preschooler and a baby along for the ride. How in the world?
Don't micromanage.
You know the beginning readers will need lots of hands-on attention. Give the older kids assignments first, teaching them important self-study skills, while you teach the littles. (Pro tip: Sometimes middle-schoolers need some hands-on, too.)
Combine your efforts.
Reading and math build in a sequence, but your younger kids can do history, literature, science and more together. Include the younger kids with the teens' learning, too. When the teens were dissecting in biology, we got extra specimens so other kids could participate "ahead of time." Welcome everyone into your discussion times, too—you'll be surprised how much they pick up and remember!
Don't do busywork.
The point is to learn, not to make a document trail that no one will ever look at. It's okay to do every other problem if they are getting it. It's okay to test orally or not at all. You don't even need grades until they're in high school, and not a lot then. At least, not today's schools! Remember Laura Ingalls' one-room schoolhouse? That's more like homeschooling. Homeschooling allows us to focus on each child's needs. You can be flexible about how, when, and where you learn. Lean into it!
Give yourself grace – lots of it.
Homeschooling is like parenting—dealing with three (or eight!) kids is easier when they've added up over time. If you're a new homeschooler starting with multiple students, don't fret that it's overwhelming—you'll grow into it! And even if you're a veteran, sometimes you'll face stress or uncertainty . . . keep calm, trust God, and just do the next thing. You can do this!
In Christ,
Hal and Melanie
P.S. For more encouragement and help, download Melanie's workshop on balancing the needs of a houseful and getting the housework done, too! Click here.
About the author
Hal & Melanie Young are the award-winning, best-selling authors of Raising Real Men, No Longer Little, and Love, Honor, and Virtue. They are publishers, writers, bloggers, and popular conference speakers internationally, known for their Christ-centered focus and practical, real-life stories. They are the parents of six real boys (five grown!) and two real girls and live in noisy, messy happiness in North Carolina.
---
Kerry Tittle
Large Family Logistics
When people find out I have nine children, the question that most often follows is "How do you homeschool ALL of them?"
While keeping a schedule for a couple of children seems fairly doable, keeping a large family on task can have its challenges.
Here are a few tips that I have learned in twenty-four years:
DON'T be enslaved to the clock. Have a routine NOT a schedule. The main reason is that my goal in homeschooling is to know Jesus and make Him known. The Holy Spirit rarely ever works on my timing. If we have math at 9 AM and a meltdown at 8:50 AM, math will be running late that day. If we push them to stay "on time," it frustrates the child and, in my experience, probably results in poor knowledge retention.


Homeschool without outside influence. What I mean by that is keep your homeschool vision on the forefront of your mind, even if it looks different from others. Oftentimes we are tempted to have schedules that reflect the "perfect homeschool gal" down the road or the local school. If we have a stormy Saturday, we may do weeks of science all day in the kitchen. If there is global unrest (Ukraine while I'm writing this) we may learn the history of Russia, maps, and strategy. But more importantly, we may spend time discussing the character of the leaders, and weighing the event in light of God's Word. This is life. This is more important than having them read and memorize different varieties of shrimp. That is what the Web is for.


Of course, math and reading need to be individualized and tailored to your child's age and abilities, but subjects like history, geography and even science can be used for family-style learning. There are many curriculums that are created just for this sort of learning style.


Play educational games and play them often.


Take school outside of your home. Explore your state. My daughter recently wanted to go to the zoo to practice her Spanish! Hola leones!


Teach them to find answers. Parents often answer their kid's questions . . . but in a society where knowledge is at your fingertips, it's important for them to search and study. This will encourage them to be independent learners.


Let the older kids teach. In order to know it, you must be able to explain it. Not only is this a good discipline for your children, it often helps them to be more confident.


The car is the perfect place for memory work.


Schooling is 24/7. . . 365. It should reflect Deuteronomy 6:7: You shall teach them diligently to your children and shall talk of them when you sit in your house, and when you walk by the way, and when you lie down, and when you rise.


Rise up, and kick stress to the curb, and enjoy this journey with your family!
About the author
Kerry Tittle is a mother of nine children and a 20-year homeschool veteran. She was the owner of ReformationKidz with her husband Rob until a tornado destroyed their home and business in 2014, taking the lives of Rob and two of their daughters, Tori and Rebekah. Kerry is the founder of Refined Family, which is created to encourage others to find hope in the gospel in the midst of trials.
---
Roger Smith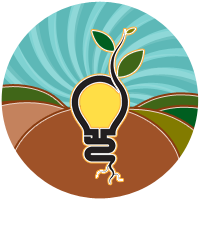 Pillar of Knowledge
Roger Smith – See One, Do One, Teach One
How do you "stay sane" when homeschooling multiple ages? Though many ask that, I would say all of us homeschoolers are crazy. So, maybe we are not trying to maintain sanity, but are in search of it!
In medical residency, we were all "different ages" as far as experience went. We had a mantra for our growth (and our sanity)—"See one, do one, teach one." Everyone was one step ahead or behind the next person, and we knew we needed to teach someone what we knew, while needing another to teach us what they knew.
Shouldn't home education function the same way? One sibling teaching another will reward both. Passing lessons from one student to the next builds bridges that hold families together. Learning about a subject together (e.g. airplanes), allows each to understand at his own level when the information is encountered together. Though books for the younger student have more pictures, all can learn something valuable from almost any material. History, geography, math, science, and other disciplines can burst forth from a study of airplanes, and each student will learn from his developmental vantage point.
Learning together—there's nothing insane about that.
About the author
Dr. Roger Smith is a family doctor in rural Louisiana, where he and his wife, Jan, raised four adventurous children who are all grown, making their own mark in the world. He speaks and writes on parenting issues and produces brief videos that can be found on Facebook @ParentingMattersNow.
---
Look What's Happening in Massachusetts:
April 21–23, 2022
MassHOPE 2022 Homeschool Convention
Sturbridge Host Hotel & Conference Center
Sturbridge, Massachusetts
Meet two familiar faces from The Old Schoolhouse® Magazine: Gena Suarez, Publisher, and Deborah Wuehler, Senior Editor. Gena began publishing The Old Schoolhouse® Magazine over twenty years ago. Her "Hey, Mama!" articles have blessed many homeschooling mamas through the years. Deborah's passion is to encourage homeschool families to keep their focus on Christ and His Word, and to let them know they are making the best educational choice possible when they choose to keep their children Home Where They Belong. Take in Deborah's workshops in Massachusetts including:
Why Homeschool?
The Cost of NOT Homeschooling
Why The Teacher Should be YOU!
Homeschooling through Hardship
Homeschooling the Rebel
https://masshope.org/convention/
---
Your membership to SchoolhouseTeachers.com includes exclusive access to the Hey, Mama! Bright Spot Chat! The Celebrating High School Homeschool Graduation discussion begins at 4 p.m. ET on Tuesday, April 19, 2022. Register from the Activity Calendar tab of your Member Dashboard today and come prepared to be inspired.
---
"As missionaries, it's often difficult to balance ministry and school. SchoolhouseTeachers.com has simplified the system, and I can give my kids what they need and not feel like we need a trailer for our books." –Ginger. Join Ginger and thousands of other homeschooling families today by locking in a discounted annual or monthly price. Use code SPRING22 for the Ultimate Annual Membership for only $189 (reg. $269.97). Code MONTHLY22 locks you into a monthly rate of only $18.97 (reg. $29.97). New members only. No refunds.
---
SchoolhouseTeachers.com Corner
Did you know?
Every class is INCLUDED for ultimate members!
No limits.
It's important to find the balance when teaching multiple children at home, and sometimes doing unit studies together is just what you need. Not only will you be teaching everyone together, you'll be able to have some family bonding time as well. SchoolhouseTeachers.com has a Family Electives area filled with resources to help bring some balance to your schedule.
---
---
Read this article
in the spring issue of
The Old Schoolhouse® Magazine.
---
Which article will you pick first? We've packed the Summer 2022 issue of The Old Schoolhouse® Magazine full of features you're sure to love. PLUS, it's overflowing with content to meet the needs of a new generation of homeschooling families. Subscribe and discover our newly enhanced magazine format giving you additional digital content for the first time ever.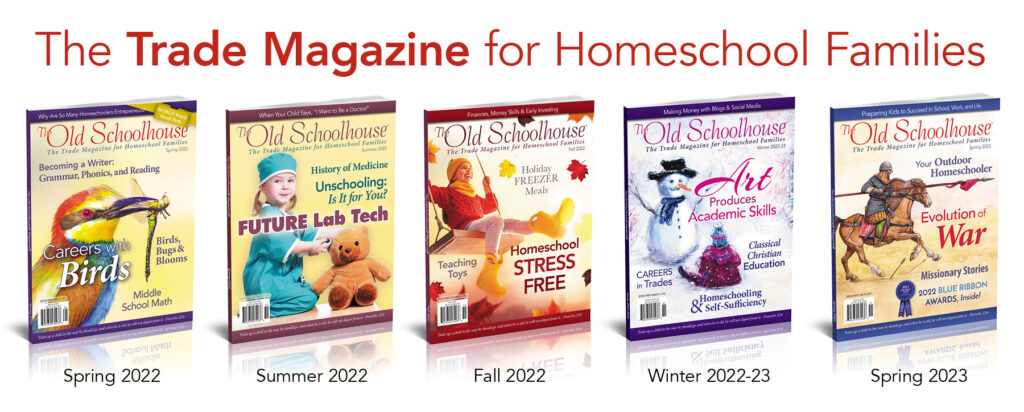 ---
---
Congratulations to Patricia Leverknight from Boswell, PA who won our February giveaway!
Contest Corner
for the month of April
Bible Memory App PRO
As Christian homeschoolers, we want to infuse our hearts and the hearts of our children with Scripture. We do this by memorizing Bible verses. The Bible Memory App PRO from BibleMemory.com makes it easy!
The Bible Memory App – Bible Memory PRO incorporates Kinesthetic Memory, Visual Memory, and Audio Memory. Both the free version and PRO version use the three-step Kinesthetic process for memorization.
The first step is Type It. The Bible Memory App includes three options for Typing Mode. The first option is typing the first letter of each word. The second option is Type Everything Speed, and the third option is Type Everything Accuracy. In this step, all the words are visible. This is because you are learning by typing. Other typing options include choices for the verse reference and punctuation.
The second step is Memorize. Again, you'll type the verse, but some words will be missing. Each time you practice, the app will change which words are visible and missing.
In the final step Master, all the words are missing, and you must type the entire verse (or the first letter of every word in the verse).
Each Pro Account allows you to add up to three more accounts so you can memorize Bible verses as a family! In addition, you can start or join a group to work together on your memorizing goals. The Bible Memory App PRO is a fun and easy way to memorize Bible verses.
---
Read more on our site along with 30+ reviews from other homeschool moms.
Go to the contest page of our site where you can ENTER TO WIN a lifetime access to Bible Memory App PRO.
---
Freebies
Daily Grammar Publishing
DGP Publishing Language Arts is excited to offer TWO freebies! First, get a set of printable, hands-on reading comprehension activities for elementary students. Your free PDF includes written instructions, an instructional video, and three different activity pages. The second freebie is for high school students: a video lesson with great tips for writing college application essays and scholarship essays. If your high schooler isn't heading for college, these tips are useful for other types of writing as well! Enjoy both freebies without signing up for anything or providing personal information.
This free product and more are found in our 2022 Freebie Directory: TOS Freebie Directory – The Old Schoolhouse®
---
FREE Expo Recording!
May 2010 Schoolhouse Expo sessions by Deb Wuehler
Deborah Wuehler invites you to experience the mercy of God, which is new every minute. As a busy homeschool mom, Deborah knows that we all need that mercy minute by minute! Three full sessions of encouragement straight from God's Word and Deborah's heart, right to your home! Deborah is senior editor of TOS Magazine and shared these three inspiring sessions during the May 2010 Schoolhouse Expo. Listen in as Deborah shares her need for grace and peace in her heart and home, and how God supplies those needs. Deborah shares how to desire the Word of God when desire has ceased, and you can also follow Deborah as she takes you by the hand and shows you "Who Your God Says He Is."
Find more freebies at The Old Schoolhouse Homeschool Store: Freebies Archives – The Old Schoolhouse®
---
With the TOS Mobile App, search topics of interest spanning more than a decade, share articles, browse interactive content, and follow the links to hundreds of related resources. Each issue can also be downloaded and read offline.
---
Share this newsletter with a friend, and be sure to let those CONSIDERING homeschooling know about the enormous FREE info-pack which awaits them here: www.TryHomeschooling.com.
---
If you liked today's Homeschool Minute, please email the editors and tell us what part you liked most. It's a huge blessing to receive feedback!
Please add publisher@theoldschoolhouse.com to your email contacts so that our emails to you don't land in spam.