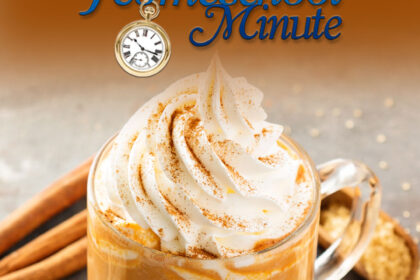 Generational Homeschooling / Second Generation Homeschoolers
September 27, 2023
Be sure to scroll to the bottom to enter the contest and see the freebies of the month!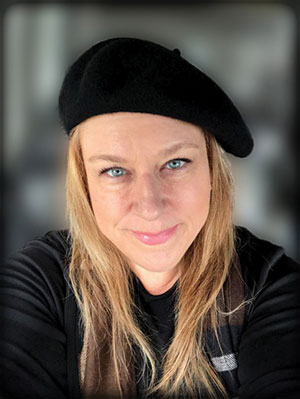 Hey, Mama!
Hope for the Future of Homeschooling
Hey, Mama.
My editors keep telling me to lower the word count when I write. I talk too much. I go on forever trying to find the right words to share with you, and, somehow, I do manage to capture and pen them. But for every ten words I need, the compulsion to surround them with a hundred more is forever the path I take. Every time. I figure, hey, I have to be conversational or you will grow bored.
I have kind editors. Gently they remind me less is best. So let's see if we can keep this to a sizable enough, yet manageable monologue–one not as colossally gigantic or in-depth as I'd like it to be from the sheer justification (in my mind, anyway) that . . . I like words, particularly big ones. Be thankful this is a monologue and not a soliloquy, as that would never end. Trust me, I know.
Generational homeschooling is important to me because it denotes the breaking of chains—ending old patterns that were never meant to be, like government schooling which sprung from the hearts of godless men who despised individualism and loved power. Managing the populace and making money were on the minds–and hearts–of these planners during the Industrial Age (and even prior to), and after so many generations of atheistic indoctrination and parents turning their children over to be raised by the State, you can see the damage. Can't you? Look around. Only the blind would miss it.
And more families now than ever are waking up, as are churches everywhere. There is a movement—the Church Schoolhouse movement—making its way across this country and around the world. It's growing exponentially and it is generational. Many who were home educated grew up under the discipleship of the ones who loved their hearts, and now they, in turn, are committed to the Biblical discipleship of their own children, affecting future generations' very souls.
Someone will disciple them. And after two hundred years, the public school experiment has revealed the rot that is at its very core. Too many souls are being lost to the world. Most abandon the faith of their parents after they have finished being taught by those who have discipled them diligently, with forethought and deliberation (Luke 6:40). Look into the history of public schools—or ask Paul and me to come out and share that PowerPoint presentation with your church body. It's fascinating and egregious at the same time.
But there is hope for the future when parents become intentional about discipleship. We are seeing it everywhere, and it is making a difference in families and in their children as they become adults and begin discipling the next generation in God's Word. Give us a call; you can reach us here: TennesseeSchoolhouse.com. We'll come out and talk to your families. You'll be in for a real eye-opener when you hear why public schooling even began, how the modern homeschooling movement was created as a counter-measure, and how homeschooled kids have fared over the last three decades. And I promise . . . I'll remember "less is best." You'll love it. 🙂
~gena
---
Schedule a free session and talk with an experienced homeschool mom and coach today! Accountability, high school help, schedules, curriculum planning, special needs. bransonacademy.net
---
Todd Wilson
Passing the Baton
Okay, I'm going to make this one short and sweet. If you want your children to homeschool their children, then make it enjoyable. Because I'm telling you that if you make it harder than institutional school, work them like dogs, and make it all based on performance and how well they do (also making you look good), they won't homeschool their future children because they won't want to put those same pressures on their kids.
But when you're having a good time homeschooling your children, who are having a good time learning (that doesn't mean every single day), they'll want to homeschool their children.
Let me repeat myself again: If you want your children to homeschool their children, then make it enjoyable. If it's not enjoyable to you, it's probably not enjoyable to them and you should change how you're doing it. Drop the stupidly hard subject you all hate, and homeschool them according to their bent and your personality.
Don't know your homeschool personality? Then take the Homeschool Personality Test at thesmilinghomeschooler.com.
Be real,
Todd
About the author
Todd Wilson is a husband, dad, grandpa, writer, homeschool conference speaker, and former pastor. Todd's humor and down to earth realness have made him a favorite speaker all across the country and a guest on Focus on the Family. As founder of The Familyman and The Smiling Homeschooler, his passion and mission are to remind moms and dads of what's most important through weekly emails, podcasts, seminars, and books that encourage parents. Todd, and his wife Debbie, homeschool four of their eight children (the other four are homeschool graduates) in northern Indiana and travel America in the Familyman Mobile. You can read more at www.familymanweb.com.
---
Grammar doesn't have to be complicated! Visit www.easygrammar.com to learn about our unique approach to grammar. It is "Easy to Teach…Easy to Learn…Easy to Remember!
---
Dara Ekanger
Second-Generation Homeschool Advantage
You may have read the book The Firstborn Advantage that explores the advantages to being the first child in a family. Firstborns get mom and dad exclusively to themselves for a while, and they automatically develop leadership skills as they take on "big brother/sister" status and "mama's helper." They tend to become very confident adults.
Second-generation homeschoolers also have a distinct advantage, but it took me a while to realize it. When I first started homeschooling my oldest, many of the new homeschool moms I interacted with seemed insecure in their ability to teach their children. They worried about missing something. They agonized over finding the "right" curriculum. Several were even school teachers before deciding to homeschool, and even they struggled with confidence when family members criticized them! "I know you've taught classrooms with twenty-five students, but you can't possibly teach your own children at home!"
I couldn't understand it.
Finally, it dawned on me. I had attended public and private schools before begging my mother to homeschool me in seventh grade—that's another story. Hesitantly, she'd agreed (it was very rare in the '80s), and I never went back. But I did go on to graduate from college, get married, and lead a normal life—despite fears from friends and family that homeschooling would ruin me.
When it came time to decide on the education path for our kids, my husband was hesitant about homeschooling. But there was no doubt in my mind that homeschooling would be best, and I could certainly do it. Why? Well, maybe it does have something to do with me being a firstborn (that confidence kicked in early), but I think it has more to do with being a second-generation homeschooler.
I had seen my mother homeschool us. I knew she spent every Sunday afternoon planning out our schedule and grading papers. She read great books to us every morning and answered our questions when we needed help. She tried different curricula until finding what worked. When my math level advanced further than she felt comfortable guiding, she sought out a tutor. I'm not saying she had it easy, but I thought that if she could homeschool me and my brother—and we turned out okay—wouldn't I be able to teach my kids?
Absolutely, and so can you. My oldest will graduate from college in May and get married the next month. He and his fiancée have already decided to homeschool their children. Both of them were homeschooled K–12, and I can see that third generation of homeschoolers just on the horizon. I've seen the successful results of committed parents willing to follow God's command to train and educate their children in the way they should go. And if you don't yet have the confidence that comes naturally to second-generation homeschoolers, rest assured, your children certainly will.
About the author
Dara Ekanger is a homeschooling mother of three, one soon to graduate college who is engaged to be married. A homeschool graduate herself, she has two BA degrees and has been a writer and copyeditor for almost thirty years. She loves to encourage parents that they can successfully educate their children at home, and those strong-willed kids will eventually grow up to bring you joy if you trust the Lord and don't give up.
---
Pillar of Future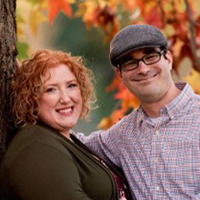 Adam and Dianne Riveiro
The Blessing of Having Been Homeschooled
I was homeschooled from 6th to 11th grade. Sandwiched around those years, I did a mixture of public and private schooling. Homeschooling was by far my favorite. However, when it came time for my own children to start school, I had no desire to homeschool them at all. So off to private school they went. This continued until my oldest finished 2nd grade.
During that year, God made some big changes in our family, and it became evident that homeschooling would be a necessity. As I started our journey, one of the biggest blessings was having a mom who could share knowledge from her years of experience. Even though we didn't homeschool exactly the same way or use the same curriculum, there was a comfort in knowing my mom had gone this way before me.
I don't know what the future holds for my children and any grandchildren the Lord may choose to bless our family with. They will have to make their own decisions concerning schooling when that time comes. However, I hope they have enough fond memories of homeschooling to strongly consider it for their own children. And I pray they know their mom will be cheering them on— just like mine did.
-Dianne Riveiro
About the author
Pastor Adam and Dianne Riveiro live in Easton, Massachusetts, where Adam leads Liberty Baptist Church. They're the authors of several books, including Hope from Our Heart to Yours: A 30-Day Devotional Journey for Special Needs Families, available from their family's publishing label at www.readyscribepublications.com. They have four children: Bethany, Kaylee, AJ, and Peyton. They're passionate about helping their fellow special needs families find joy and contentment in Christ.
---
The NAHC is BACK. Register your 12–18-year-old today for THE annual opportunity for homeschooled students to put their college knowledge to the test on a national level with the National Academic Homeschool Competition, brought to you by The Old Schoolhouse® and College Options Foundation, with thanks to our sponsors: CTCMath and Colorado Christian University. All SchoolhouseTeachers.com members receive a 50% discount on the $110 registration fee for the NAHC, so SchoolhouseTeachers.com members pay only $55. Obtain the code from your SchoolhouseTeachers.com Member Dashboard. Registration covers NAHC access, Total College Success software, and Zero Hour Threat—an interactive game that preps students for the SAT and ACT. Let's go: NAHCRegistration.com.
---
SchoolhouseTeachers.com kids are full of talent! Come showcase your art and photography skills in the Virtual Art and Photography Fair! This event is open to all PreK–12 ST kids. Visit the Activities/Events tab in your Member Dashboard to learn how to submit your child's artwork. Projects may be original paintings, drawings, sketches, photography, sculptures, etc., submitted via clear digital photo for website display. Award certificates will be presented for first, second, and third places! Not a member? Join today!
Student submissions are being accepted from September 11 through October 27, 2023.
---
SchoolhouseTeachers.com Corner
Did you know?
Every class is INCLUDED for ultimate members!
No limits.
How is your body like an apple core? Do you hold your body more like a "sad dog" or a "happy dog"? All ages can learn about habits, barriers, core, and alignment while moving your bodies toward better health with Family Fitness! Grab the accompanying charts to help your entire family track activity levels and progress toward goals.
---

The seeds you plant today as you homeschool will bear fruit in the next generation. Hear more good news from Deborah Wuehler as she shares wisdom from over thirty years of homeschooling in Episode 35 of the Hey, Mama! Homeschool Show: Generational Homeschooling/Second Generation Homeschoolers.
---
So many people think they want to preserve food for the future, but it can be difficult to figure out exactly how to do it. You and your children can learn together. Jenny Underwood tells how. (Find all the articles with HomeschoolApp.com.)
---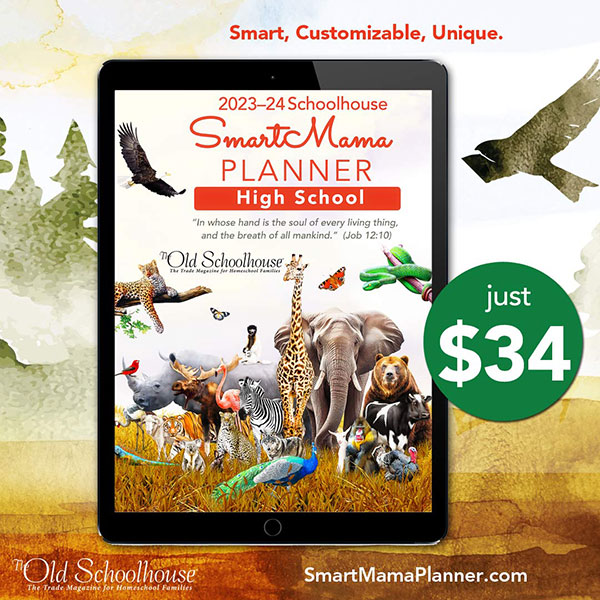 It's not too late to help your teen tame a wild high school schedule with their own interactive digital planner from The Old Schoolhouse®. Your high schooler can track credit requirements, plan for the future, and stay on top of assignments—all while learning organization skills. The 2023–2024 Schoolhouse SmartMama Planner HIGH SCHOOL version includes: GPA calculating form, transcript templates, logs for books read, monthly articles by teens, Bible reading schedule, and prayer journal, plus more. Just $34. Free to download for SchoolhouseTeachers.com members. (Mama, do you have your planner for the school year yet? There's a Schoolhouse SmartMama Planner for you too! It's also free for SchoolhouseTeachers.com members.)
---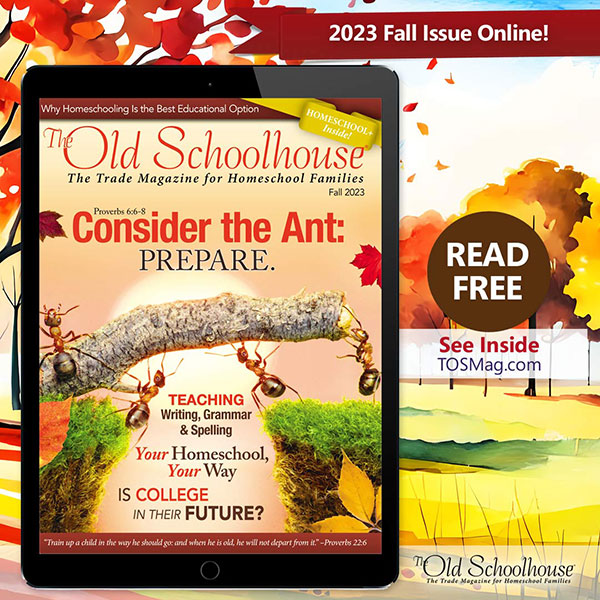 Start the school year off with The Old Schoolhouse® Magazine on hand. The Fall issue is easy to find. It's on the TOS App now along with dozens of back issues full of timeless topics, and it's all free. Read up on higher ed prep and college alternatives, foreign exchange students and foreign language study, adaptive technology, and more. Help is on hand wherever your homeschool takes you. HomeschoolApp.com. Here's another place to find the Fall issue (and years of back issues): our Digital Magazine Library. Read free here too. New issues every quarter.
---
Contest Corner
for the month of September
Growing the Fruit of the Spirit
Homeschooling with Confidence, LLC
https://hswithconfidence.com/
This is a 326-page spiral-bound book. There are ten chapters in the book, and each chapter has five lessons. The first chapter of the book is an introduction to the fruit of the Spirit. "But the fruit of the Spirit is love, joy, peace, patience, kindness, goodness, faithfulness, gentleness, self-control; against such things, there is no law" Galatians 5:22-23. The remaining nine chapters cover each of the fruits listed in the Bible verse.
I used this book as our Bible study time during our homeschool day. This book could be used in homeschool, as a family devotional, in a church group, or by anyone wanting to learn more about the fruits of the Spirit. Each lesson has a devotional or study to read and discuss. At the end of each lesson, there are activities to choose from to further understand and remember the Bible verse. These activities include options for all ages.
We usually read through the lesson and work on the memory verse during lunch then complete the activity after lunch. I have found an activity with each lesson that is great for my kids' ages and abilities. Some examples of the activities are making an "I am thankful" jar, making a gratitude collage, making thank you notes, playing the gratitude game, or coloring the following picture. These examples are from chapter three, lesson two, about the fruit of the Spirit that is Joy. My sons especially enjoyed the Gratitude Game, which involved sharing something they were thankful for based on the color of M&M they picked from a jar.
---
Go to the contest page of our site where you can ENTER TO WIN the book Growing the Fruit of the Spirit.
---
Freebies
Homeschooling: You Are Not Alone
Get ready for a new year of homeschooling and find ongoing support with The Old Schoolhouse® Magazine's "Homeschooling: You Are Not Alone" Supplement. This FREE digital issue is an invaluable resource for parents who are taking back their children's education.
With an amazing collection of ground-breaking articles, this supplement will lead you . . .
BACK TO THE BASICS: Learn how to organize a homeschool and balance your work with your children's education. Help students get started on the right foot in preschool, maneuver the awkward years of middle school, and finish strong in high school.
BACK TO THE BIBLE: Discover what God's Word teaches about setting expectations, building character in kids, and teaching students with special needs. See how God can use family disagreements to grow compassionate children who have problem-solving skills.
BACK TO THE BEGINNING: Be inspired by the pioneers of home education as you read the history of homeschooling. Embrace the unschooling mindset by understanding the foundational principles of success.
Topics also include notebooking, lapbooking, and language studies in Spanish and Latin. The "Homeschooling: You Are Not Alone" Supplement has something for everyone. It will be a reference tool throughout the year and for years to come. Download your FREE digital copy today, and be encouraged that you are NOT alone! The Old Schoolhouse® Magazine has got your back—to school.
---
How to Begin Homeschooling
Click on the image for the full free printable pdf.
---
Share this newsletter with a friend, and be sure to let those CONSIDERING homeschooling know about the enormous FREE info-pack which awaits them here: www.TryHomeschooling.com.
---
If you liked today's Homeschool Minute, please email the editors and tell us what part you liked most. It's a huge blessing to receive feedback!
Please add publisher@theoldschoolhouse.com to your email contacts so that our emails to you don't land in spam.
DISCLAIMER: The Old Schoolhouse® and its staff do not necessarily endorse or agree with the articles, images, advertisements, or other content appearing in The Homeschool Minute, on any linked website, or otherwise. The views and opinions or other matters expressed in this newsletter are not necessarily those of the publishers, editors, staff, contractors, associates, or other affiliates of The Old Schoolhouse®