When Mamas Cry
September 14, 2022
Be sure to scroll to the bottom to enter the contest and see the freebies of the month!
Hey, Mama!
Dry Your Tears; Joy Is Coming
Hey Mama,
You're crying again. God gave us tears as a release. His word says, however, that in Heaven there will be no more tears, no more grief, no more pain. He will wipe all your tears away.
It's hard lately. Tears flow. Grief fills you. Heartsick. But keep your eyes on the One who owns the cattle on a thousand hills. The One who steers the hearts of kings. You are His. He has not forgotten you. He still steers hearts.
Spend some time before the King of kings, praying, asking Him to be near you. He draws near; He promises to pull you in if we are seeking Him. He loves His own. I hope this encourages you. You can find some more encouragement by reading these articles from The Old Schoolhouse® Magazine:
Facing Affliction With the Faith of a Mustard Seed by Andrea Newitt
When You Feel Alone (And You Will) by Deb Wuehler
A Journey in the Garden by Heather Batchelder
Mama, do not grow weary. It's easy to get pulled into the moment or a season full of trials. But what is waiting for you after it runs its course? JOY. Your Savior created you for things you can't even fathom, to be joyful and happy as you exist forever with the family of God. One day, every tear will be wiped away. Grief will end. Sadness will dissipate and be a distant memory and you will realize finally what the plan always was. You were created for JOY and to be with the Lord for eternity. Happiness is your future.
Call to Me and I will answer you, and I will tell you great and mighty things, which you do not know. – Jeremiah 33:3
So, dry your tears, Mama. Take joy in the One who loves you. And if you need to cry, do it. He gave you that release. Keep walking, Mama. His hand is on your head today.
"As for me, I know that my Redeemer lives, and at the last He will take His stand on the earth" Job 19:25, NASB.
~gena
---
Teach reading in just 90 lessons! Reading and Spelling Pure & Simple is carefully engineered to ensure success for the student and instructor. Order today!
---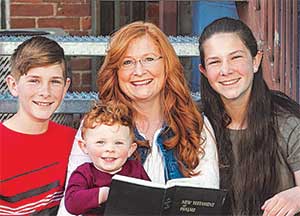 Mercy Every Minute
Deborah Wuehler, TOS Senior Editor
Bottled Up Tears
In our joyful days, and in our days of unabated tears, we thank God for Who He is, what He has done, and what He will do. The things you are going through now will one day be called the "former things" that will pass away, and there will truly and certainly be a day when we will see Jesus, face-to-face. Our tears will be exchanged for joy.
In the meantime, we must be strong and wise and prayerful. And on those days when the tears want to flow, don't bottle up those tears, let them flow to be caught in God's own bottle. Release them and whatever caused them to His keeping. Psalm 56: 8-11 says, "You have kept count of my tossings; put my tears in your bottle. Are they not in your book? This I know, that God is for me. In God, whose word I praise, in the Lord, whose word I praise, in God I trust; I shall not be afraid. What can man do to me?"
God is for you and with you in every kind of grief or tears of frustration. He is the "fourth man in the fire" with you. You can trust Him without fear. There is nothing this side of eternity that can harm you if you are His.
It is true that no one knows our sorrow like Christ. He not only is acquainted with our grief; He says that he bears our grief and carries our sorrow as proclaimed in Isaiah 53: "He is despised and rejected of men; a man of sorrows, and acquainted with grief: and we hid as it were our faces from him; he was despised, and we esteemed him not. Surely he hath borne our griefs, and carried our sorrows."
These tearful times draw us closer to the Lord through fellowship with Him in His sufferings (Philippians 3:10; 1 Peter 4:13) by understanding His suffering more fully and allowing him to carry us through ours.
You'll find a similar message in these articles from The Old Schoolhouse® Magazine:
Homeschooling Through the Storms by Flossie Cusick
Corrie ten Boom: The Woman Who Looked to Jesus from Within a Concentration Camp by Bonnie Rose Hudson
The Empty School by Joan Thompson
When the tears come, don't withdraw from life; draw close to Christ and allow Him to bear and carry your afflictions. He will soon wipe away all tears from our eyes. Hold on to the hem of His garment until that time.
"And God shall wipe away all tears from their eyes; and there shall be no more death, neither sorrow, nor crying, neither shall there be any more pain: for the former things are passed away" (Revelation 21:4).
Persevere! Hang on tightly to Jesus Christ through every tear-filled season of life. Bring your children with you to the Throne of Grace where you will find His freely offered divine help. He is with you; He sees you as you keep His children Home. Where They Belong.
I pray for you all often. Please let me know if there is anything I can pray specifically for you.
Email dwuehler@theoldschoolhouse.com
~Deborah
---
Grow news literacy and Biblical discernment in your family. Stream news produced by Christian journalists. Get half off your first month with code OLDSCHOOLHOUSE50. https://worldwatch.news
---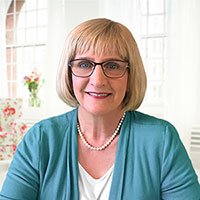 https://www.homehighschoolhelp.com
Feel Like Crying? Pray, Seek Balance, and Be Consistent
As a homeschooler, I cried about curriculum, chaos, and stress. Homeschool moms cry sometimes. You know why?
Life is always stressful. Politics, health concerns, violence, and wars have been part of our world since the fall of mankind. Life is challenging; sometimes more challenging than usual. Thankfully, we have our Lord to lean on. We can pray, giving to God the things that are out of our control. We can pray with thanksgiving for the things we have, and with supplication for the things we require. Homeschooling without faith will increase the tears caused by being overwhelmed and confused. Lean into stress with prayer.

Homeschooling is a challenge. We are the cook, nanny, teacher, chauffeur, maid, gardener, financial manager, and organizer. This challenge is overcome by finding balance between our inner "Type A" control freak and outer "Type Z" slacker. Homeschooling without balance causes tears of frustration, anger, and irritation. The solution is found in the balance of "too much" and "too little" allowing us to homeschool in peace.

Hormones create chaos. Monthly cycles can mimic Jekyll and Hyde. It's not fair, I know, but I can tell you it happened to me. I could cope with almost anything, until suddenly I couldn't. Homeschooling without consistency causes tears of frustration during times when our reserves are low. The solution is to plan time for yourself in your day-to-day schedule. Prioritize quiet time, exercise, and nutrition so you have enough margin in the day to meet the needs of yourself and your children, even when hormones are raging.
Yes, I cried. Tears may happen to you, too. It's still worth it. I don't want you to struggle as I did. I created The HomeScholar to help other moms find a balance in life, home, and school. How to Be a Better Home Educator can help you get started on the path to peace.
About the author