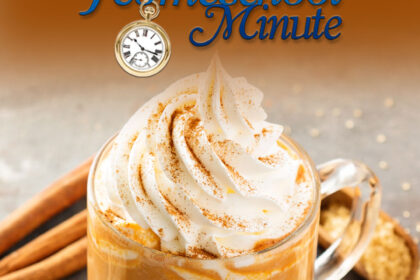 Meaningful Gift Giving
November 30, 2022
Be sure to scroll to the bottom to enter the contest and see the freebies of the month!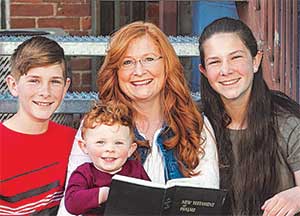 Mercy Every Minute
Deborah Wuehler, TOS Senior Editor
Gifts Fit for a King
With Christmas just weeks away, it's time to really think about gifts. And in these hard economic times, I love to find clearance items online, or start making inexpensive homemade foods or crafts. There are so many ways to give gifts, and sometimes just a beautiful Christmas card is enough.
Because we have a large family, we have tried many ways to lessen the load. We have chosen names at Thanksgiving so that we are only focusing on one or two people for gifts. We have used an online app to keep track of wish lists for each family member. Because we want to include outside guests in our gift giving, we always host a white elephant party around New Year's Eve; that way we are able to find clearance items from Christmas, and the girls usually make baked treats to give to neighbors.
This is such a busy time of year that we sometimes forget to stop and breathe and praise God for His innumerable gifts to us. And when we remember His gift of Jesus Christ, we are in awe of such an incredible and undeserved gift.
These offerings from The Old Schoolhouse® are a good reminder of that:
Gifts for the King by Amelia Harper
Giving Gifts from the Heart by Jenny Higgins
Make a Christmas Video Gift by Evonne Mandella
He who did not spare his own Son but gave him up for us all, how will he not also with him graciously give us all things (Romans 8:32 ESV).
How can we give gifts in like manner? What kind of gifts are fit for a King?
We could give gifts that are much more meaningful than anything we could put in a box. And, I must say, much more costly as well.
We could give the gift of patience to that family member that tries our patience every year.
We could give the gift of forgiveness to that child or friend or spouse who said that unkind word.
We could give a special gift to that neighbor who doesn't understand us.
We could give the gift of friendship to those hurting and lonely at this time of year.
We could give the gift of time to those who need someone to listen.
We could give the gift of the gospel to a lost and dying world.
These would be gifts fit for that Christmas baby we celebrate: our King Jesus. These are much more costly than those easily purchased gifts that are soon forgotten, but their effects could very well last a lifetime. What about getting a gift for yourself? I suggest getting that very costly gift called wisdom. As one version of Proverbs 4:7 says, "Though it costs all that you have, get wisdom." It is exactly what we need as we raise God's children for God's glory at Home. Where They Belong.
~Deborah
Here is my gift to you: The Costly Pursuit of Wisdom
---
Bring imagination back to play with The Queen's Treasures®, and save 10% with code SCHOOLHOUSE10 at checkout. www.thequeenstreasures.com
---
Raising Real Men
Creative Holiday Gift Ideas
We love everything about the holidays, but especially blessing the people we love with gifts. We haven't always had much money, though, so we've had to get creative with presents. Here are some of our favorites:
Give shared experiences. When you give a zoo or museum membership, a special vacation, a camping trip, or a visit to far-away family, or even a book to read together, you give them memories, too.
Give a piece of history. Passing on a chisel that belonged to Grandpa, a painting Granny did, an old book you loved when you were young, or a precious toy from your past is another way to give memories.
Give special eats. We always make a big platter with all our Christmas baking for family and special friends. We love getting gifts like that, too. Our son makes homemade curry paste and everyone in the family loves it passionately.
Give handmade gifts. When our daughter was a young child, I made her a baby sling like mine to carry her doll in. Another time, I made matching aprons. And I'd rather get a painting from her than anything she could possibly buy me.
Give imaginative gifts. The best toys to give children are the ones that require the most imagination. Give them things they can play with a million ways. Dress up clothes, props, construction toys, dolls, vehicles, train sets, all kinds of things that have them make up the story themselves are great for making your kids creative and smart.
Give tools. Giving kids the tools they need to create takes it a step further. Hand tools, fancy writing implements, cool notebooks or journals, art supplies, scrap lumber, cooking tools, and other real tools let our kids start doing real things. It's amazing what they can create, too!
Give yourself. We say this all the time, but there is really nothing your children want more than you. They'll remember the time you spent with them more than what you gave them.

Get our Raising Real Men Holiday Gift Guide with great ideas AND great discounts here!
Your friends,
Hal & Melanie
About the author
Hal & Melanie Young are the award-winning, best-selling authors of Raising Real Men, No Longer Little, and Love, Honor, and Virtue. They are publishers, writers, bloggers, and popular conference speakers internationally, known for their Christ-centered focus and practical, real-life stories. They are the parents of six real boys (five grown!) and two real girls and live in noisy, messy happiness in North Carolina.
---
Crayon Rocks are simply the best coloring tool for K-6. Made in the USA with soy wax. 15% off any order with CR15. https://www.crayonrocks.com
---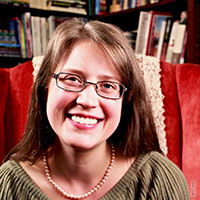 Danika Cooley
Making the Season Count
Christmas is a wonderful time of year, isn't it? In our modern-day celebration, we've made it largely about decorating, eating, and giving gifts. Celebrating and giving presents at this time of year makes a lot of sense. After all, every good gift we've received comes from the Lord.
James 1:17, ESV, tells us, "Every good gift and every perfect gift is from above, coming down from the Father of lights, with whom there is no variation or shadow due to change."
This year, as you give gifts to your children and to relatives and friends, point back to the Giver of every good gift.
We all want to give our kids good gifts. There is nothing wrong with wrapping up a set of pajamas and a fun new toy or two. We can also use the season to gift our families with things that will truly matter as they grow—and, one day, as they wrap up presents for their own families.
Meaningful gifts for kids:
Books – Choose books that point to Jesus and the truth of the gospel. Is it time for your child to have his or her own Bible?
Puzzles and Games – Did you know there are lots of Bible-related puzzles and games that will help your children learn about God's Word?
Traditions – Yearly traditions that point to Jesus and that build your relationship with your kids are so important!
Whether you are creating a Nativity ornament to give to grandma, or reading the story of Jesus' birth daily using an Advent Scripture Calendar, you can be building memories that teach children about Jesus.
Your traditions can even be carried on to the next generation!
God gives us seasons and times so we can plant seeds of God's Word, build up our children, and seek his face. (Ecclesiastes 3:1-8). The Christmas season can be a wonderful time of remembrance, celebration, and teaching. Even our gifts can be meaningful, with an impact for eternity.
About the author
Danika Cooley is the author of Help Your Kids Learn and Love the Bible (Bethany House) and Bible Road Trip™, a three-year Bible survey for preschool to high school. An award-winning children's author, Danika's new line of Christian history is for 3rd to 5th graders (Who What Why Series, Christian Focus Publications).
---
Immerse your children in the rich history and beautiful geographic areas of the United States with Heritage Letter and American Heritage Adventure monthly subscriptions. https://heritageletter.com
---
Unlimited access to video lessons, no drawing skills required! Professional artist demonstrates each step. Students can easily follow along. Learn watercolor for $27/year! www.WatercolorTeacher.com
---
Get some fun and educational ideas for Christmas presents, using the "Gifts for Christmas: Toys That Teach" Resource Guide in the Fall 2022 issue of The Old Schoolhouse® Magazine. This three-page guide is packed with everything from stem kits and stamps to Bible stories and games that challenge the brain.
---
Come share what works for you, what you look for in homeschooling curriculum, and why you homeschool, through quick and easy multiple-choice and short-answer questions. The Old Schoolhouse® values your input and is excited to use what they learn from this survey to continue to provide quality resources to the homeschooling community—as they have done for the past twenty years.
---
To THANK YOU for your dedication to your children, The Old Schoolhouse® will re-release the BEST DEALS of 2022 between November 17 and November 30 only. Choose which deal works for your family to begin implementing new courses in your homeschool during an upcoming break or in the new year.
Use code: MONTHLY22 to pay only $18.97/month for the lifetime of your membership, even when our rates increase.
Type in code: MAMABEAR22 at checkout to pay only $39.97/quarter.
Looking for an annual membership? Use code: FRESHSTART today to pay only $175.50/yr. Want to gift yourself a free year of homeschooling curriculum? The Shark BOGO deal is also making a comeback! Code: BOGO22 gifts you a free year and a locked-in annual rate of $199. (New members only. Sorry, no refunds.)
---
SchoolhouseTeachers.com Corner
Did you know?
Every class is INCLUDED for ultimate members!
No limits.
Thinking about what you could give others this holiday season? What if you made something from the heart? In the Heritage Crafts course from SchoolhouseTeachers.com, your entire family will have fun learning and creating useful items and crafts. Some of these fun activities include making corn husk dolls, sewing quilts, drying apples, dipping candles, and more!
---
Read this article
in the fall issue of
The Old Schoolhouse® Magazine.
---
Parents around the world are taking back their God-given responsibility to educate their children, and you can too. Start with this one-page summary of how to begin homeschooling. Includes a brief explanation of philosophies, styles, and methods. You can do this! Find help in our FREE digital magazine.
---

---
Congratulations to our September winner, Lisa Miller from Gretna, VA!
Contest Corner
for the month of November
The First Supper!
Premium Press America
https://www.premiumpressamerica.com/
Upon receiving The First Supper!, my four-year-old daughter and I immediately snuggled up on the couch to dig into it. The first time we read it, we were utterly enthralled with this new point of view on a 2,000-year-old story. Of course, we know the story of our Savior's birth and have read it many times in many different books, but this fresh, new take was an interesting approach that truly captured our hearts.
The illustrations are full of life and are so endearing that you feel a connection to each character. The story is written in a clear, strong voice, and my daughter loved hearing about Naomi's experience and everything that was happening behind the scenes while the baby Jesus was being born. One of our favorite parts of this story was hearing about the care that the innkeeper's wife took in preparing a meal for Mary, Joseph, and the baby after the birth. My daughter was especially excited that there are recipes for baked bread and roast leg of lamb at the end of the story and a list of foods you can prepare to recreate "the first supper" at home!
---
This is part of a review of the children's book The First Supper! Read the full review on our site which includes more details about the story and additional content.
Go to the contest page of our site where you can ENTER TO WIN The First Supper! children's book.
---
Freebies
Sally Matheny
Writer and homeschool mom Sally Matheny offers inspiration, encouragement, and resources to help parents tell the next generation wondrous things. Get a free digital download of forty (twenty different designs) high-quality JPEG images sized 1242 x 2800 pixels, perfect for all mobile phone screens. Save the images to your photo files. Set them as your mobile phone wallpapers. Use them to help with memorization. Most of all, enjoy reminders of God's truths every time you check your phone. Download the free digital file at www.sallymatheny.com
This free product and more are found in our 2022 Freebie Directory: TOS Freebie Directory – The Old Schoolhouse®
---
FREE E-Book!
The Old Schoolhouse® Digital Holiday Supplement, 2009
Re-create an authentic first Thanksgiving feast, prepare for a peaceful Christmas, and enjoy over 180 pages of holiday crafts, recipes, and traditions in The Old Schoolhouse® Digital Holiday Supplement, 2009. This timeless collection of holiday fun and festivities also includes directions for making your own Christmas decorations and gifts.
Download your free copy now. Then spread the word and share this inspirational holiday guide with friends and family.
The 2009 Digital Holiday Supplement is totally free!
Find more freebies at The Old Schoolhouse Homeschool Store: Freebies Archives – The Old Schoolhouse®
---
With the TOS Mobile App, search topics of interest spanning more than a decade, share articles, browse interactive content, and follow the links to hundreds of related resources. Each issue can also be downloaded and read offline.
---
Share this newsletter with a friend, and be sure to let those CONSIDERING homeschooling know about the enormous FREE info-pack which awaits them here: www.TryHomeschooling.com.
---
If you liked today's Homeschool Minute, please email the editors and tell us what part you liked most. It's a huge blessing to receive feedback!
Please add publisher@theoldschoolhouse.com to your email contacts so that our emails to you don't land in spam.