Godly Culture vs. Current Culture
June 16, 2021
Be sure to scroll to the bottom to enter the contest and see the freebies of the month!
---
Mercy Every Minute
Deborah Wuehler, TOS Senior Editor
Staying the Course When It Is Hard
After a particularly hard day when you feel like crying and throwing in the homeschooling towel, stop and think about this. The ungodly culture we live in today needs us to be strong and raise strong, Godly children who become the Godly leaders of tomorrow.
As Todd Wilson always says, homeschooling is indeed hard, but anything worth doing is going to be hard. But it is also going to be so worth it.
One day you will look back at the few years you were homeschooling and you will ask yourself a few questions:
Was I perfect? No.
Was the curriculum we chose perfect? No.
Did the kids progress forward in learning? Yes.
Did they grow in their knowledge of God? Yes.
Did they grow in their abilities and wisdom in order to affect their culture? Yes.
Was I faithful? Not Always.
Was God Faithful? Every. Single. Day.
The times we live in demand that we do something differently. Homeschooling is what we are doing. We are taking back the responsibility to raise good, Godly citizens for His glory.
Keep going, Mama! One more day wherein we can prove God faithful. One day at a time seeking Him until we look back in wonder and look ahead with hope.
Keep raising those babies up in the nurture and admonition of the Lord. Keep training them in the way they should go. In due season, you will reap if you do not faint.
Capture every minute for His glory as you keep His children Home. Where They Belong.
~Deborah
P.S. Check out these articles for help in raising children in an ungodly culture:
Fighting the Good Fight in our Present Culture–Part 1 by Paul Price
Fighting the Good Fight in our Present Culture – Part 2 by Paul Price
Five Ways Parents Prepare Their Kids to Defy the Porn Culture by Sam Black
---
Enough with the fluff! Illuminate Bible Series helps your whole family meaningfully engage with God's Word. Click for a free sample!
800-638-9988
uniongospelpress.com
---
Todd Wilson
Todd Wilson, Familyman Ministries
The Truth Will Set You Free
I don't get it. How can so much of the world be so wrong about everything! They call right—wrong, up—down, boys—girls, and sin—expression. What concerns me most is that the world's thinking is permeating our children's thinking.
It's added into shows they watch, the games they play, and sometimes even the churches they attend. Their only hope is in homeschooling, not in and of itself, but in our homes where the real truth of the gospel can be taught and lived.
I'm convinced that the reason why the world can't believe the truth in most situations is because it doesn't believe the truth of the gospel.
So parents, teach and model the truth of the Bible. Teach them that God made men and women and that it's not up for grabs, that Jesus told us to love our neighbors no matter what they look like or believe, and that God sent his Son to save the world, and there is no other name given among men that offers hope of salvation. None!
Never before has our nation needed homeschoolers more—homeschoolers who teach the truth, the whole gospel truth, and nothing but the truth.
I'm out of breath!
Be real,
Todd
---
Does it matter what we believe about Genesis?
https://genesisapologetics.com/foundations
---
Stacy Farrell
Who Is Raising the Children?
THE WORLD IS DIFFERENT NOW.
Some things become obvious when you start to see clearly.
Obvious, but not easy to look at.
My 94-year-old father-in-law recently came to live with us for a few months. He's seen a lot of changes in his lifetime.
There are a few things that rile him up. He'll often lament: "I can't understand what people are thinking!"
This is especially true when he looks at what is going on today with our children.
"Our children" refers to the children of our nation and our world.
THE FAMILY CAME FIRST.
My mother-in-law (who left this world in 2015) was educated to be a teacher. She worked part-time as a bookkeeper, but her priority was caring for her family.
Make no mistake, all was not "picture perfect" in her home—nor in the home in which I was raised—but priority was given to the needs of the family as a family.
Family wasn't merely a collection of persons orbiting a common address.
As a family, priority was given to:
Mealtimes together
Gathering for holidays
Celebrating birthdays
Chores (every family member contributing)
Spending leisure time together (playing games, doing artwork, riding bikes)
SOMETHING PRECIOUS LOST.
The question asked by this dear 94-year-old father and grandfather is profound.
Who is raising the children?
When he drives to work in the early morning, my husband sees infants bundled in car seats on their way to daycare.
Let's be honest. Although some mommas have no choice but to return to work after their six weeks of maternity leave, others do.
COUNT THE COST.
I remember a conversation I had with one of the women who worked at the law firm I managed years ago. She was struggling, conflicted, and torn because she wanted to be home with her children . . . and wondered if it might be possible.
After all, she observed, with the money she spent on restaurant lunches, work clothes, professional haircuts, fake nails, a second car, fast food in the evening, and child care, how much was she really contributing to her family by working?
She asked an insightful question . . . .
* * *
Thank you, Momma. I'm so grateful for the sacrifices you make to invest in your children.
His love,
Stacy
P.S. – Are we battling a culture of rudeness? Get a FREE list of good manners.
ABOUT STACY: Surprised by Jesus, Stacy went from an unmarried, childless, 30-something career woman to a Christ-following wife of 28+ years with two sons she homeschooled K-12.
She battled fear and overwhelm, but survived and thrived.
Author of 10+ books—including the award-winning Philosophy Adventure—she loves to equip and encourage homeschool families. Visit her at HomeschoolAdventure.com.
---
Edna Latone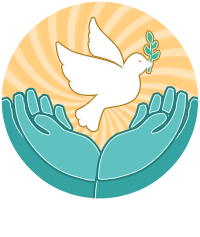 Pillar of Hope
Edna Latone – My Hope Comes From Him
"Hope deferred maketh the heart sick: but [when] the desire cometh, [it is] a tree of life." Proverbs 13:12
In Ontario, Canada, we have been under lockdowns of varying degrees for over a year now. Trust me when I say, our hope has been deferred, and folks are heartsick. Mental health is at a low, and my dear friends who are mental health professionals are tired. They are the silent "frontline workers" that wake each day to full inboxes and long days of appointments, as people look for help. People are looking for hope. As a country, we long for hugs, time with our relatives, and dinner with friends. We long for homeschool co-ops and support groups. It's been a challenge in creativity for families, and some are just done. But some have chosen hope.
My mother is my mentor and my friend. As we talked in the early days of lockdowns, we both felt compelled to share "hope" loud and clear. She painted the word on her picture window for anyone passing by to see and posted a picture of it online. I urge you, in all of life, remember that hope is a choice.
As I read scripture though, I am challenged to ask myself a couple important questions. Where is your hope focused, and what are you longing for?
Psalm 71:5 reminds us of our hope. It says, "For thou art my hope, O LORD God: thou art my trust from my youth."
Hope is hard, and unless we actively pursue it, it can elude us. Hope is not tangible, and yet we are called to shout out that there is hope. As a homeschool community, we have been afforded a unique opportunity to share that there is hope for gentle education that brings families together and respects the learning needs of individuals. Leaders within the homeschooling community have been given very public media opportunities to share this hope, and it is exciting!
What are you longing for? As homeschoolers, we long for our families to understand our choices, and depending on where you live, you may long for greater educational freedoms. As an Ontarian, in lockdown, I long for an extended family dinner and in-person church. My heart longs for a night of worship. As a Christian I am encouraged by Psalm 70:4 to seek the Lord and be glad in Him.
One thing lockdown has taught me is that we often get distracted from the one thing we need to focus on in the busyness of life: God and our relationship with Him. When we long for Him, and this longing is fulfilled by making Him our hope, we will find the tree of life that we so desperately are longing for.
"Let all those that seek thee rejoice and be glad in thee: and let such as love thy salvation say continually, Let God be magnified." Psalm 70:4
Edna Latone is a wife, mother, researcher and encourager. She has been homeschooling for more than twenty years and has lived in the Peterborough Area for thirty-one years. Edna has worked as a Public Library CEO, Volunteer Coordinator and Academic Library staff. Edna speaks throughout the province to homeschoolers about the amazing resources available at public libraries. She also is the developer of the "Homeschool Friendly" certification for businesses and community organizations. Edna has a passion for family, flexible learning and sharing the Love of God. She brings to all she does, her skills as a teacher of lifelong learners, librarianship, and a love for teaching others about the exciting world of Home Education.
Ontario Homeschool Transitions
https://mailchi.mp/ef0f3d23362b/conference-2021
---
Look What's Happening!
The Arizona Families for Home Education organization is hosting the Homeschooling Changes Lives – AFHE 37th Annual Homeschool Convention July 16–17. Visit www.afhe.org/convention for more information. Please contact convention@afhe.org if you have any questions.
---
---
A division of The Old Schoolhouse® Magazine
---
---
The Old Schoolhouse® Magazine is now available for FREE online! Click the graphic to read it cover to cover!
Download the free mobile apps at www.TOSApps.com.
Get the print issue here.
VIEW BACK ISSUES: Go here to access all back issues.
---
---
---
---
Congratulations to Lynn Hutchinson of Pennsylvania, who won our April giveaway!
Contest Corner
for the month of June
Owl Pellet Field Biology Kit
Pellets Inc
The Owl Pellet Field Biology Kit from Pellets Inc. is a great add-on activity for any science-loving household, whether homeschooling or not. The Field Biology Kit contains everything you need to dissect real owl pellets to find actual skeletons—including three pellets, a magnifying lens, plastic forceps, and a twelve-page illustrated study guide. The study guide provides an introduction about what owl pellets are and a brief explanation about owl digestion, as well as illustrations of the food web of an owl.
My younger son is ten, and while he was initially stuck on the idea we would be looking at "owl poop," he quickly dove right in. The forceps are a perfect size for smaller hands, and he could use them to grab the smaller bones. I also grabbed an old safety pin to clean out the smaller bits of fur wrapped around some bones. This is a kit for just about anyone who enjoys digging for hidden treasures. Because there are drawings of the bones that are expected to be found, it was easy to hold the ones we did find to compare.
We dissected one of the three pellets, and it took us about half an hour once we got started to pull out all the largest pieces. This would be an excellent kit for a shorter hands-on science lesson to go with a food web, a bird, or a mammal study; however, it really can stand on its own without any additional lessons.
---
This is part of a review for the Owl Pellets Field Biology Kit. Read the full review on our site with much more information about using this in your homeschool.
Go to the contest page of our site where you can ENTER TO WIN the Owl Pellets Field Biology Kit.
---
Freebies
An Ordinary Homeschool . . . With An Extraordinary God
Deborah Wuehler gives us insight into her very ordinary homeschool, but also reveals an extraordinary God. Topics covered are guilt, weariness, financial burdens, expectations, too many activities, balancing it all, making learning stick, and more . . . don't miss An Ordinary Homeschool . . . With An Extraordinary God.
---
Teacher's Pet Publications, Inc.
LitPlans from Teacher's Pet Publications give you step-by-step lesson plans, including teacher instructions and student materials, for a whole unit of study for a work of literature. We're so sure you'll love our LitPlans, we're willing to give you your first one for FREE (a $16.95 value)—knowing you'll be back for more. Check out our website for thousands of downloadable resources for over 900 K-12 book titles. https://www.tpet.com/litplans, Code FD20.
This freebie and more found in our TOS Annual Freebie Directory here:
https://www.theoldschoolhouse.com/tos-freebie-directory/
---
Share this newsletter with a friend, and be sure to let those CONSIDERING homeschooling know about the enormous FREE info-pack which awaits them here: www.TryHomeschooling.com.
---
If you liked today's Homeschool Minute, please email the editors and tell us what part you liked most. It's a huge blessing to receive feedback!
Please add publisher@theoldschoolhouse.com to your email contacts so that our emails to you don't land in spam.