Raising a Generation of Financial Stewards
June 1, 2022
Be sure to scroll to the bottom to enter the contest and see the freebies of the month!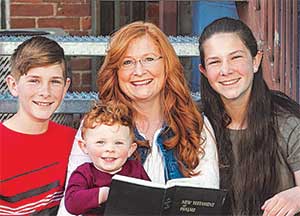 Mercy Every Minute
Deborah Wuehler, TOS Senior Editor
An Investment in Discipleship
From the time they are young, we teach about earning money, spending money, saving money, and giving God a portion of that money. It is all His anyway, but what we do with money reveals our hearts very plainly.
We teach them to save up for things they want to purchase, and to work hard and do an excellent job at whatever they do. We teach them to be frugal so that they can bless others with the money they save. These are life skills not taught in other schooling environments.
This generation of children will thrive in financial stewardship because they have been taught to honor God with the first fruits of all they own or gain, and God blesses that. These articles from The Old Schoolhouse® Magazine underscore the importance of teaching these financial truths:
Faith, Family, Finance and Freedom by David West
Making Household Finances a Family Affair by Christy Acre
Teaching Kids to Win With Money: An Interview with Dave Ramsey and Rachel Cruze by Makaela Barthuly
Whether it's our time, or our money, or our children's education, we are in charge of its wise stewardship. None of it is actually ours. We have been given time, money, resources, and children by our God for this short dash on earth. We are really stewarding these things for Him and in His wisdom.
"Wisdom is the principal thing; therefore get wisdom: and with all thy getting get understanding" (Proverbs 4:7).
You don't need to pour more money into education to achieve a better outcome. It's not about the money, it's about the environment of home discipleship that makes it successful: parents investing their time, talents, and treasures into their children as they teach them about God and His ways.
"So teach us to number our days, that we may apply our hearts unto wisdom" (Psalm 90:12).
No matter what the cost, home discipleship will be the best investment you've ever made. If you are still deciding what to do with your children this next year, don't worry about the time or the expense, worry about your children, and bring them Home. Where They Belong.
~Deborah
---
Curiosity Untamed! — Thousands of scouting style badges perfect for creating unit studies. 15% off first year subscription with OLDSCH15 through 9/1/22. https://curiosityuntamed.com.
---
Todd Wilson
Dollars and Sense
Be careful little parents what you spend . . .
Preface: I'm not a money guy. My wife is amazing . . . but I'm not. I just don't like numbers or dollars and cents. That said, I know this important financial truth: More is caught than taught.
You can teach them all kinds of Dave Ramsey principles (which are good) and have them draw up budgets (also good) but more is caught than taught.
If you spend more than you should, it's likely so will your kids.
If you're generous, your kids probably will be too.
If you save for a special project and then do it when you have all the money, so will your kids.
If you are constantly putting it on credit, your kids will learn to do the same.
If you're a skinflint who never helps others, that's what your kids will learn to be as well.
It's like all training, whether it be physical, mental, or spiritual—they watch how you live life and then copy you. So if you want to teach your children good financial stewardship, be a good financial steward.
Be Real,
Todd
P.S. Be patient with your children. What they are right now isn't necessarily what they'll be when they grow up. If you are a positive role model, their spending habits will probably change for the better as they mature.
About the author
Todd Wilson is a husband, dad, grandpa, writer, homeschool conference speaker, and former pastor. Todd's humor and down to earth realness have made him a favorite speaker all across the country and a guest on Focus on the Family. As founder of The Familyman and The Smiling Homeschooler, his passion and mission are to remind moms and dads of what's most important through weekly emails, podcasts, seminars, and books that encourage parents. Todd, and his wife Debbie, homeschool four of their eight children (the other four are homeschool graduates) in northern Indiana and travel America in the Familyman Mobile. You can read more at www.familymanweb.com.
---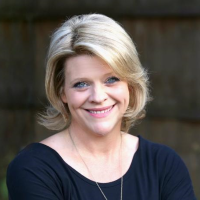 Kerry Tittle
Teaching Financial Literacy
Teaching financial literacy isn't something we generally think about until our children get closer to higher education. Oftentimes, bad habits have already formed.
Through many disastrous as well as some profitable years, I have learned a few things that might be helpful:
Be an example. This is probably the most effective. Don't think children aren't watching when you waste money on purchases that are irresponsible. I use that term earnestly because it can be a stumbling block for them in future decisions.
Play! Play lots of money games! Games like Monopoly are excellent to teach transactions, greed, loss, and confidence (sometimes lacking, sometimes a bit too much)! While shopping recently, I noticed a plethora of money-themed games that can be suitable for any age.
Make it part of your school. There are several curricula that offer personal finance for high school, and not only are they helpful, they are also accredited. We must begin with God's Word, so finding a curriculum that reflects a Biblical worldview is important. Scripture offers a myriad of verses that offer us wisdom in stewardship and the Lord's way to invest. These are foundational concepts that can help our children avoid the bondage of debt.
Small businesses rock! Small business helps to make fiscally-confident kids that understand money is earned and not given. My son started his business working on small machines. He currently purchases motorcycles, and then repairs and resells them on his own. By his senior year, I no longer went with him for the purchase or took care of DMV visits or insurance. I am completely confident in his abilities to do this. What started as small commerce turned out to be a huge lifetime learning opportunity.
Beware of "getting rich." This concept oftentimes is rooted in greed. It's important they understand the Biblical warning of the love of money and realize money isn't the problem; the heart issue of greed is.
Buy Stock. This can be done with as little as twenty dollars and allows them to watch growth and declines.
Say No. Here is an honest moment. There was a time our family went through an extraordinary heartbreak. I would constantly buy the children things that would bring them short-term happiness. It could be a nerf gun, a shirt, or whatever random item that would help them forget our circumstance. It had devastating consequences that took years to correct. It never brought them happiness, and it hindered their ability to make good financial decisions. Saying no isn't harsh; it encourages them to earn their own money for things they want and teaches them the value of hard work.
I cannot stress enough that children need to have monetary literacy as soon as they are old enough to ask for gum at the grocery store! The subject seems intimidating, but you CAN do this!
About the author
Kerry Tittle is a mother of nine children and a 20-year homeschool veteran. She was the owner of ReformationKidz with her husband Rob until a tornado destroyed their home and business in 2014, taking the lives of Rob and two of their daughters, Tori and Rebekah. Kerry is the founder of Refined Family, which is created to encourage others to find hope in the gospel in the midst of trials.
---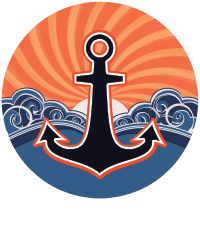 Pillar of Faith
Jodi Riddle – Faith for the Future
So often, we focus on the here and now. While we know the Bible teaches in James 4:14, "Whereas ye know not what shall be on the morrow. For what is your life? It is even a vapour, that appeareth for a little time, and then vanisheth away," we also know that God intends for us to be good stewards of the things He has entrusted to us.
Teaching our children the value of life and each thing that God has given us in it, is an essential part of the training of our children. While we may work to earn our wages, we must teach that it is God who gives us the ability and skills to work. He is the giver and taker of life and health.
Once children can grasp that He is in control of it all, they will appreciate and value each thing they earn and receive. But this takes faith. "Now faith is the substance of things hoped for, the evidence of things not seen," Hebrews 11:1 says. We cannot see what will happen tomorrow or years down the road, but we can put our faith and trust in the One who does.
About the author
Jodi started her journey with TOS in April 2016 and serves as the Operations Manager. She and her husband, Duane, have been married over 30 years and have spent over 20 years in the ministry. Along with being a pastor's wife, she homeschooled her 3 (now grown) sons for 18 years and also taught in the private and public-school settings. Jodi enjoys teaching, playing the piano, and making cards. Her heart's desire is to serve others and use her gifts to glorify the Lord.
---
Look What's Happening in New Mexico:
June 24–25, 2022
2022 CAPE-NM Christian Homeschool Convention
Legacy Church of Albuquerque
Albuquerque, New Mexico
Hey, Mama! How would you like to meet Gena Suarez and Deborah Wuehler of The Old Schoolhouse® Magazine? Come to Albuquerque and meet them at the CAPE-NM Christian Homeschool Convention. Hear Deborah's encouraging workshops too.
https://www.cape-nm.org/events-convention/homeschool-convention/
---
Look What's Happening in Colorado:
June 16–18, 2022
Rocky Mountain Homeschool Conference
The Crowne Plaza Denver Airport Convention Center
Denver, Colorado
Attending the Rocky Mountain Homeschool Conference in Colorado this June? Look for two familiar faces from The Old Schoolhouse® Magazine: Gena Suarez and Deborah Wuehler. Say "Hello" and hear Deborah's Biblical worldview and family discipleship workshops:
Why The Teacher Should be YOU!
Womanhood and Discipleship: Our Influence and Ministry
https://rockymountainhomeschoolconference.com/
---
Look What's Happening in Virginia:
June 9–11, 2022
39th Annual Virginia Homeschool Convention
Greater Richmond Convention Center
Richmond, Virginia
Join Heather Vogler of The Old Schoolhouse® in Virginia this June. Currently homeschooling five children ranging in age from four to fifteen, Heather has over a decade of homeschooling experience, in addition to teaching in a preschool and running a church preschool program. She'll share the secret to keeping little ones busy as bees while they gain an exceptional education. Heather will also share how you can successfully work from home, whether you only have a few hours to spare or are looking for a steady income. Come and learn a wide range of successful options perfect for the homeschooling parent, including what has worked for her as a homeschooling mom of five.
Everything You Need to Know about Homeschooling Preschoolers
Work from Home and Homeschool? Yes, You Can!
---
Get started with Total College Success today. Prepare your high schooler with confidence while gaining access to exclusive college financing options. Access included with a SchoolhouseTeachers.com membership. Join for 20% off for a limited time. Use code: NAHC22 when purchasing the Ultimate Quarterly Membership and pay less than $16/month. New members only. No refunds.
---
SchoolhouseTeachers.com Corner
Did you know?
Every class is INCLUDED for ultimate members!
No limits.
When young people first leave home, they will face the potential dangers of debt and wastefulness or the blessings of Biblical stewardship. The world teaches that the more money we acquire, the richer we become, but what if wealth is about more than our portfolios? Teach your children the important principles and practical steps for lifelong Godly stewardship with help from the Teaching Your Children Financial Stewardship course at SchoolhouseTeachers.com
---
Read this article
in the spring issue of
The Old Schoolhouse® Magazine.
---
The Old Schoolhouse® Magazine is now available for FREE online!
Click the graphic to read it cover to cover!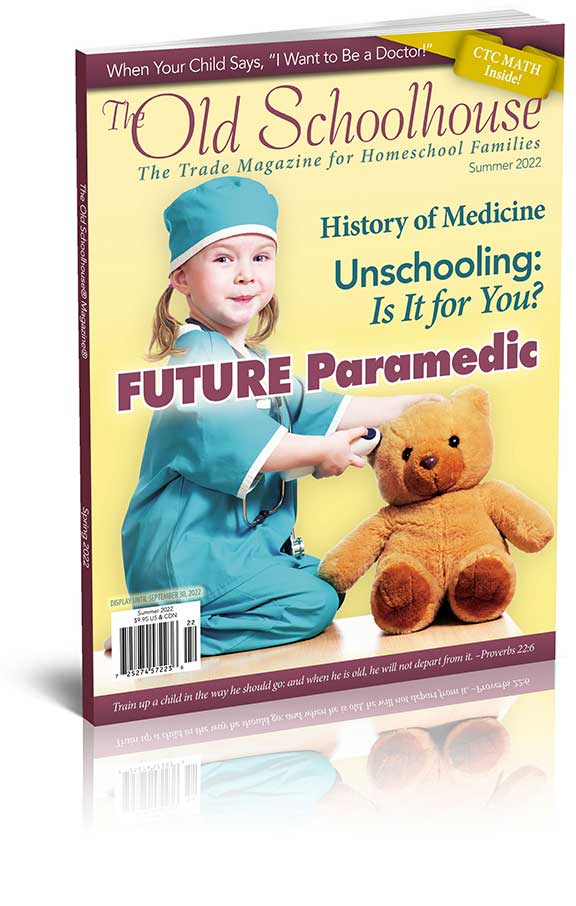 Download the free mobile apps at www.TOSApps.com.
Get the print issue here.
VIEW BACK ISSUES: Go here to access all back issues.
---

---
Congratulations to our April winner, Cynthia Rieben from Banks, Oregon!
Contest Corner
for the month of June
I Know It – Elementary Online Math Program
I Know It
https://www.iknowit.com/
What if you have a great curriculum, but your children still need a bit of extra math practice? Do they understand the concepts but struggle a bit with recall and speed? Then you likely need a supplemental curriculum rather than an entirely new one. I Know It is one such supplemental product.
I Know It is a program designed for elementary students (K–5). You can sign up with just one student, an entire school (or co-op), or as a family. The interactive website is very child-friendly; there are lots of bright colors and no ads. Each grade level has a variety of different types of questions, all age-appropriate. (For example, you won't find "shapes" in the 5th grade curriculum or "multiplication" in the kindergarten.) As a parent or teacher, you can easily monitor your student's progress in the program, adjusting things as needed. You can assign specific lessons to your students or let them work freeform. Regardless of which way works best for your family, you can be sure your student is getting their math practice in!
Each lesson of I Know It contains 15 questions on a given topic. There are a variety of different types of questions, all fitting into the category and lesson chosen. For example, if your kindergartner is working on a shapes lesson, they'll be given questions such as "choose the circle" (with a picture of a circle and a triangle) as well as "sort the shapes" (with a chart that says "circle" and "triangle" and four shapes down below that they drag up to the appropriate column).
---
Go to the contest page of our site where you can ENTER TO WIN a Family Membership for I Know It (1 year, up to 6 children/users).
---
Freebies
Friendly Sciences
Friendly Sciences has been making high school science accessible for all learners for over thirty years! Friendly Physical Science, a design engineering (STEM) approach to physical science, is followed by Friendly Biology, another lab-based course. Next comes Friendly Chemistry, the "no tears" flagship course of the series. A popular option for each course is the online video series. To see if the Friendly Sciences series will work for your family, we're offering you a FREE VIDEO license to view the first four videos in each course! Details here: bit.ly/3Br1gTs.
This free product and more are found in our 2022 Freebie Directory: TOS Freebie Directory – The Old Schoolhouse®
---
FREE E-Book!
TOS Lab Presents: Your Guide to Examining Curriculum
In this wonderful, free resource you will find the answers to these common questions: With thousands of choices available, how will I find the perfect resources that will fit my particular family? Is it even possible?
Yes, it certainly can be a reality and with the help of the TOS review team. TOS Lab Presents: Your Guide to Examining Curriculum will provide you with detailed insight that will help you make informed decisions when choosing what curriculum to buy. It's a definite consumer's guide to homeschool products.
Find more freebies at The Old Schoolhouse Homeschool Store: Freebies Archives – The Old Schoolhouse®
---
With the TOS Mobile App, search topics of interest spanning more than a decade, share articles, browse interactive content, and follow the links to hundreds of related resources. Each issue can also be downloaded and read offline.
---
Share this newsletter with a friend, and be sure to let those CONSIDERING homeschooling know about the enormous FREE info-pack which awaits them here: www.TryHomeschooling.com.
---
If you liked today's Homeschool Minute, please email the editors and tell us what part you liked most. It's a huge blessing to receive feedback!
Please add publisher@theoldschoolhouse.com to your email contacts so that our emails to you don't land in spam.