New Year, New Attitude, New Schedule . . . and Why it Works
January 5, 2022
---
Hey, Mama!
His Mercies Are New Every Day This New Year
Hey Mama,
I heard your yesterday was something you'd like to drop-kick to the curb. And maybe it wasn't just yesterday. Maybe it was last week, or last month, or even last year. 2021 was hard for a lot of people. Didn't go well. Was just bad, very bad.
At those times, the first reaction is often to go into "I don't care" mode, to shrug our shoulders and say, "Whatever! This life is too hard anyway." To feel like a failure, to drop into depression—it's a tool of the enemy. It's not of God.
If the enemy can keep you looking at your situation, your failures, your problems, then your eyes are off the Lord and His promises.
You can, with intention, turn it around. Deny the feelings of being cast low. Resist the urge to go with them. Instead, get God's word into your hands and let Him speak TRUTH to you. Right now.
"I can do all things through Christ who strengthens me" (Philippians 4:13, NKJV).
"The LORD is my strength and my shield; in him my heart trusts, and I am helped; my heart exults, and with my song I give thanks to him" (Psalm 28:7, ESV).
"Not by might, nor by power, but by my Spirit, says the LORD of hosts" (Zechariah 4:6, ESV).
"For God gave us a spirit not of fear but of power and love and self-control" (II Timothy 1:7, ESV).
Your yesterday (or last week or last month or last year) may have really stunk to high heaven. But today is new, meaning His mercies, too, are new. This year is also new. Start it with a fresh perspective. Create a schedule with some breathing room. Allow time for nature walks, and read-alouds, and quiet time. I know it's not easy but try to give yourself that time. You will feel better for it and your children will too.
Maybe you're the type that has a difficult time with scheduling.
These articles from The Old Schoolhouse® Magazine can help with that:
Charts, Schedules and Printables for Preschoolers by Kendra Fletcher
Homeschool Planning Using Checklists and Schedules by Malia Russell
Get Organized for Homeschooling by Stephanie Green
You can do this, Mama. The Lord is there for you always. Lift up your eyes to Him. Cry out for our great God to take away your doubts and your fears—and to guide you in His will. He hears your prayers when you share your feelings of depression or unworthiness. Those things are very real, but remember: God has endless compassion, so you can truly lay those at His feet and walk joyfully today.
Lord, be with our friends here today who read this. Bless them with Your comforting arms. Draw them closer to You than ever. Let them see You for who You are. Lord, I pray You increase Your kingdom even now as You soften hearts and reveal Yourself to those who would cast their cares on You today. In Christ Jesus, amen.
And, Mama, guess what? His hand is right there, guiding you every step of the way.
~ gena
---
With Musedics, students learn to find the music inside, find their voice, try different instruments, and create amazing ensemble music! No experience or auditions required! https://musiccampinternational.org/musedics/
---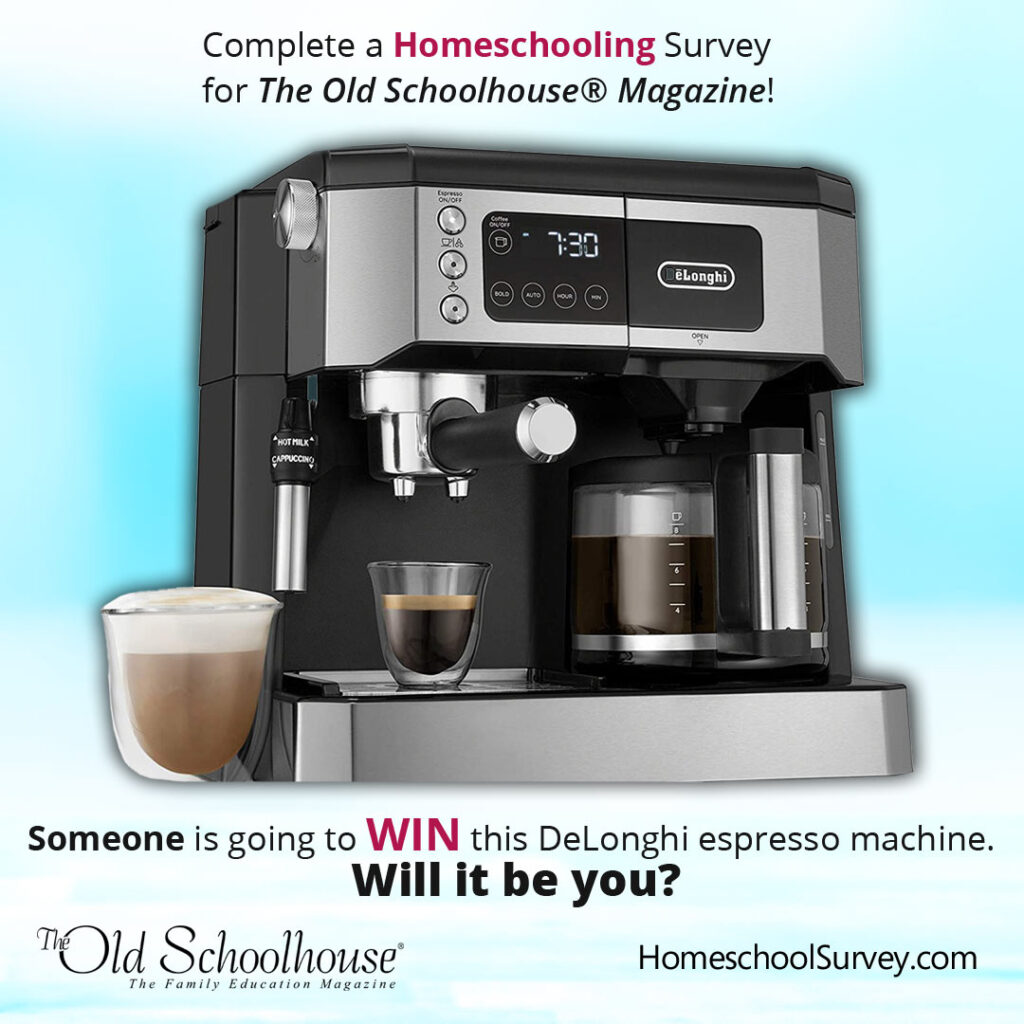 Take part in the most recent homeschooling survey conducted by The Old Schoolhouse® for a chance to win a De'Longhi All-in-One Combination Coffee Maker and Espresso Machine (US only). All participants also receive a gift worth over $200!
---
Raising Real Men
Hal & Melanie Young, RaisingRealMen.com
Be Thankful for Fresh Starts
There is something so delightful about a fresh start.
Life is messy. It's a fallen world. Kids don't always cooperate. Things don't always go like you've planned. Of course, if you've been homeschooling a minute, you've found that out for yourself.
By the time the holidays come along, most of us are behind, our houses are a mess, and frankly, it's a relief to have an excuse to stop trying to pull off homeschooling for a while! It's not just you. It's nearly all of us.
Here's the thing, though.
We serve a God who is full of grace! He's the same God who loved us before we could love Him. Scripture reminds us, "But God commendeth his love toward us, in that, while we were yet sinners, Christ died for us." (Romans 5:8). He is the One we answer to for our homeschooling, and He sees us with compassion and grace.
Just as He gives us a fresh start in Jesus Christ when we trust in Him for the forgiveness of sins, He also keeps forgiving us, keeps giving us fresh starts.
So, wipe your slate clean.
Start out fresh, but this time – give yourself grace. Don't plan so much that you are sure to fail. Don't make the schedule your master.
Instead, start the new year with a little more flexibility. Change up your schedule. Do some assignments orally instead of written. Do a few hands-on projects. Spend some time discussing things with your kids instead of stressing over getting another worksheet done.
Here's some help with the practical part of homeschooling and managing your home. Get "Homeschooling a Houseful" FREE here!
And realize that the most important part of homeschooling isn't the work you get done, it's what kind of people you and your children become – the relationships grown, the character developed, the discipleship experienced.
Happy New Year!
Hal & Melanie
About the authors
Hal & Melanie Young are the award-winning, best-selling authors of Raising Real Men, No Longer Little and Love, Honor, and Virtue. They are publishers, writers, bloggers, and popular conference speakers internationally, known for their Christ-centered focus and practical, real-life stories. They are the parents of six real boys (five grown!) and two real girls and live in noisy, messy happiness in North Carolina.
---
Bright Lights Mother/Daughter Conference, February 4-5, 2022! Encouraging girls to seek the Lord in their youth! Includes sessions and materials. By Sarah (Mally) Hancock www.brightlightsministry.com
---
https://www.homehighschoolhelp.com
New Year, New Schedule, and a New Attitude
High school can be scary, but January is our opportunity to start fresh. Homeschooling works because we have the ability to adapt mid-year. We can ensure the success of our students. Here are seven quick resolutions to help you start strong in the new year. Ready?
Seven Super Simple Resolutions for the New Year
Put a box in the schoolroom to collect schoolwork and call it your "recordkeeping system." Put quizzes, tests, and lab reports in there, along with a copy of the table of contents for textbooks. You'll be ready to make course descriptions easily.
Mark your new calendar with important dates for the PSAT, SAT, and ACT. You'll find test dates on collegeboard.org and act.org.
Have a parent conference with your spouse to review your plan for classes. If a subject is not working, you can decide to change curriculum, modify your methods, or drop a class if it's not required.
Identify specialization by using your "annoy-o-meter" skillfully. Look at what your child does for fun and decide if you can put that on the high school transcript or encourage their passions in some way.
Estimate your student's SAT or ACT score by using the PSAT results or by taking a sample test at home. This will help you guide your child toward the best possible scholarships in the future.
Start the reading list, including books for school and for fun. For bonus points, tell your kids to type up their reading list, so they are practicing their typing skills and helping you at the same time.
Begin your transcript, so it's ready to earn the good student discount on car insurance or get the best possible scholarships. Too often, I see parents put this off until they are stressed out.
There it is! Seven super-simple resolutions to start the year strong. With the Total Transcript Solution, you can finish your high school transcript by the end of the day, and be confident it's an accurate and official homeschool document.
About the author
Lee Binz, The HomeScholar, is a dynamic homeschool speaker and author. She is an expert on how to craft a winning homeschool transcript. Lee understands what it takes to graduate homeschool students who are fully prepared for college and for life. Her practical advice and organized presentations have helped thousands of homeschool parents muster up the courage to complete their homeschooling journey. Lee's mission is to encourage and equip parents to homeschool through high school. Sign up for her free homeschool e-newsletter at HomeHighSchoolHelp.com. You can also find her at Facebook.com/TheHomeScholar.
---
Diane Heeney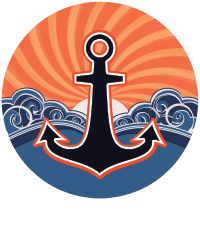 Pillar of Faith
Diane Heeney – Fresh Resolve for the New Year
Almost exactly three hundred years ago, Jonathan Edwards wrote some New Year's resolutions—the first of which was, "I will live for God." The second was, "Even if no one else does, I still will." The culture and climate we live in today is calling out that "I still will" for Christian homeschoolers.
What have you resolved for your 2022 educational journey? Have you ever written a mission statement for your homeschool? It's a valuable tool to revisit, to help guard your heart when things get hard—whether it's because loss or heartache touches your home, or finances are dire, or you find your legal rights coming under scrutiny.
While England faced uncertainty in December of 1939, King George VI addressed the Empire, quoting a poem entitled The Gate of the Year: "Go out into the darkness and put your hand into the Hand of God. That shall be to you better than light and safer than a known way." Heartening words we can also heed. The Lord is our light; He knows tomorrow's needs; He's continually with us, holding our hand as we begin a new year.
Yes. We will live for Him.
---
For only $175.50, you can purchase the SchoolhouseTeachers.com Ultimate Annual Membership giving your entire family access to the 400+ PreK–12 courses. This is an incredible savings of over 65% off of the new price! New members will also receive a complimentary tote with their Fresh Start sale purchase (publisher's choice, US only). Use code: FRESHSTART at checkout. Plus, new courses and video content are coming soon!
---
---
---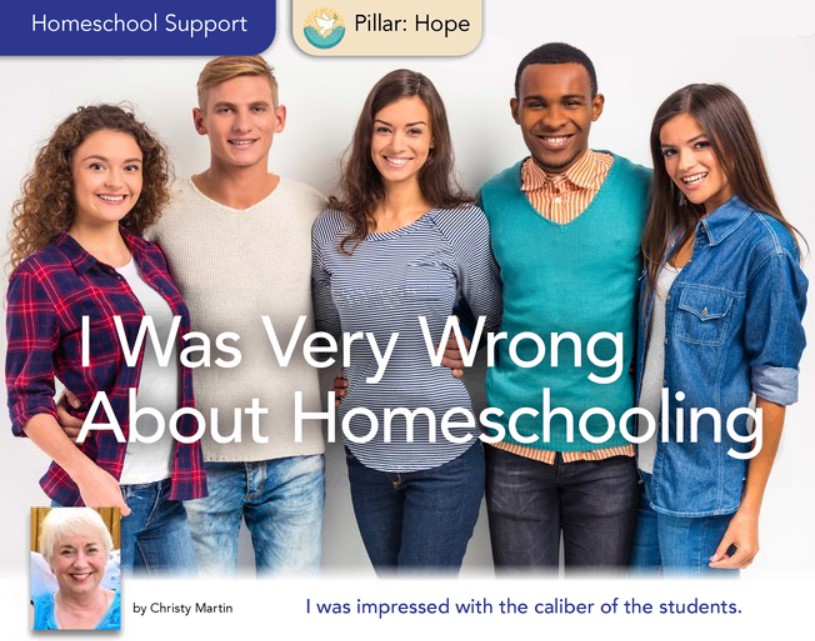 ---
The Old Schoolhouse® Magazine is now available for FREE online! Click the graphic to read it cover to cover!
Download the free mobile apps at www.TOSApps.com.
Get the print issue here.
VIEW BACK ISSUES: Go here to access all back issues.
---
Spring will arrive before you know it—and so will the Spring issue of The Old Schoolhouse® Magazine featuring nature studies. Subscribe now at http://homeschool-store.com/ during our presale to save on fresh homeschool inspiration all year long.
---
---
Congratulations to Jenny Underwood from Missouri who won our November giveaway!
Contest Corner
for the month of January
STEAM Lab for Kids: 52 Creative Hands-On Projects for Exploring Science, Technology, Engineering, Art, and Math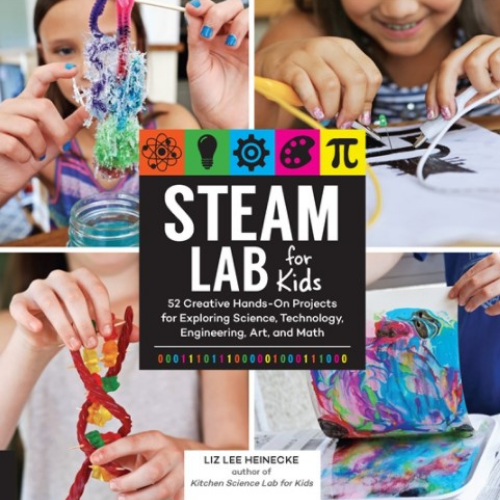 My kids crave science and are always eager to "make something explode" or get messy by creating masterpieces out of bits and pieces of whatever they find lying around. This book makes science fun, and it makes it easy for moms to ensure that lessons get done! After all, the best kind of curriculum is the one that is used, right?
I can tell you your child will love each and every one of the activities in this book. Each of the open-ended labs within the book are designed to show you that the deeper you look into the art, the more math and engineering aspects you will find too. With projects ranging from tie-dyed fidget spinners to rubber band shooters, there is a project for every child that can light the fire in learning.
I really appreciate that each lab includes a complete materials list with clear step-by-step photographic directions for the entire scientific process. There are also detailed pictures of the finished samples as well. And the best part is there is no right or wrong answer, per se, so the labs can be completed over and over again with different results. The pages in the book are made with a thick, glossy paper so they can withstand an occasional splash or spill without ruining the book.
---
Read the full review on our site from a mom with lots of details about using this book with her children.
Go to the contest page of our site where you can ENTER TO WIN the book STEAM Lab for Kids.
---
Freebies
Basic Skills Assessment & Educational Services, www.basicskills.net
Basic Skills Essential Learning Objectives is a concise, easy-to-use checklist of learning objectives. Five instructors whose teaching experience ranged from kindergarten through college collaborated together to identify what they considered to be the essential skills of language arts and math. Organized by grade level, parents may check the progress their student is making using a set criteria, which is not coded to any specific curriculum. Go to www.basicskills.net and click the gray button at the bottom of our home page to receive this helpful eBook!
This free product and more are found in our 2022 Freebie Directory: TOS Freebie Directory – The Old Schoolhouse®
---
FREE e-book!
Is Your Homeschool Ready to Collapse?
Strengthen your convictions, lay your foundation, and add pillars of strength as you read the WeE-book™ Is Your Homeschool Ready to Collapse? By Deborah Wuehler. This author asked five of her children (ages 4–16) this question: "Why do you believe we are homeschooling?" Their enlightening answers were quite revealing and line up with God's Word forming these Pillars of Strength. In the pages of this WeE-book™, you'll find encouragement, wisdom, and inspiration that you won't want to miss.
Find more freebies at The Old Schoolhouse Homeschool Store: Freebies Archives – The Old Schoolhouse®
---
With the TOS Mobile App, search topics of interest spanning more than a decade, share articles, browse interactive content, and follow the links to hundreds of related resources. Each issue can also be downloaded and read offline.
---
Share this newsletter with a friend, and be sure to let those CONSIDERING homeschooling know about the enormous FREE info-pack which awaits them here: www.TryHomeschooling.com.
---
If you liked today's Homeschool Minute, please email the editors and tell us what part you liked most. It's a huge blessing to receive feedback!
Please add publisher@theoldschoolhouse.com to your email contacts so that our emails to you don't land in spam.