Indoor Activities for Stir-Crazy Kids
January 25, 2023
Be sure to scroll to the bottom to enter the contest and see the freebies of the month!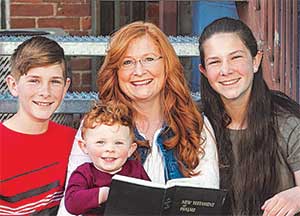 Mercy Every Minute
Deborah Wuehler, TOS Senior Editor
You Need a Retreat!
Even though we just had a couple months' worth of holidays and celebrations, this is the time of year many of us long for another break in our routine. If you have the winter blues or kids who are stir crazy, try making a special memorable day to put the regular schoolwork aside and host a mini retreat with your children.
A Homeschool Winter Retreat Day Schedule:
Reading Time:
Create a comfortable place for all to gather.
Pick a new book to read aloud or a new audio book to start. Choose a book with good Biblical principles (possibilities: The Terrestria Chronicles by Ed Dunlop, Kingdom Series or Knights of Arrethtrae by Chuck Black, Focus on the Family Radio Theater, Pilgrim's Progress or Hinds Feet on High Places audio books, Lamplighter books or audio).
Allow the children to draw, color, or build with blocks quietly as they listen.
(Extra idea: pre-make little goodie bags of dollar store toys, pencils, coloring books, snacks, etc., for them to enjoy while listening.)
Continue for up to an hour.
Take a short stretching, or exercise break and then snack time.
Snack Time:
Offer special treats and warm drinks; create a special snack station for the day.
Art or Craft Time:
Plan a simple craft or art project, or bring out random craft materials, and let them create with no patterns!
Listen to quiet instrumental or classical music while creating.
Second Reading Time:
If the children want to keep going for another hour, continue reading the book or audio book.
Children can put together a new puzzle while listening or pick another quiet activity.
Scripture and Prayer Time:
Choose a simple theme Scripture for beautiful copywork to put on parchment paper. Or use regular paper that you make into a scroll and tie with a ribbon. Try memorizing the short passage.
Talk about the Scripture and ask each child what it means.
Everyone takes a few minutes as a group to pray, or each can take fifteen minutes of alone time to pray.
Snacks and Games:
Come back together for another special drink or snack.
Play a group game, card game, or board game.
End:
At the end of the retreat time, everyone helps clean up, then chooses one simple household chore to complete (pre-written and placed in a jar for selection). Free time for the remainder of the day!
See full article from our Winter 2020-21 issue here: https://www.thehomeschoolmagazine-digital.com/thehomeschoolmagazine/library/page/2021×1/17/
Here's some more encouragement from fellow homeschoolers at The Old Schoolhouse® Magazine.
Prayer, Praise and Pursuit, by Sheila Campbell
Seven Tips for Treating the School House Grumps, by Michelle Pohl
Science in the Kitchen, by Brigitte Brulz
Enjoy your retreat and your children as you keep them Home. Where They Belong.
~Deborah
---
The Canadian Schoolhouse
Indoor Activities to Do at Home in the Winter
While outside and fresh air are always best for us, some days are too wet, too stormy, or too cold for our little ones to be outside. Thankfully that doesn't mean they have to be couch potatoes and forsake all movement and exercise. There are lots of different things to do in the winter that get your kids burning energy on indoor days!
Go Do . . . and Come Back
Yell out something for them to do, (for example, "Go bounce four times on your bed.") and then tell them to come back. They'll run to do it and likely run back giggling. Then send them to do something else. "Go to the basement and touch your elbow to the washing machine and come back." There are really no limits; be as silly as you want to be.
Child Independent Activities
There are many indoor things to do in the winter to keep kids active, such as a mini trampoline and obstacle courses. Hula hoops are great (and cheap) tools to keep kids moving indoors if you have the room. If you have an unfinished basement, kids can scooter, rollerblade, or ride their bikes in the basement. You can hang cloth swings, real swings, rings, or a bar from the ceiling and let them play. Those with lots of creativity can even create a rock wall for the kids to climb inside their house. If you use your imagination and what you have available to you, you can find ways to move. Even a mattress on the floor creates opportunities for active kids!
Freeze Dance / Movement
There's nothing new or creative about this idea but it's still fun for all ages! Put on some music your family likes, and have the kids keep moving as long as the music is playing, and freeze when the music stops. You can have them dancing or just moving, running up and down halls, jumping jacks, hopping, whatever suits you!
These ideas are taken from an article on The Canadian Schoolhouse. See the whole article for more indoor activities to do in the winter.
About the author
This article has been written by homeschooling staff writers of The Canadian Schoolhouse (TCS). Enjoy more of our content from TCS contributors and staff writers by visiting our themes page that has a new theme topic added every month!
---
Stacy Farrell
Coping When You're Cooped Up
Back in the days when my sons were young boys brimming with energy, they often struggled to focus on their lessons (especially on their math assignments). When I saw them struggling, I'd ask them to run a few laps around our house. A few quick sprints released and redirected their energy—and made settling into work mode so much easier.
But what's a family to do when stormy weather or freezing-cold temperatures trap us inside? Besides having our children do push-ups, sit-ups, or jumping jacks, what are some ways we can help them cope with prolonged periods of being cooped up inside?
Align Activities to Talents
Being stuck indoors isn't ideal, but who says it has to be boring?
Have an artsy student? Set her in front of a window with a sketch pad and drawing pencils.
Have a budding writer on your hands? Unleash his creativity with fun picture writing prompts or a nature journal.
Have a student who excels at hands-on projects? Find a small home repair job or even a unique chore that challenges her skills.
You might be feeling a little crazy while cooped up with stir-crazy children, but try to savor even those days because . . . before you know it, your little ones will be full grown and "flying the coop."
Much love,
Stacy
About the author
Surprised by Jesus, Stacy went from an unmarried, childless, 30-something career woman to a Christ-following wife of more than twenty-eight years with two sons she homeschooled K-12. She battled fear and overwhelm, but survived and thrived. Author of more than books—including the award-winning Philosophy Adventure and newly released Food Prep Guide, she loves to equip and encourage homeschool families. Visit her at HomeschoolAdventure.com or at her newly-launched site: FoodPrepGuide.com.
Food Storage For Beginners: A Week-By-Week Plan For A Year's Worth Of Shelf-Stable Food
Does gathering and storing a year's worth of food for your family seem overwhelming—and unachievable? What if you could follow a plan that allows you to grocery shop normally with just a few extra items each week?
⇨ We created a step-by-step plan, and it's yours FREE! https://foodprepguide.com/op/food-storage-plan/
---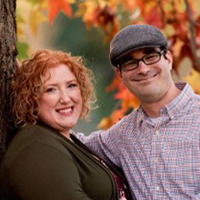 Adam and Dianne Riveiro
Pillar of Future
Diane Riveiro – Think Ahead to Avoid Cabin Fever
As the temperature continues to drop, our kids spend more time in the house. After a few days of gloomy weather outside and being cooped up inside, it may seem like the walls are starting to come in. If you're not careful, everyone starts to go stir-crazy . . . mom included!
During this time of year, be proactive and have activities ready for quality family time. Here are a few things we enjoy in the Riveiro house during the long New England winters:
Playing board games (our favorite is Catan)
Baking cookies and delivering them to neighbors or shut-ins
Having family Mario Kart races or rounds of Mario Party on the Nintendo Switch
Staging an indoor "snowball" fight with packing peanuts
Working on a family puzzle
Going camping in the living room complete with hot cocoa and microwave s'mores
We enjoy simple, old-fashioned activities while having some limited "screen time." Whatever we do, the rule for our indoor activities is a simple one: whatever we do, we do together as a family.
Finally, can I give you one piece of advice from a family of New Englanders? Don't hide indoors during the winter! There's an old saying: "There's no bad weather; there's only bad clothes." Bundle up and enjoy family activities like hikes, sledding, and trips to the playground . . . even when it's cold.
-Dianne
About the author
Pastor Adam and Dianne Riveiro live in Easton, Massachusetts, where Adam leads Liberty Baptist Church. They're the authors of several books, including Hope from Our Heart to Yours: A 30-Day Devotional Journey for Special Needs Families, available from their family's publishing label at www.readyscribepublications.com. They have four children: Bethany, Kaylee, AJ, and Peyton. They're passionate about helping their fellow special needs families find joy and contentment in Christ.
---
Come share what works for you, what you look for in homeschooling curriculum, and why you homeschool, through quick and easy multiple-choice and short-answer questions. The Old Schoolhouse® values your input and is excited to use what they learn from this survey to continue to provide quality resources to the homeschooling community—as they have done for the past twenty years.
---
Got talent? The SchoolhouseTeachers.com Virtual Talent Showcase is seeking musicians to submit recordings for their 2023 event. Original compositions, renditions of a favorite song, performance pieces, and other talents are welcome. Submission details are found in your Member Dashboard.
---
Don't give up if you feel like you are falling behind in your homeschool. Instead, start the new year out right by adding in a few courses to help round out your child's education! Pay only $90 today and lock in your next nine months of homeschool curriculum. Use code: FRESHSTART23 at checkout to gain access to these essential homeschooling tools.
---
SchoolhouseTeachers.com Corner
Did you know?
Every class is INCLUDED for ultimate members!
No limits.
Have you run out of ideas for the kids who can't sit still? Why not try incorporating art and music into your preschooler's day? Preschool Playground: Arts, Crafts & Music is full of activities that are easy to implement—fun crafts, great music (singing, instruments), puzzles, patterns, and more. Get inspired with these lessons, and your children will learn as they make memories with you!
---
Looking for a heart-warming series that will instruct your young children about character traits while enjoying great stories? Here's a find for your family. Learn more in this recent article "Character Building Stories with Quigley's Village" from The Old Schoolhouse® Magazine.
---
The Old Schoolhouse® Magazine is now available for FREE online! Click the graphic to read it cover to cover!
Download the free mobile apps at www.TOSApps.com.
Get the print issue here.
VIEW BACK ISSUES: Go here to access all back issues.
---

---
Congratulations to our November winner, Stephanie from Piney Flats, TN!
Contest Corner
for the month of January
Pay Less for College: The Must-Have Guide to Affording Your Degree
College Admissions HQ
https://www.collegeadmissionshq.org/pay-less-for-college/
[This] is a book offering families realistic expectations of college costs and ways to afford college degrees successfully. The introduction states, "Paying for College Shouldn't Be Harder than Going to College."
Pay Less for College
is a 179-page softcover book with eight chapters, five appendices, and a twelve-page financial aid glossary.
Though I attended college and have recently been through a round of the college admissions process with one child, the only acronym I could remember was FAFSA—until I picked up this book. I wish I had owned this guide to educate myself on the financial aid process before college visits with my oldest child.
Thankfully, Elizabeth Walter and Debra Thro have taken the time to expertly help families navigate well what can be a daunting process. They are two mothers with young adults who have been through the process themselves. The authors are both credentialed as American School Counselor Association Certified Admissions Specialists.
Homeschool parents, who have dedicated their lives to assuring an excellent education for their children, must also act as guidance counselors when those children approach higher education. Pay Less for College feels like a helpful friend, one with experience and extensive knowledge, walking alongside, taking the overwhelming part out of an important part of life. A small investment in this book will prepare parents of teens to navigate the college years and enable parents to keep their young adults on the wise and responsible course initiated with home education.
---
Go to the contest page of our site where you can ENTER TO WIN the book Pay Less for College.
---
Freebies
What to Do for a Month at Home
Do you find yourself wondering what to do to keep your young children or teens entertained and educated? SchoolhouseTeachers.com has put together a list of activities—one for each day of the month—for you to try with your kiddos. All the suggestions require a few items, most you probably already have around the house. Each day has links with easy-to-follow instructions.
Younger kids in the house? Click here for our "What to Do For a Month At Home Elementary" version.
Older kids in the house, too? Click here for our "What to Do for a Month at Home Middle & High School" version.
---
FREE E-Book!
An Ordinary Homeschool . . . With An Extraordinary God
Deborah Wuehler gives us insight into her very ordinary homeschool, but also reveals an extraordinary God Who provides all that is needed to stay the course and One Who rewards our obedience with His abundant provision. Topics covered are guilt, weariness, financial burdens, expectations, too many activities, balancing it all, making learning stick, and more . . . don't miss An Ordinary Homeschool . . . With An Extraordinary God.
Find more freebies at The Old Schoolhouse Homeschool Store: Freebies Archives – The Old Schoolhouse®
---
Share this newsletter with a friend, and be sure to let those CONSIDERING homeschooling know about the enormous FREE info-pack which awaits them here: www.TryHomeschooling.com.
---
If you liked today's Homeschool Minute, please email the editors and tell us what part you liked most. It's a huge blessing to receive feedback!
Please add publisher@theoldschoolhouse.com to your email contacts so that our emails to you don't land in spam.