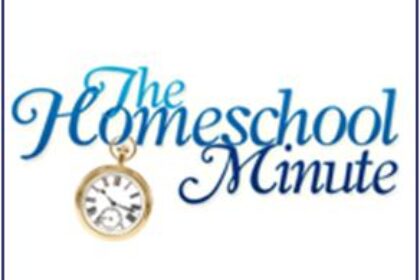 Resolved to Make Every Moment Count
January 19, 2022
---
Hey, Mama!
Savor the Moments
Hey Mama,
Life flies by. It didn't seem so when you were a child. But as you have aged, you have probably noticed something very strange happening—the weeks now seem to be passing by like days.
Keeping that in mind, let's fast forward a few decades. Everything will be different than it is today. Children will be grown. You will view situations through a more mature lens. Hopefully, wisdom will be on your lips and not just in your style.
You have to know this: the trials you face at the moment—as deeply as they carve lines into your heart, as insurmountable as they may appear, as convoluted and confusing as they may be— all are temporary. This life is one and done, and that means the trials are not everlasting. Even when it sometimes feels like there's no hope in sight, remember, Your God is far greater; nothing takes Him by surprise. He never sleeps.
The child who breaks your heart today may end up *being* your heart decades from now—the one who holds you tightly in your final days.
You know the expression, "this too shall pass." It's true.
The unbearably hard times shall pass. But so will the breathlessly beautiful ones. So savor those special moments. Be present in them and thank the Lord for them.
These articles from The Old Schoolhouse® Magazine can help you with that.
The Gift of Everyday Moments by Deborah Wuehler
Finding Faith Connections in the Everyday Moments by Leigh Morrison
When We Stop to Draw the Roses by Sheila Campbell
The best, most joyful day of your life may very well not have happened yet. Keep your eyes on Christ; model Him to your children; walk in a manner worthy of the very calling He has for you.
Demonstrate the kindness and compassion and mercy you have been given. Don't invest too much in the sadness, as it too is fleeting. You'll see, Mama. Wait and see.
As for today, His hand is on your head.
gena
---
No Moment is Wasted
When I first started homeschooling, I wondered what my title should be. Was it teacher, homeschooler, or educator?
Turning to my trusty dictionary, I discovered that to educate is not only a process of imparting knowledge, but also of drawing out of children their hidden gifts and talents. Accepting the role of "educator" changed my perception of who I was and what I did.
I had no idea the sacrifices, mistakes, hours of study, and experimenting it would take to fulfill the role well enough to add "professional" to that moniker. I read and read; purchased and purchased curriculum, how-to-teach books, training workshops.
As home educators, with our unique pressures and sacrifices, we often assume we cannot afford the investment of time or assets to add "professional" to our titles. We know professions are not for the faint of heart.
Professionals devote every effort to maximizing skill, proficiency, and knowledge. Professionals know their role. No moment is wasted in the pursuit of excellence. If they have questions, they must get understanding, no matter how much the investment costs. It saves time and frustration in the long run.
Likewise, investing to become a Professional Home Educator will deliver unexpected dividends in increased confidence, expanded knowledge, and better academic outcomes for your children year after year.
—
Become a Professional Educator. For over twenty-five years, Dr. Brenda Murphy has helped hundreds of homeschool parents, like you, become professional educators and supercharge their children's education. Schedule a consultation today with SailAway's expert educational psychologist. Call 865-376-7005 or visit sailawaylearning.com.
---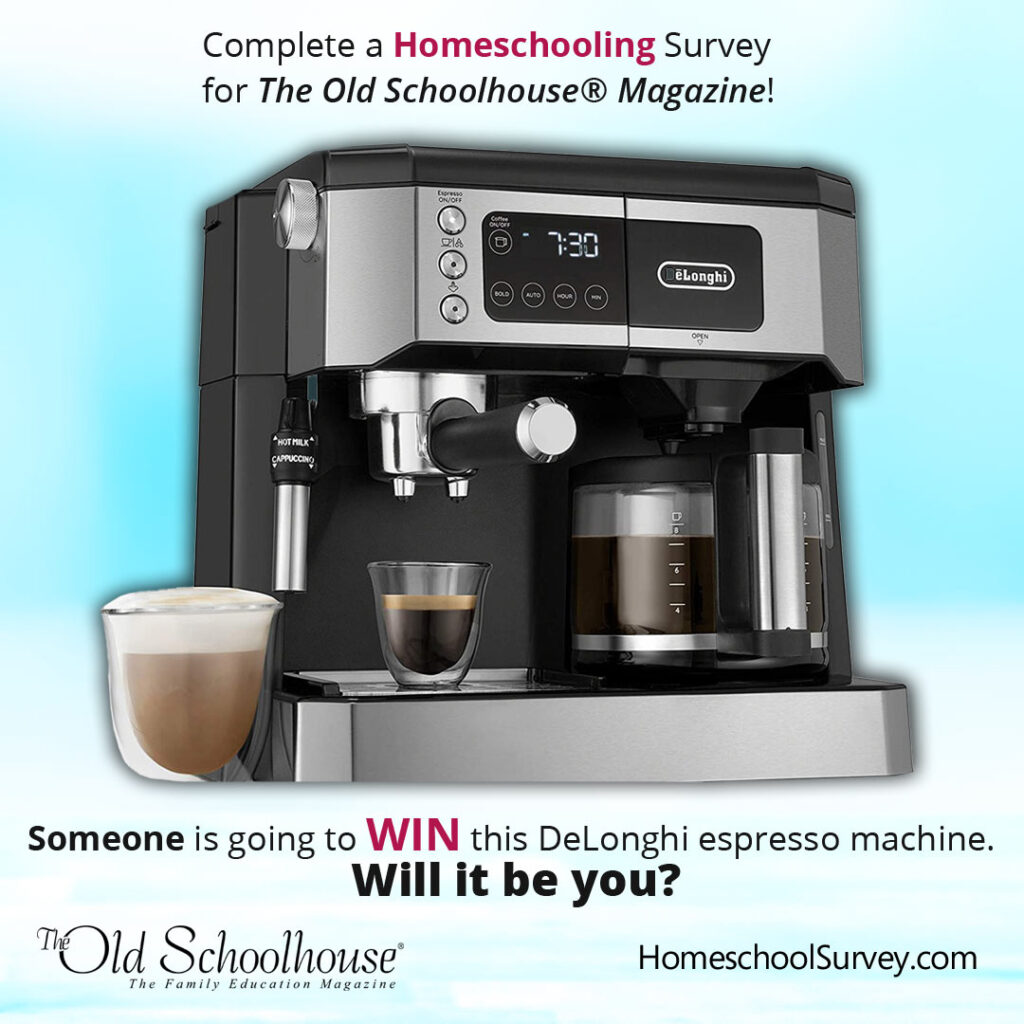 Complete a Homeschooling Survey!
Take part in the most recent homeschooling survey conducted by The Old Schoolhouse® for a chance to win a De'Longhi All-in-One Combination Coffee Maker and Espresso Machine (US only). All participants also receive a gift worth over $200!
---
Raising Real Men
Hal & Melanie Young, RaisingRealMen.com
They Grow Up So Fast
Can we be honest? Sometimes the topics we're supposed to write about for The Homeschool Minute make our hearts sink: "How do we write about that?" This week when we saw the topic, we rejoiced, though!
We have eight children – six boys in a row, then two girls. Six of them are grown and graduated already. It seems like just yesterday our oldest kids were all little and we were just getting started homeschooling and now kids that weren't even born back then are nearly grown. It happens so fast! When our kids are little, it feels like you'll be in that stage forever, but before you know it, you'll be kissing them goodbye and leaving them at a college dorm or a new apartment.
That's why you have to resolve to make every moment count.
We're not talking about some pie-in-the-sky life where both parents are perfectly calm and nurturing all the time, and every incident in each day is turned into a sappy movie moment. This is what we are talking about:

Put down your phone, look up from your laptop, and respond to the people in front of you. No one online matters more than your kids, but it's easy to make your kids think they do.
Listen to your kids.
When your kids want to talk about their latest video game session and you really couldn't care less, invest by listening. When we tell this to parents who complain their kids don't talk to them, they nearly always respond, "You know, he says I don't listen to him!" Listen to the small things, and you'll hear the big things one day.
Watch for your children's bids for attention and respond. The muttered comment as they walk by is a message that says, "Pay attention to me!" – even though they think you are going to ignore them.
Answer, respond, reach out.
Invest in relationship.
Nothing will matter more to you when they're grown. Here's more help on this: a FREE download of "Don't Lose Your Teens" https://www.raisingrealmen.com/notloseteens/
Your friends,
Hal & Melanie
---
Stacy Farrell
Making the Most of Fleeting Moments
Just a Small Window of Opportunity
As the saying goes (and I often quote it), "The days are long, but the years are short."
Now that my boys are grown, I know the hard truth of that statement all the more. The long days of child training can be exhausting (and seemingly endless).
But, contrary to how they may feel at times, those days don't drag on—they disappear.
As parents, we have the great honor of preparing our children to face the future that awaits them . . . but just a small window of opportunity to equip them!
That's why it is so important to make every moment count.
Loading Up Their Database
The skills we help them acquire today will help them deal with a quick-tempered boss, resolve conflict, and work diligently in the future.
That's not the type of "database" we can fill with textbooks.
So how do we fill it?
Let's use the quick-tempered boss scenario as an example:
When they find themselves reacting to that quick-tempered boss, the Scripture Memory Work you invest in will help them remember to be "quick to listen, slow to speak, and slow to anger."
Even before they get that job, when they're still at the interview stage, the manners training you practice today will equip them to shake hands firmly, look their interviewer in the eye, and listen attentively.
Or when they encounter situations that challenge their integrity, the critical thinking skills you intentionally instilled—coupled with prayer—will help them make God-honoring decisions, even when such decisions come at a price.
Resolve to Be "Moment Minded"
The Merriam-Webster dictionary defines the word "resolve" as "to make a definite and serious decision to do something."
It implies decisive action.
To resolve to make every moment count in your homeschool is to be present and prepared to take action when teachable moments present themselves.
All the training you do, day in and day out, matters.
Rest assured, being "moment-minded" will pay great dividends when it's time for your children to make their own way in this increasingly dark world.
His love,
Stacy
P.S. – Are you raising a critical thinker? Equip your students to write skillfully, think critically, and speak clearly as they explore the history of ideas—from a biblical worldview—with Philosophy Adventure.
A thoughtful, Bible-based approach to teaching good manners.
About the author
Surprised by Jesus, Stacy went from an unmarried, childless, 30-something career woman to a Christ-following wife of 28+ years with two sons she homeschooled K-12. She battled fear and overwhelm, but survived and thrived. Author of 10+ books—including the award-winning Philosophy Adventure—she loves to equip and encourage homeschool families. Visit her at HomeschoolAdventure.com.
---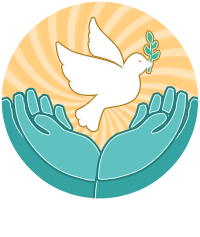 Pillar of Hope
Jodi Riddle – Don't Miss the Blessings of Today
Proverbs 27:1 tells us, "Boast not thyself of tomorrow; for thou knowest not what a day may bring forth." In other words, live each day to its fullest, and don't spend time worrying about what will happen tomorrow. Only God knows what lies ahead. The only thing we can be sure of for the future, is that there is an eternity, so live each day for that reason. Titus 2:13 shows us of that blessed hope, "Looking for that blessed hope, and the glorious appearing of the great God and our Saviour Jesus Christ."
Tell those around you that you love them. Take a moment to listen to your child's long version of a short story. Forgive those who have wronged you. Help someone in need. Comfort those who need to be comforted. Spend time with God daily so you know Him personally. These are just some of the ways we can make our days count as we await that blessed hope.
It's not bad to plan, and it's not wrong to set goals for what you want to accomplish each day, but life happens. Don't spend so much time planning for tomorrow, that you miss the blessings of today.
About the author
Jodi started her journey with TOS in April 2016 and serves as the Operations Manager. She and her husband, Duane, have been married over 30 years and have spent over 20 years in the ministry. Along with being a pastor's wife, she homeschooled her 3 (now grown) sons for 18 years and also taught in the private and public-school settings. Jodi enjoys teaching, playing the piano, and making cards. Her heart's desire is to serve others and use her gifts to glorify the Lord.
---
See the learning potential with these engaging programs and courses developed for home education. Liven up your learning time and get your family into a new educational groove for the new year.
---
Get a Fresh Start in 2022! Join SchoolhouseTeachers.com for only $175.50/year with code: FRESHSTART before prices go up in February ($269.97/yr). New courses and video content will be introduced in 2022 so join now. (New members only. No refunds. Totes are US only.)
---
---
---
---
The Old Schoolhouse® Magazine is now available for FREE online! Click the graphic to read it cover to cover!
Download the free mobile apps at www.TOSApps.com.
Get the print issue here.
VIEW BACK ISSUES: Go here to access all back issues.
---
Spring will arrive before you know it—and so will the Spring issue of The Old Schoolhouse® Magazine featuring nature studies. Subscribe now at http://homeschool-store.com/ during our presale to save on fresh homeschool inspiration all year long.
---
---
Congratulations to Jenny Underwood from Missouri who won our November giveaway!
Contest Corner
for the month of January
STEAM Lab for Kids: 52 Creative Hands-On Projects for Exploring Science, Technology, Engineering, Art, and Math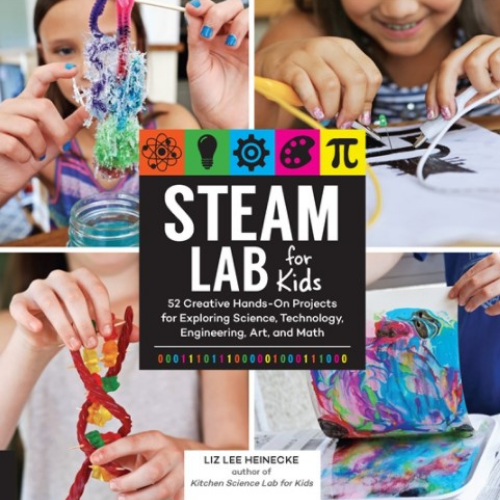 My kids crave science and are always eager to "make something explode" or get messy by creating masterpieces out of bits and pieces of whatever they find lying around. This book makes science fun, and it makes it easy for moms to ensure that lessons get done! After all, the best kind of curriculum is the one that is used, right?
I can tell you your child will love each and every one of the activities in this book. Each of the open-ended labs within the book are designed to show you that the deeper you look into the art, the more math and engineering aspects you will find too. With projects ranging from tie-dyed fidget spinners to rubber band shooters, there is a project for every child that can light the fire in learning.
I really appreciate that each lab includes a complete materials list with clear step-by-step photographic directions for the entire scientific process. There are also detailed pictures of the finished samples as well. And the best part is there is no right or wrong answer, per se, so the labs can be completed over and over again with different results. The pages in the book are made with a thick, glossy paper so they can withstand an occasional splash or spill without ruining the book.
---
Read the full review on our site from a mom with lots of details about using this book with her children.
Go to the contest page of our site where you can ENTER TO WIN the book STEAM Lab for Kids.
---
Freebies
Basic Skills Assessment & Educational Services, www.basicskills.net
Basic Skills Essential Learning Objectives is a concise, easy-to-use checklist of learning objectives. Five instructors whose teaching experience ranged from kindergarten through college collaborated together to identify what they considered to be the essential skills of language arts and math. Organized by grade level, parents may check the progress their student is making using a set criteria, which is not coded to any specific curriculum. Go to www.basicskills.net and click the gray button at the bottom of our home page to receive this helpful eBook!
This free product and more are found in our 2022 Freebie Directory: TOS Freebie Directory – The Old Schoolhouse®
---
FREE e-book!
Is Your Homeschool Ready to Collapse?
Strengthen your convictions, lay your foundation, and add pillars of strength as you read the WeE-book™ Is Your Homeschool Ready to Collapse? By Deborah Wuehler. This author asked five of her children (ages 4–16) this question: "Why do you believe we are homeschooling?" Their enlightening answers were quite revealing and line up with God's Word forming these Pillars of Strength. In the pages of this WeE-book™, you'll find encouragement, wisdom, and inspiration that you won't want to miss.
Find more freebies at The Old Schoolhouse Homeschool Store: Freebies Archives – The Old Schoolhouse®
---
With the TOS Mobile App, search topics of interest spanning more than a decade, share articles, browse interactive content, and follow the links to hundreds of related resources. Each issue can also be downloaded and read offline.
---
Share this newsletter with a friend, and be sure to let those CONSIDERING homeschooling know about the enormous FREE info-pack which awaits them here: www.TryHomeschooling.com.
---
If you liked today's Homeschool Minute, please email the editors and tell us what part you liked most. It's a huge blessing to receive feedback!
Please add publisher@theoldschoolhouse.com to your email contacts so that our emails to you don't land in spam.