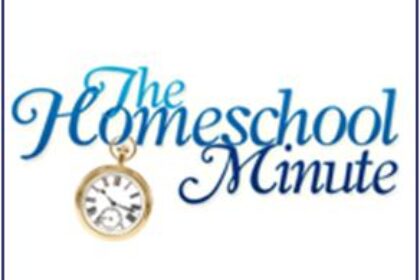 Indoor Games for Cabin Fever
February 2, 2022
---
Hey, Mama!
Staying Home Can be Fun!
Hey Mama,
Your kitchen may downright look like a hurricane hit it (mine does), but your kids wander in and out of it with laughter, chattering away, displaying confidence and a sense of freedom. You know why? You've instilled in them that they are so loved, so wanted, so WELCOME anywhere you are. There's no doubt in their heart that you love them with all your heart. That you (and Dad) are their HOME.

Your bedroom might look like mine (where's the bed again?), you cannot even see your chair because there's so much unfolded, clean laundry covering it, but your kids race around the house, past all the rooms, cracking up, playing, and rolling around without a care in the world. Yes, they're supposed to walk. Yes, you've told them a million times. But they forget, and yet there is a sense of grace for them always—always a second chance. You are the Mama who never stops shaping their heart, and they know you have their best interest at your own heart for them. You are their HOME.
And on these long winter days, it can be fun to play games to alleviate the cabin fever we can get when stuck indoors for too long. Card games often help with math skills and memory. My kids like it when Paul plays "No Thanks" with them. They forget it's sharpening their math. It gets too loud—sometimes Paul is howling the loudest. I honestly love it. There's something very peaceful and fun when Dad is being goofy and lighthearted. Board games like Monopoly can teach about money and how real estate works. Boggle and Scrabble and Scattergories are great word games to help stretch your kids' vocabulary. Make the most of this cherished together time.
You're making memories as you laugh, play and learn together as a family.
Here are some articles from The Old Schoolhouse® Magazine that reinforce that.
Fun and Games: Unleashing the Power of Play by Patrick Lysaght
Military Strategy Games by Andy Harris
You may feel like a bit disheveled and frumpy on these long winter days, but when you play with your kids, they see your real beauty—your inner beauty—and know you're the one woman in the world who would give her very life for them if necessary. The Mama who would go to the ends of the earth to make them feel loved, cherished, and that they belong. The Mommy who prays for them regularly and who even prays for their future spouse. The woman who will go to her grave praying, no matter how old those children get.
You are that woman. You are Mama. When your children think of HOME, they think of you. And His hand is on your head tonight.
gena
---
Visit www.cashcrunchgames.com to learn how to have more money through making smarter money decisions and find a career that best fits you.
---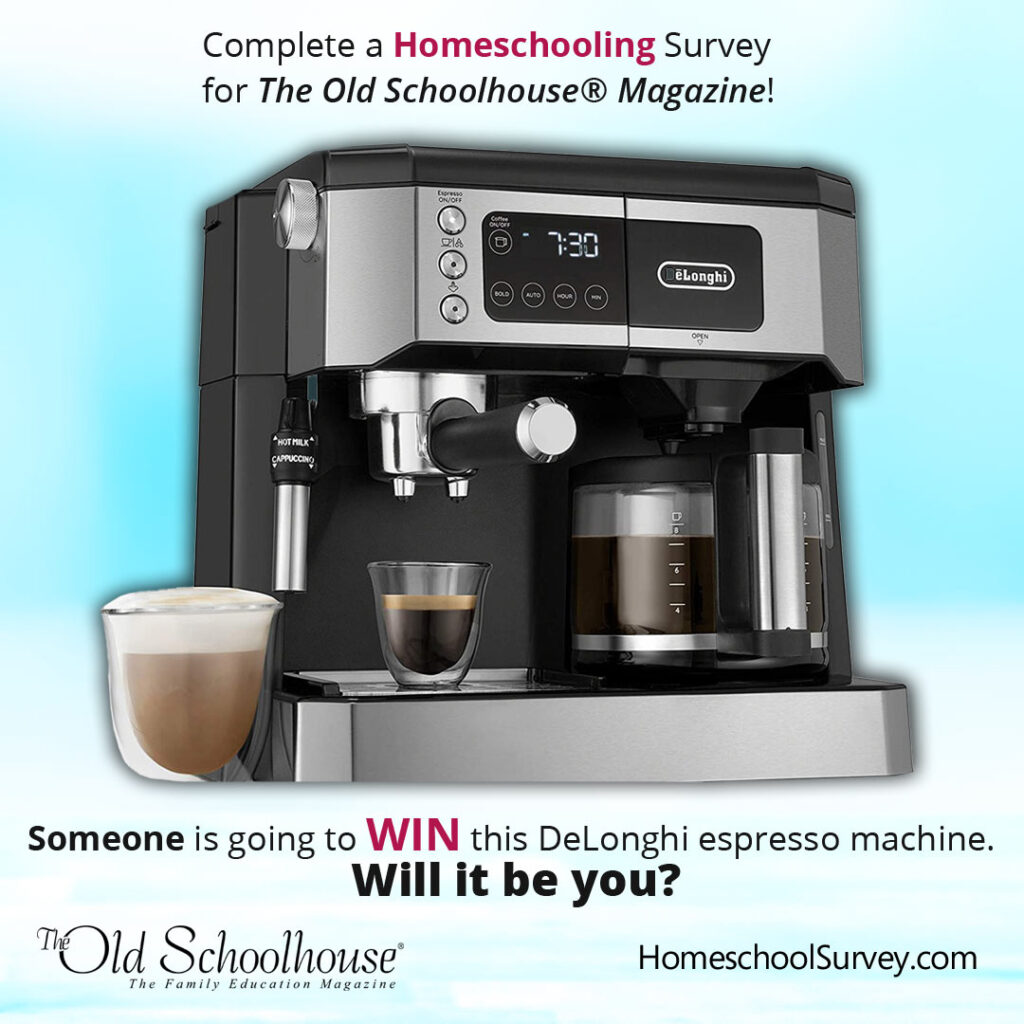 Complete Our Homeschooling Survey by February 28!
Take part in the most recent homeschooling survey conducted by The Old Schoolhouse® for a chance to win a De'Longhi All-in-One Combination Coffee Maker and Espresso Machine (US only). All participants also receive a gift worth over $200!
---
Raising Real Men
Hal & Melanie Young, RaisingRealMen.com
Fighting Cabin Fever with Fun
If you've been homeschooling a while, you know cabin fever is real, especially when the weather is bad, activities are cancelled, or sickness is keeping you all home. Playing games can be a great way to release that pent up energy if you can get past the idea of the mess and commotion.
Pillow forts are an amazing way to spend an afternoon.
Pull out all the sheets. Grab all the pillows and couch cushions. Throw a sheet over the kitchen or dining room table for starters. Challenge the kids to make the biggest fort they can. When they get tired, push a snack, a stack of books and a flashlight into the fort. They might even take a nap in there!
Board games are great.
We didn't do them for a long time because I couldn't figure out how to include young children, who just wanted to roll the dice and move the men with older ones who wanted a game of strategy. We finally figured out to team them up – the youngest with the oldest, the next oldest with the next youngest. It worked out great and built their relationships!
You can make learning a game, too.
A lesson in Saxon 54 takes about the same amount of time as one in Saxon 76. Our kids enjoyed racing to see who could finish first. Or, play Mother, May I?, asking appropriate questions of each child, "What does the letter R say (or what is the value of pi?)?" "RRRRR…" "Wonderful, take two bunny hops!" "Mother, may I?" "Yes, you may!" They have to answer the question right AND ask for permission to be able to move.
You could also pull out the dollar store plastic tablecloths (you have those, don't you?) to cover everything and then paint, use play dough, or do something else messy you don't usually get to. Then just gather up the corners and throw away the mess. Well worth a dollar!
We share our favorite board games in this post, for even more fun! Get rid of that cabin fever!
Your friends,
Hal & Melanie
---
David West
Move the Fun Indoors!
When the weather outside looks gloomy and the kids are restless, you need a plan. When the kids are longing to go outside, looking anxiously out the windows, and the weather shows no signs of letting up, you need some ideas.
Here are a few that might come in handy. When the kids can't go outside, when cabin fever is setting in, try bringing the outside to the inside.
Host an indoor nature hunt
You'd be surprised how many outdoor things can be found indoors. Ask the children to find as many outdoor things as they can in a given amount of time. From insects, to leaves tracked in with shoes, to the acorn collection they've kept since they were younger, they will find more than you expect. Give them some incentive. Ice cream for a genuine effort to find outdoor items might be just the thing.
Host an indoor picnic
Bring out the blanket, the basket, and your favorite picnic foods. Maybe even fire up the barbeque (outside, of course). Then, while eating, tell favorite stories about things that happened on a camping trip, or about your favorite outdoor activity, or about your favorite things in nature. You get the idea.
Host a camp in
Set up a tent in the living room. Bring outdoor camping to the great indoors. If a tent doesn't work, drape a blanket over some chairs, like you did when you were a child. Tell jokes, play board games in the tent, listen to favorite audio dramas while laying in sleeping bags.
Host a read-a-thon
Pull books about nature, or stories that occur outside, from your shelves, then create a reading incentive. Every page read, or every fifteen minutes of reading, is equal to a set amount of "Cabin Fever" dollars. Those dollars can be used to buy favorite treats from the Cabin store. You know your children and what will motivate them. Purchase the treats or other items that will excite them.
Bringing the outside to the inside can help turn Cabin Fever into Cabin Fun.
About the author
David West is an ordinary father serving an extraordinary Savior. He is husband to Danette, father of six, deacon at The Cornerstone Bible Church, past chairman of the Sacramento Organization of Parent Educators (scopehome.org), sales manager by vocation, and a lover of books and writing.
---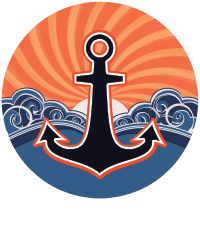 Pillar of Faith
Jodi Riddle – Occupying Their Time
How do your children occupy their idle time? No one really wants to be in a place where they have absolutely nothing to do, especially children. When this happens, many times, they find "something" to do.
We have probably all experienced the occasional mischievous activities that could have been prevented if our children hadn't had idle time. James tells us in James 1:2-3, "My brethren, count it all joy when ye fall into divers temptations; Knowing this, that the trying of your faith worketh patience."
Some planning on our part can help children keep busy (and be patient) and also keep them from finding their own "things to do." Set up some indoor activities that are special for those "go-to" times when they need something to do after their schoolwork is done, while you are making dinner, or when others in the home need some quiet time.
Have some books, puzzles, or craft items that are only available to them when they would otherwise have that idle time. Teach children that this could be a great opportunity for them to spend time doing devotions, praying, or creating something special to share with someone else. Occupying their time in these ways will almost always be better than them finding their own things to do. Count it all joy—God is teaching us patience!
About the author
Jodi started her journey with TOS in April 2016 and serves as the Operations Manager. She and her husband, Duane, have been married over 30 years and have spent over 20 years in the ministry. Along with being a pastor's wife, she homeschooled her 3 (now grown) sons for 18 years and also taught in the private and public-school settings. Jodi enjoys teaching, playing the piano, and making cards. Her heart's desire is to serve others and use her gifts to glorify the Lord.
---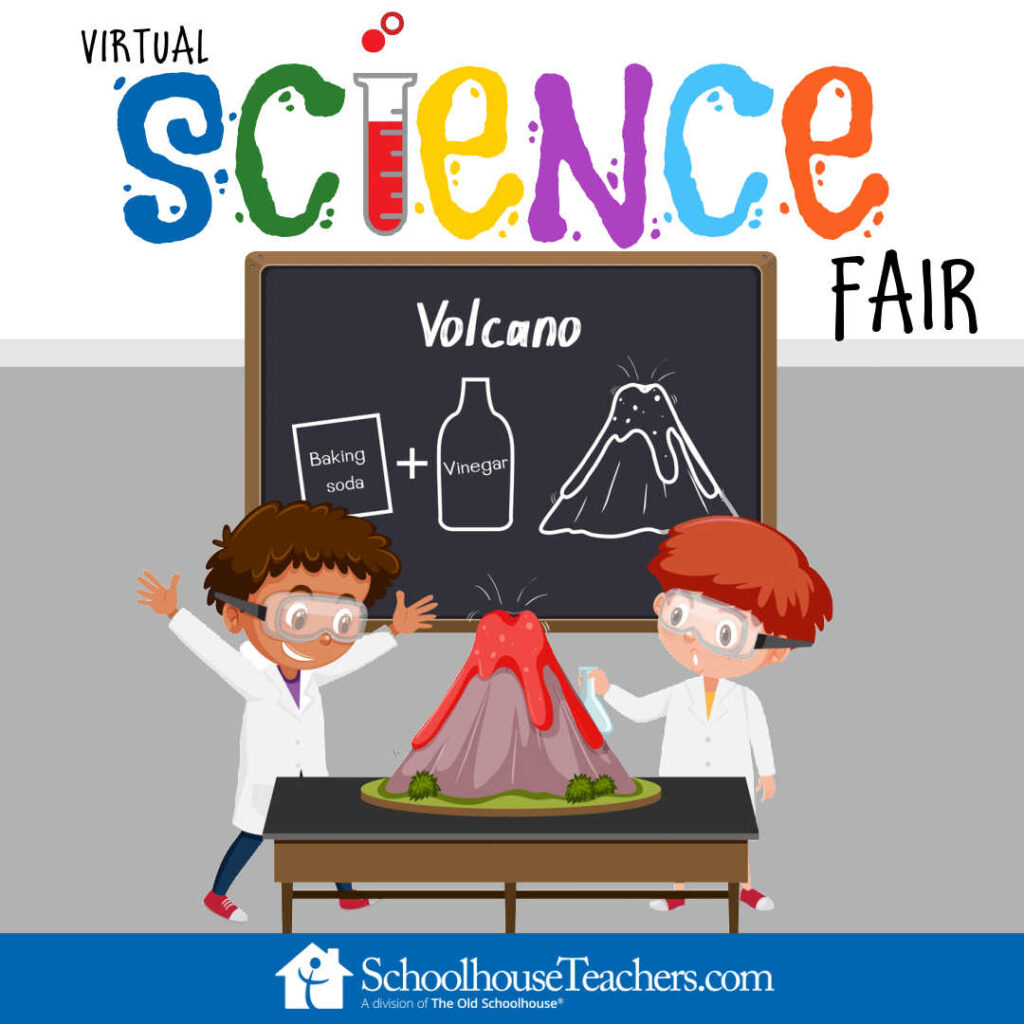 Calling all scientists!
It's time for the 2022 Virtual Science Fair at SchoolhouseTeachers.com. If you have a budding scientist in the house, we want to know what your child discovered this school year! Entries may include science research projects or exhibits. Award certificates will be presented for first, second, and third places in each category.
Visit the Activity Calendar section of your Member Dashboard to find full details and to submit your children's scientific entries.
Student submissions are being accepted from February 1 through March 11, 2022.
---
It's not how you start the race, it's how you finish it. Let us help you finish strong. Purchase a Quarterly Membership to SchoolhouseTeachers.com for only $45 (now $59.97). Use code: FINISHWELL at checkout and you will have the tools you need to finish this quarter well.
---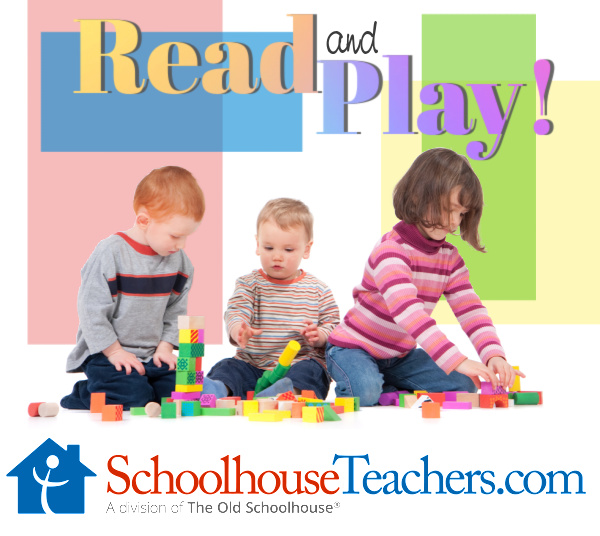 ---
Register your young learners for SchoolhouseTeachers.com's fun-filled Storytime and Show-and-Tell on February 10, 2022, at 4:00 p.m. ET! The Old Schoolhouse® staff will share a story with you and your preschoolers and kindergarteners. Your child is invited to share one picture, toy, book, or other item during the sharing time following the story. Please have the item nearby and keep your microphone on mute until your child is called upon to share. Sign up for this free members-only Zoom event from the Activity Calendar tab in your Member Dashboard.
---
---
---
The Old Schoolhouse® Magazine is now available for FREE online! Click the graphic to read it cover to cover!
Download the free mobile apps at www.TOSApps.com.
Get the print issue here.
VIEW BACK ISSUES: Go here to access all back issues.
---
---
Congratulations to Laura Omana who won our December giveaway!
Contest Corner
for the month of February
Faces Around the Cross DVD Set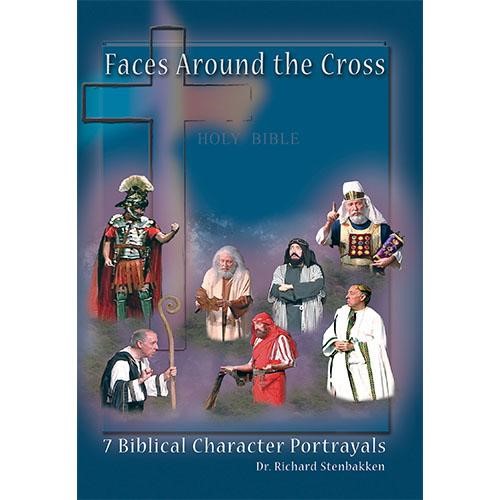 Faces Around the Cross comes in a two-disc DVD set. In this DVD set, Dr. Richard Stenbakken has seven Biblical character portrayals. Each of the character portrayals is approximately 30 minutes with over four hours of total viewing time. In the first disc, the characters portrayed are John (From Son of Thunder to Beloved Disciple), Judas (All They Had to Do Was Listen to Me), Peter (The Man of Big Mistakes), and Caiaphas (A High Priest with Low Understanding). The second disc has the following segments: Marcellus Sylvanus (The Augur), Pilate (It's All About Power), Centurion (The Toughest, Meanest Man in Town), and a final interview with Dr. Stenbakken.
Each characters' portrayals take place on stage in front of a church audience as Dr. Stenbakken comes onto the stage in period costume and character matching speech and interaction. His first-person narrative presentations draw from his own experience and education as an Army chaplain, family therapist, and graduate-level educator (who holds four Master's degrees).
We were able to use this detailed DVD set as part of our own homeschool Bible study. While the first-person narratives were entertaining at times, they are not meant to be purely entertainment. By showing the viewer what the character may have looked like and by keeping in character with the person's authentic life, we were able to get a "feel" of what the person was like and how their lives were changed by Christ's life, crucifixion, and return from the grave.
---
Read the full review on our site from a mom with lots of details about using this as part of their homeschool Bible study
Go to the contest page of our site where you can ENTER TO WIN the Faces Around the Cross DVD Set.
---
Freebies
Bible Pathway Adventures
Ready for the road? Keep your children occupied and device-free with Bible Pathway Adventures' FREE Bible-based Road Trip Activity Book, the perfect set of activities for long car journeys. Includes nine fun and engaging worksheets, including an Alphabet Challenge, Road Trip I Spy, Bible Journeys coloring page, Let's Talk discussion sheet, Bible word-search puzzle, and a Bible verse coloring page. Simply print the NO-prep pages, and go! FREE download on the Bible Pathway Adventures' website here: biblepathwayadventures.com/activities/roadtrip-activity-book/
This free product and more are found in our 2022 Freebie Directory: TOS Freebie Directory – The Old Schoolhouse®
---
FREE Expo Recording!
Strengthening the Homeschool Marriage and Family Expo
Find more freebies at The Old Schoolhouse Homeschool Store: Freebies Archives – The Old Schoolhouse®
---
With the TOS Mobile App, search topics of interest spanning more than a decade, share articles, browse interactive content, and follow the links to hundreds of related resources. Each issue can also be downloaded and read offline.
---
Share this newsletter with a friend, and be sure to let those CONSIDERING homeschooling know about the enormous FREE info-pack which awaits them here: www.TryHomeschooling.com.
---
If you liked today's Homeschool Minute, please email the editors and tell us what part you liked most. It's a huge blessing to receive feedback!
Please add publisher@theoldschoolhouse.com to your email contacts so that our emails to you don't land in spam.