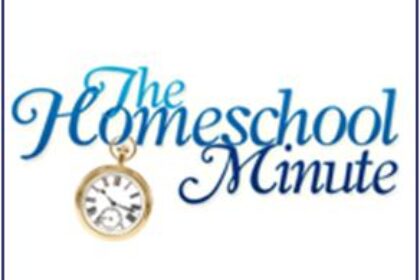 When the Winter Blues Have You Down
February 16, 2022
---
Hey, Mama!
He Overcame So You Can Overcome
Hey Mama,
So much sadness. A lot of terrible trials happening presently for so many. I can't believe how many dear families are enduring horrific, painful events right now. I only know to pray for them and to hope this fog lifts somehow, and soon.
One answer—there is One who knows and who is not surprised by any of it. It can be hard to see purpose in the pain. I won't pretend to have that mastered. I don't. But I know the One who will make all things right in the end.
Until then, we endure. We overcome. We lift one another up before the throne room. We plead on their behalf. We remain faithful.
The Lord might be holding you through the winter blues, or a much deeper depression. He might be holding you through illness, or a difficult situation with your child, or the loss of a loved one. The pain can seem unbearable. But He will hold you through it all and never let you go.
These articles from The Old Schoolhouse® Magazine are a good reminder of that:
5 Powerful Weapons to Beat the Winter Blues by Deborah Wuehler
Homeschooling Through the Storms by Flossie Cusick
The Grasshopper Plague: Faith to Endure by Bonnie Rose Hudson
Don't forget to dig into the Word of God. These verses about overcoming offer both truth and comfort.
He that hath an ear, let him hear what the Spirit saith unto the churches; to him that overcometh will I give to eat of the tree of life, which is in the midst of the paradise of God. (Rev. 2:7)
To him who overcomes, to him I will give some of the hidden manna, and I will give him a white stone, and a new name written on the stone which no one knows. (Rev. 2:17)
Nevertheless, hold fast to what you have until I come and to the one who is victorious (overcomes) and continues in My work until the end, I will give authority over the nations. (Rev. 2:25)
Behold, I stand at the door and knock. If anyone hears My voice and opens the door, I will come in and dine with him, and he with Me. To the one who is victorious, (overcomes) I will grant the right to sit with Me on My throne, just as I overcame and sat down with My Father on His throne. He who has an ear, let him hear what the Spirit says to the churches." (Rev. 3:20)
All this shall be the heritage of him who overcomes, and I will be his God and he shall be one of My sons. … He who overcomes, I will give him these things. (Rev. 21:7)
These things I have spoken unto you, that in me ye might have peace. In the world ye shall have tribulation: but be of good cheer; I have overcome the world. (John 16:33)
He has overcome the world, so you can overcome, Mama. Your future is bright. And, as always, His hand is on your head.
gena
---
Triangle Education Assessments year-round online and paper testing services: Iowa®, WJ IV ®, Stanford, TerraNova2, CogAT®, OLSAT, and practice tests. 1-877-843-8837. Simple ordering! Great prices!
---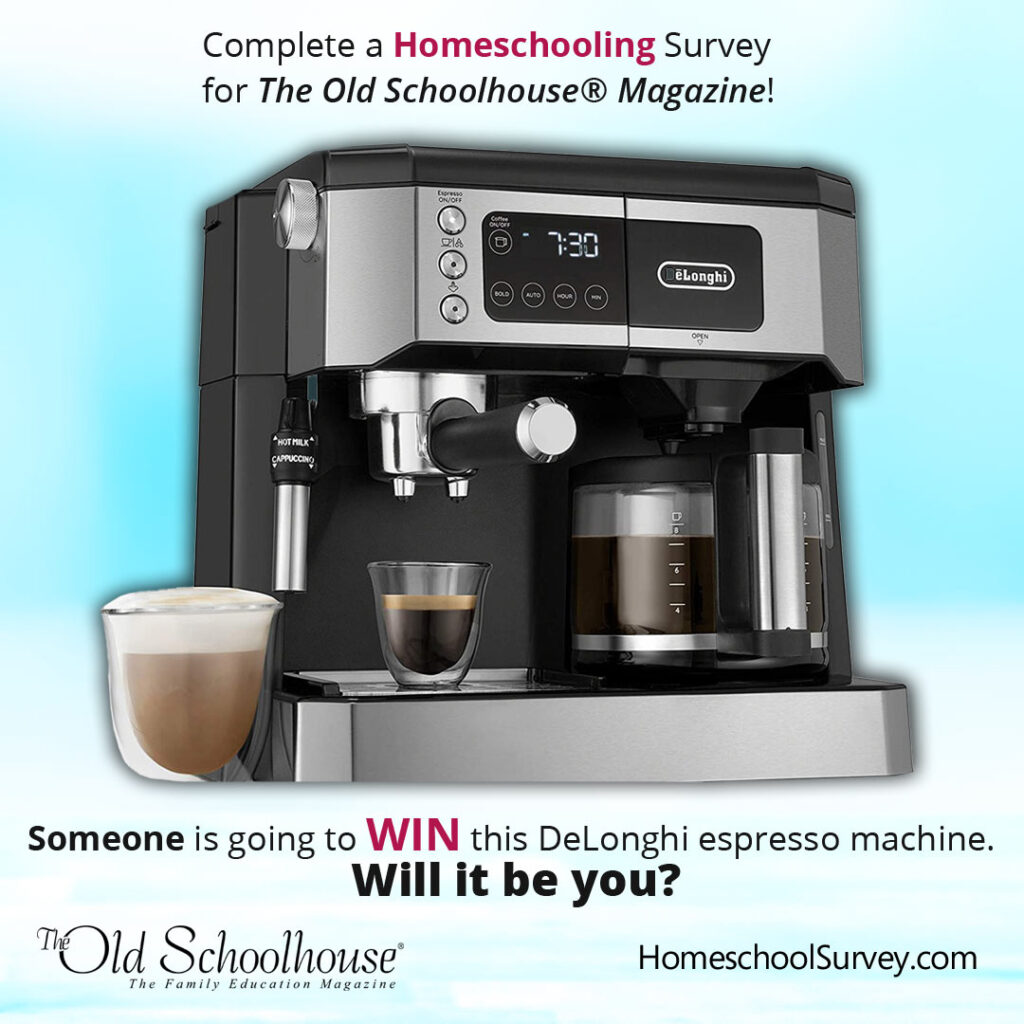 Complete Our Homeschooling Survey by February 28!
Take part in the most recent homeschooling survey conducted by The Old Schoolhouse® for a chance to win a De'Longhi All-in-One Combination Coffee Maker and Espresso Machine (US only). All participants also receive a gift worth over $200!
---
Raising Real Men
Hal & Melanie Young, RaisingRealMen.com
You Can Beat the Winter Blues
I could be the poster child for winter blues. When the weather is gray, my mood is, too. And starting back to school after the holidays is no joke. It's hard. We've been sick. Did I mention it's gray outside? Cold, too. You don't have to dread winter, though!
Here are some ways we beat the winter blues:
Make school about learning not about doing tasks. Do as much as you can orally or find new ways to show learning. Seriously, it makes no sense to drive everyone crazy trying to fill up workbooks that no one will ever look at again!
Change it up. Change the way you use that curriculum you all dread or even drop it and replace it (it's okay, really!). Do school in a different place or time.
Do something crazy. Declare a movie day. We had a mandatory dance time after lunch last week. The kids thought I'd lost my mind, but we all ended up having a great time – even the teens who take themselves way too seriously.
Ease into it. We've been doing audiobooks this week. Listening to classic literature is easy and fun and a great way to learn without even realizing it.
Give them something to do off their devices. Too much screen time, even for teens, tends to lead to dissatisfaction and crankiness. That's one reason we created our Craftsman Crate subscription box. Do some projects. Do real things.
Get some sunlight. Get outside, even if it's hard. Or at least get some Vitamin D3 – that really helps me!
You'll all feel a lot better about starting back to school if you take advantage of the freedom of homeschooling. The kids we were more relaxed with did even better in college than the ones we'd been stricter about school with! The love of learning matters!
This might cheer you up: Get 15% off all our audiobooks with NewYearAudio15 here! And take $18 off a three month or longer subscription to Craftsman Crate with NewYearCrate18 here.
Your friends,
Hal & Melanie
---
Have fun and boost your child's learning. Massive discounts for Old Schoolhouse readers: Math, Word Skills, Typing and Reading for learners aged 5 – 15+ www.edalive.com
---
Diane Heeney
What You Do Is Significant
Mom friend, has today felt like a drudgery? Fixing meals. Writing lesson plans. Keeping the laundry rolling and searching for rogue socks. Is what you do significant?
The answer is yes. You make a difference. The quiet stuff, the daily routine-y things—and the spirit in which we do them—mean much more than we realize. However, when we become forgetful to prioritize God's word in our hearts, our motives can become skewed. Our grudging obedience makes it harder for our children to give us their hearts and follow our ways. Take a moment to consider this quote from Charles Spurgeon:
"Those who think that a woman detained at home by her little family is doing nothing, think the reverse of what is true. Scarcely can the godly mother quit her home for a place of worship; but dream not that she is lost to the work of the church; far from it, she is doing the best possible service for her Lord. Mothers, the godly training of your offspring is your first and most pressing duty. Christian women, by teaching children the Holy Scriptures, are as much fulfilling their part for the Lord, as Moses in judging Israel, or Solomon in building the temple."
When we do what we do with the wrong motive, all we get is exhausted. Everything feels burdensome and we become joyless. I've realized that when I reach this point, I'm communicating something to my kids—that life as a Christian mom is a drag. Ugh.
How do we turn this around?
We take a step back and look at what we're doing through our Father's eyes. He wants for us to serve heartily (literally "from our souls"), to please Him. He wants us to have all the patience, endurance, and joy we need, and He wants that joy to fuel our motives for service, resulting in a worshipful heart. Sounds wonderful, right?
Father, we ask for these things in Jesus' name, that our joy may be full. As Your servants, may we adorn the doctrine of God our Savior in all things.
---
Tracy Klicka
Pillar of Hope
Tracy Klicka – Whole-istic Medicine for the Winter Blues
I remember that homeschool winter. I was teaching seven kids, ages 15-5—one high schooler, one middle schooler, and the rest elementary students. I was stretched thinner than Saran Wrap and was still recovering from a relapse of my ulcerative colitis several months earlier. All I could think was, "Please help, Lord!"
After some earnest prayer for direction, God reminded me of Matthew 22:37, "You shall love the Lord your God with all your heart, and with all your soul, and with all your mind." Those words impressed me in a new way. Because we worship with our hearts, minds, and souls, and because we are finite beings created by our loving God, the wise stewardship of these things fuels our ability to glorify Him well.
In response to His nudging, along with reducing our academic load a little, we added the following:
Extra rest and care for our bodies with good, immune-strengthening food
More worship time together and feeding our souls on God's goodness—worship music, movies, and literature that encouraged our hearts toward God and His faithful care and power.
Scheduled family fun and games, for "a merry heart does good like medicine."
Increased focus on extending and receiving grace and mercy—home should be for our weaknesses and frailties.
In the middle of the winter blues, mom, don't forget to care for the whole person, both you and your children!
About the author
Tracy Klicka, widow of former HSLDA attorney Christopher Klicka, is a homeschooling mom of seven adult children. Seasoned homeschooler and gifted writer/speaker for over 22 years, Tracy has addressed thousands at homeschooling conventions and women's events, contributed to Christianity Today, regularly writes for national homeschool publications, and contributed to her late husband's homeschooling books. She serves as the Director of Development for HSLDA, through which their Compassion Program helps families homeschooling through hard times.
---
Want to instill a love of literature in your children? There are countless ways to make reading fun, and you find them in the "Literature and Curriculum" Resource Guide in the
Winter 2021-22
issue of
The Old Schoolhouse® Magazine.
The methods include incorporating art, history, scripture, fables, unit studies and good old-fashioned phonics into your homeschool routine. Check it out today!
---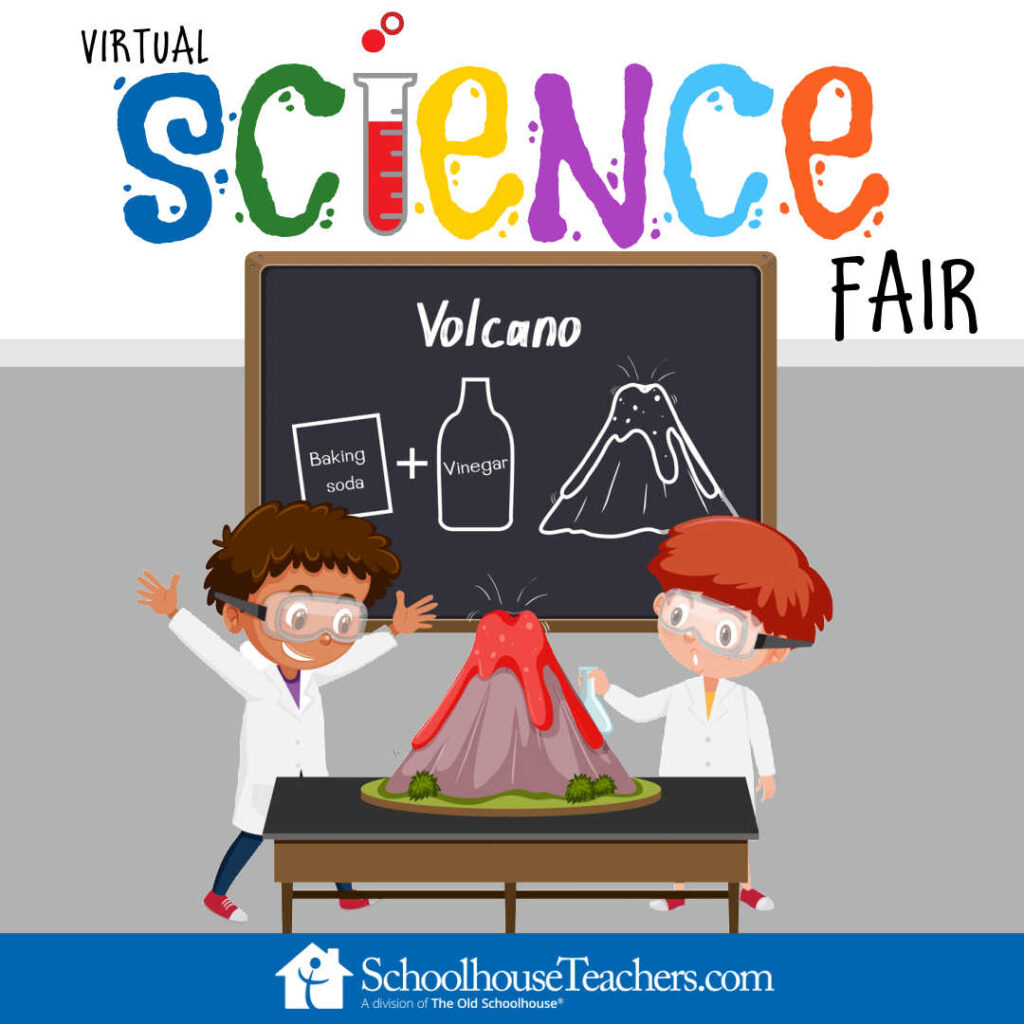 Calling all scientists!
It's time for the 2022 Virtual Science Fair at SchoolhouseTeachers.com. If you have a budding scientist in the house, we want to know what your child discovered this school year! Entries may include science research projects or exhibits. Award certificates will be presented for first, second, and third places in each category.
Visit the Activity Calendar section of your Member Dashboard to find full details and to submit your children's scientific entries.
Student submissions are being accepted from February 1 through March 11, 2022.
---
Does the end of the school year seem miles away? You can make it there, and we can help you. Finish the last quarter strong and finish it well by using code: FINISHWELL to secure a Quarterly Membership rate of $45. Our rates have increased, so take advantage of the sale now, and pay $15 a month to homeschool your entire family. (Quarterly Membership rate now $59.97)
---
SchoolhouseTeachers.com Corner
Did you know?
Every class is INCLUDED for ultimate members!
No limits.
Don't look down on winter! There are so many fun things to discover in this season. At SchoolhouseTeachers.com, you'll find an entire section dedicated to winter-themed content. Find lessons and activities ranging from Shakespeare to Science! Check out the entire list of winter-themed topics in the Holiday and Seasonal Resources section on SchoolhouseTeachers.com.
---
---
Read this article
in the winter issue of
The Old Schoolhouse® Magazine.
---
The Old Schoolhouse® Magazine is now available for FREE online! Click the graphic to read it cover to cover!
Download the free mobile apps at www.TOSApps.com.
Get the print issue here.
VIEW BACK ISSUES: Go here to access all back issues.
---
Faith, knowledge, hope, and future. We place our faith in God as we educate our children. We train daughters and sons to know the Creator and His creation. We hope in God as we raise a generation that, in the future, will in turn offer much hope to the world. Faith, knowledge, hope, and future are really what homeschooling is all about, aren't they? That's what The Old Schoolhouse® believes, and we consider them our pillars.
Now you can attach these four pillars to your personal homeschooling journey too. Our new FAITH, KNOWLEDGE, HOPE, and FUTURE stickers have arrived at our online Homeschool Store and are ready for you to affix to your laptops, clipboards, folders, notebooks, scrapbooks, or anywhere you need a reminder of what really matters in this homeschool life.
You'll find a little fun has arrived in the Homeschool Store at The Old Schoolhouse® too—like our SUPER MOM sticker and notebook. In case you don't hear it often, YOU are a super mom! Let these fun little items remind you of that fact. Check out our other brand new stickers and notebooks too. Your children (and you) just might appreciate fresh new pages this time of year.
Don't miss our new line of posters which are here to lend a helping hand. They're sized right to hang in your study space or even to tuck inside in a folder. Our posters are just what students need as they learn everything from ordinals to cloud types. You'll even find posters that cover Greek and Latin roots, geometric figures, and more topics that are best learned with visual reminders. Perfect for SchoolhouseTeachers.com courses or any homeschool!
Ready to refresh, Super Mom? Take a look at all that's arrived at http://homeschool-store.com and imagine the little ways these stickers, posters, and notebooks will make your family's homeschool days. The Old Schoolhouse® wants to make your day TODAY with 20% off these products. The sale is on—February 14–28.
---
---
Congratulations to Laura Omana who won our December giveaway!
Contest Corner
for the month of February
Faces Around the Cross DVD Set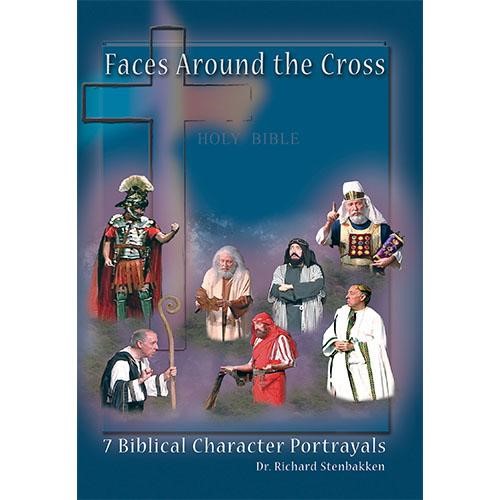 Faces Around the Cross comes in a two-disc DVD set. In this DVD set, Dr. Richard Stenbakken has seven Biblical character portrayals. Each of the character portrayals is approximately 30 minutes with over four hours of total viewing time. In the first disc, the characters portrayed are John (From Son of Thunder to Beloved Disciple), Judas (All They Had to Do Was Listen to Me), Peter (The Man of Big Mistakes), and Caiaphas (A High Priest with Low Understanding). The second disc has the following segments: Marcellus Sylvanus (The Augur), Pilate (It's All About Power), Centurion (The Toughest, Meanest Man in Town), and a final interview with Dr. Stenbakken.
Each characters' portrayals take place on stage in front of a church audience as Dr. Stenbakken comes onto the stage in period costume and character matching speech and interaction. His first-person narrative presentations draw from his own experience and education as an Army chaplain, family therapist, and graduate-level educator (who holds four Master's degrees).
We were able to use this detailed DVD set as part of our own homeschool Bible study. While the first-person narratives were entertaining at times, they are not meant to be purely entertainment. By showing the viewer what the character may have looked like and by keeping in character with the person's authentic life, we were able to get a "feel" of what the person was like and how their lives were changed by Christ's life, crucifixion, and return from the grave.
---
Read the full review on our site from a mom with lots of details about using this as part of their homeschool Bible study
Go to the contest page of our site where you can ENTER TO WIN the Faces Around the Cross DVD Set.
---
Freebies
Bible Pathway Adventures
Ready for the road? Keep your children occupied and device-free with Bible Pathway Adventures' FREE Bible-based Road Trip Activity Book, the perfect set of activities for long car journeys. Includes nine fun and engaging worksheets, including an Alphabet Challenge, Road Trip I Spy, Bible Journeys coloring page, Let's Talk discussion sheet, Bible word-search puzzle, and a Bible verse coloring page. Simply print the NO-prep pages, and go! FREE download on the Bible Pathway Adventures' website here: biblepathwayadventures.com/activities/roadtrip-activity-book/
This free product and more are found in our 2022 Freebie Directory: TOS Freebie Directory – The Old Schoolhouse®
---
FREE Expo Recording!
Strengthening the Homeschool Marriage and Family Expo
Find more freebies at The Old Schoolhouse Homeschool Store: Freebies Archives – The Old Schoolhouse®
---
With the TOS Mobile App, search topics of interest spanning more than a decade, share articles, browse interactive content, and follow the links to hundreds of related resources. Each issue can also be downloaded and read offline.
---
Share this newsletter with a friend, and be sure to let those CONSIDERING homeschooling know about the enormous FREE info-pack which awaits them here: www.TryHomeschooling.com.
---
If you liked today's Homeschool Minute, please email the editors and tell us what part you liked most. It's a huge blessing to receive feedback!
Please add publisher@theoldschoolhouse.com to your email contacts so that our emails to you don't land in spam.