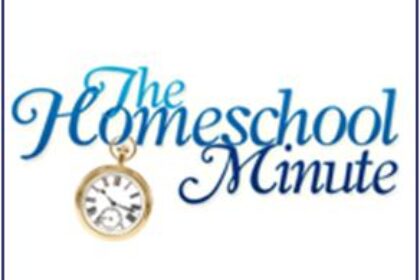 Music, Drama, and More: Fine Arts for the Holidays
December 8, 2021
Be sure to scroll to the bottom to enter the contest and see the freebies of the month!
---
Hey, Mama!
Make Your Christmas Beautiful (Like You)!
Hey Mama, please stop sighing? Yeah, you're no spring chicken anymore. Face it. Those thunder thighs go well with Christmas. And the hair: actually, the hair isn't bad. Maybe a few highlights would give it some lift. But really. Buck up. You already know you're getting a wee bit older by the minute. Let's go over some more facts while we're fixated on the mirror (or we could always toss that wretched glass—that troublemaker). Here goes.
Let's talk truths:
Real, long-lasting beauty comes from within. It's the heart that produces it, and unlike physical beauty which fades, the truest beauty only grows into something big and undeniable. It takes over, and it's what you are remembered for later, long after you are gone.
Unlike hair dye, wisdom doesn't come out of a bottle. It is dispensed by God Himself, and you often find yourself asking for it. And because you love the Lord, you know exactly where to find it. God's word. It's your map, your lifeline. It's His very speaking to you. Wisdom is alive in the Mama who endures. You face your trials with joy and confidence, and the result is to be more like Christ by the day. Yes, you cry. You even shake. Yes, you feel like quitting at times. But you recognize the Voice of your Sustainer. He will never leave you, so you press into Him further, and you keep walking, Mama. He will never leave you.
Grace—it is found in you, Mama, because of Him. He gives it, and you turn around and bless others. Do not despair. After all, you are wearing His grace. Wear it well. It's yours.
Your children. You can see with certainty how blessed you really are. Look around your home. See who God has given you. Know in your heart of hearts there is a plan and purpose here. One day they will rise up and call you blessed. It may not be today. But we have our eyes fixed on the long term. Run the race well. Do not drop the bar; keep the standard high, because they will remember you for it. Brave Mama, don't drop that bar.
But for now, enjoy those sweet children. They love to sing with you—especially this time of year when Christmas music is blasting from the radio. They love to put on plays/skits for you. All it takes are some well-placed sheets and a baby doll, and you have your own little Mary and Joseph with their baby Jesus. Grab a pot and some spoons, and you can add a little drummer boy to the mix. And let's not forget the angels and the three kings. With some construction paper, poster board, glue, wire, garland (and a little ingenuity) your kids can make angel wings and halos and crowns and perform their own little Christmas pageant just for you. Take pictures! Roll the video. What a gift. A memory you'll always treasure.
And as you smile at them and applaud their performance, your children look at you like you are the most beautiful woman to walk the planet. In their eyes, you are stunning. Just consider the way your babies have gazed at you; they think you are gorgeous – and you are. Pure beauty. Inside and out, Mama. Goodness, it appears that mirror we spoke of earlier has very little significance after all, doesn't it? And what does have significance? Jesus. Our great God and savior. Born to raise the sons of earth. Born to give us second birth.
These articles from The Old Schoolhouse® Magazine are a good reminder of that.
Keeping Christ in Christmas – Being Organized Helps by Malia Russell
7 Ways for Dads to Teach Spiritual Lessons During the Holidays by Rhett H. Wilson
Ideas for Writing Christmas Letters That People Are Actually Eager to Read by Janet Colbrunn
And remember, Mama . . .
You. Are. Loved.
Walk with confidence in the path set before you because it's of Him. His will. That's where the Lord wants you.
As for today? His hand is on your head.
gena
---
MUSIC IN EDUCATION – ICING OR CAKE?
Did you know that music is the only thing that engages every chamber of the brain? For decades the place of music in education has been on the decline – limited to a tiny percentage of students identified as "musically inclined." It was considered an "extra" and not an "essential."
Neuroscience is documenting how wrong this concept is. We are learning that all children have music inside – and when taught in a positive, interactive, and dynamic environment, can access the enormous benefits that music provides.
Consider:
Music facilitates literacy
Music increases math skills
Music improves language skills
Children that are involved in music learning score higher on tests
Music builds social skills and relational health, and develops critical thinking skills and imagination
The question is NOT "Is a child musical?" The question is "HOW is the child musical?" The question is NOT "Can this child learn music?" The question is, "CAN I teach the way this child learns music?"
The time has come for education to understand the essential nature of music in the life of a child – not to make him or her into a professional musician – but to empower them for life!
Musedics – an ensemble approach to choir and instruments – believes that all children have music inside – and when discovered and developed in a positive and engaging environment instills dignity, hope and self-confidence.
CONNIE FORTUNATO is the founder and president of Music Camp International, an international, children's charity devoted to transforming children, communities and countries through the power of music. In MCI's nineteen-year history, Connie has worked with over thirty-thousand children throughout Eastern Europe, and now is expanding globally to bring these opportunities to young people in the United States. Registration is now open for her Virtual Christmas Music Camp – Season of Joy https://musiccampinternational.org/virtual-camps/ and the second semester of Musedics. https://musiccampinternational.org/musedics/
---
Everything you need to teach music at home! Visit alfred.com and use promo code MUSIC21 to receive a 25% discount and free shipping through Dec. 31, 2021.
---
Raising Real Men
Hal & Melanie Young, RaisingRealMen.com
Lift Up Your Voice to the Lord!
Music? Drama? Fine Arts? For a lot of us, it feels like we're doing good if we can manage to get math and English done! That's what's so great about homeschooling in the holidays, though. There are enrichment opportunities all around, even if it's harder to get the day-to-day work done.
Have you ever been to a sing-along Messiah? In our area, a big church hosts one every year. Attendees sit according to their singing voice (children sit with parents), sheet music is passed out, and the whole audience is invited to sing along with the choir and orchestra. It is an incredible experience singing Handel's Messiah, full of the Word of God and telling the greatest story ever told!
There are also opportunities to participate in Christmas plays and performances. It's stressful taking on practices and rehearsals in an already busy Christmas season, but this is a way for your kids to get music and drama experience in a time-limited way. You know you're not going to be doing this forever, or even all year.
Even if participation seems like too much (to be honest, that's usually where we land), your family can get a lot out of just attending those performances, especially if you talk about them afterward.
The easiest way to bring music and art into your home at the holidays, though, is to just do it.
We choose a Christmas carol, a real Christmas hymn, each week. We sing it all the way through every day and each day we explain one of the verses. So many of them are rich in theological truths! We try to look for fine art that illustrates the part of the story told in the song.
You can do that, too, but without the search for art and looking up all the passages. We wrote Christ-Centered Advent, a family devotional based on Christmas carols. You can find it on our site here: https://www.raisingrealmen.com/product-category/home-and-holidays/ . Use the code holidaybook15 for 15% off!
Merry Christmas!
Hal & Melanie
---
Ancient Medicine Cabinet specializes in Herbal Medicines – Tinctures – Herbal Creams – Natural Care Products – Remineralizing Tooth Powder – Deodorant – Owned by 3 homeschooling sisters, and their families. https://ancientmedicinecabinet.com
---
Danika Cooley
Activities Matter
Let's face it—activities with kids can be a lot of work. Right?
There's some kind of mess, expense, and effort to pretty much everything related to fine arts. Yet, the arts are valuable. At Christmas, the arts can help us focus our attention on the incarnation of Jesus.
Why focus on the incarnation of Jesus?
The word incarnation is a big one, but I believe it's a concept our kids need to know. Incarnation means that God took on flesh. God-the-Son became man. That's a pretty amazing theological and historical happening, and it's one worth focusing on this month! Fine arts can help your kids consider the incarnation of Jesus.
Children are concrete thinkers. That means they understand things they can feel and touch. Abstract concepts are more difficult for them to understand. That's one of the reasons the arts can be such a wonderful tool when it comes to helping our kids understand and consider the birth of Christ.
The arts can make an abstract concept a concrete activity—something your kids can see, hear, or touch.
Ways to Use the Arts This Season to Help Your Children Consider the Incarnation of Jesus
See a play about the Nativity. (Nativity with a capital "N" means the story of the birth of Jesus.)
Put on a family play or puppet show about the birth of Jesus. (Grab a free set of Bible stick puppets here.)
Read fun books about the coming of Jesus together. Talk about the artwork and the perspective of the books. Who is the narrator of the book? Does the book tell the whole story of the biblical birth of Jesus, or just part of it? How does the art make you feel? What style of art is shown in the book?
Listen to great hymns at Christmas. Maybe do a unit study on the music of Christmas.
Put together some fun Christmas crafts that center on the biblical story of the birth of Jesus.
There are lots of fun, artistic ways to focus on the birth of Jesus this season. Whatever you choose, be intentional in pointing your kids to the amazing, historical truth that God took on human flesh in order to free us from our sin!
About the author
Danika Cooley is the author of Help Your Kids Learn and Love the Bible (Bethany House) and Bible Road Trip™, a three-year Bible survey for preschool to high school. An award-winning children's author, Danika's new line of Christian history for 3rd to 5th graders (Who What Why Series, Christian Focus Publications) debuts in September. Grab your FREE 130-page Bible Study Tool Kit.
---
Stephen Burke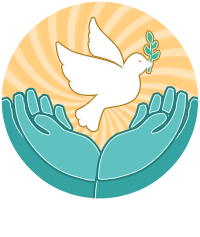 Pillar of Hope
Stephen Burke – Christmas Productions Can Be Life-Changing
A church Christmas play, no big deal. But as a 5-year-old with a walk-on role, that play changed my life. The director had no idea that through this simple production, my lifelong love of theater and calling as a playwright/director would begin. So, as you are working with your Christmas production, remember you are changing lives! And what is more world changing than a good story? The success of your production starts with the script.
Choose a play that is enjoyable. Sounds obvious, but I've sat through "educational" plays that brought me no pleasure and taught me nothing. Choose something your actors and your audience will enjoy! A good play will also challenge the audience's intellect and stimulate their imagination. Don't be afraid to give your group something to think about and discuss. Choose a play with a positive mood. Remember your actors will dwell on this story; avoid dark subject matter. Choose a play that will leave them feeling inspired and hopeful. Most importantly choose a play that points the audience to God and the truths of His word.
Here are some places to find good plays for your group:
www.shininglightplayers.com
www.theacademyofarts.org
www.pensacolachristiantheatrefestival.com
About the author
Stephen Joseph Burke, Artistic Director of Shining Light Players, together with his wife Alisha and their four children, produces plays and musicals at the Rex Theatre in Pensacola, FL, and through national tours. Stephen has written fourteen musicals and directed thirty productions. Stephen holds both a bachelor's and a master's degree in performance, and an MFA in dramatics and has acted professionally on the stage, in film and on television. Stephen teaches online lessons in acting, writing and directing. Visit www.shininglightplayers.com for information.
---
---
---
---
The Old Schoolhouse® Magazine is now available for FREE online! Click the graphic to read it cover to cover!
Download the free mobile apps at www.TOSApps.com.
Get the print issue here.
VIEW BACK ISSUES: Go here to access all back issues.
---
Treat your friends and family this winter to a freshly brewed cup of coffee or cappuccino! Take part in the most recent homeschooling survey conducted by The Old Schoolhouse® for a chance to win a De'Longhi All-in-One Combination Coffee Maker and Espresso Machine (ARV $270.61). All participants will receive a digital gift pack valued at over $200! Grand prize is US only.
---
The Old Schoolhouse® Magazine gives thanks for 100 issues and 20 years! Start your quarterly subscription with the 100th issue (Winter 2021/2022) for steady and stable homeschool encouragement. Homeschool-store.com
---
---
Congratulations to Carrie from Montana who won our October giveaway!
Contest Corner
for the month of December
Breaking the Spanish Barrier Online and Breaking the French Barrier Online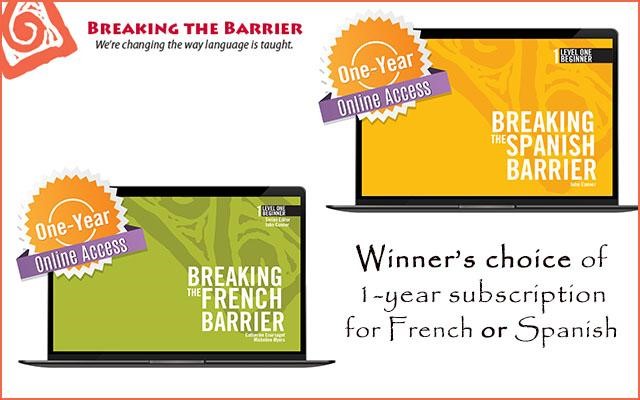 The Breaking the Barrier program consists of the online resource, where most of the work will occur. The homeschool package contains a print copy of the student workbook, a print copy of the answer key, the printed Oasis booklet for the respective language, a print copy of the test program, a print copy of the homeschool pacing guide, a disc of pronunciations, and a code for access to the online program. The online program code gives 12 months of access.
Breaking the Barrier Online does cover everything in the workbook. It also adds digital flashcards, audio samples, pronunciations, video clips, and interactive answers. In merging the online with the workbook, Breaking the Barrier Online immerses the student in the language through cultural experiences and images, showing the countries that speak that language. This benefits all students with a varied approach to learning. If the student learns best with written lessons, they are included. If the student learns best with audio lessons, they are included.
Both Breaking the French Barrier and Breaking the Spanish Barrier have three levels of instruction – beginner, intermediate, and advanced. The beginner level covers basics in vocabulary, grammar, and pronunciation. It is easier to focus on the trickier parts of the language, such as verb endings, by spreading it out over two weeks. One level in each language is one year's worth of material when a lesson is covered every two weeks. The pacing guide will help the homeschool family decide how quickly to work through the material.
---
Read the full review on our site from a mom with extensive details about the programs.
Go to the contest page of our site where you can ENTER TO WIN Breaking the Spanish Barrier Online and Breaking the French Barrier Online.
---
Freebies
Sally Matheny, www.SallyMatheny.com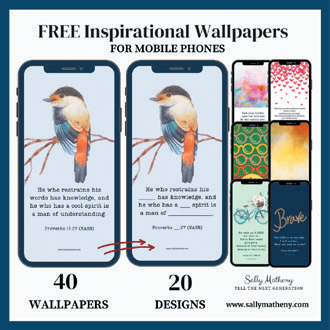 Writer and homeschool mom Sally Matheny offers inspiration, encouragement, and resources to help parents tell the next generation wondrous things. Get a free digital download of forty (twenty different designs) high-quality JPEG images sized 1242 x 2800 pixels, perfect for all mobile phone screens. Save the images to your photo files. Set them
as your mobile phone wallpapers. Use them to help with memorization. Most of all, enjoy reminders of God's truths every time you check your phone. Download the free digital file at www.sallymatheny.com.
This free product and more are found in our 2022 Freebie Directory: TOS Freebie Directory – The Old Schoolhouse®
---
FREE e-book!
Holiday Digital Supplement 2010
This FREE 176-page digital magazine is packed with all new content for 2010 and takes you around the world to explore Christmas in other lands. Inside you'll discover festive ideas, fun crafts, special recipes, and activity pages for your children. Plus, as a special bonus, we've included articles full of homeschooling advice and encouragement from our 2010 Fall Schoolhouse Expo speakers.
Find more freebies at The Old Schoolhouse Homeschool Store: Freebies Archives – The Old Schoolhouse®
---
Would you like to help other homeschooling families learn more about fun and interesting homeschooling products? Then consider joining the Homeschool Review Crew!
The world of homeschooling continues to expand as more and more families are choosing to homeschool their children. These families are often overwhelmed by the massive number of curriculum options available. The Crew helps homeschoolers by providing reviews from a variety of families on a wide range of products. Our readers depend on the Review Crew Team to tell them about these products, how they used them, what they thought and whether or not they would recommend them to others.
We are looking for people who are passionate about helping the homeschooling community by using products and writing a thorough review.
Being part of the Crew brings benefits such as:
The opportunity to participate in our private online community
Growing your platforms through writing reviews, articles and participating in monthly challenges
Being able to participate and attend quarterly Crew webinars
Receiving complimentary products to keep
It is a balanced system where we—The Old Schoolhouse, the curriculum vendors, and the Review Crew—all work together to encourage and support the growing homeschool community.
If you have a passion for helping others and have an active blog, vlog, or Facebook page, then we invite you to apply to join our team!
---
With the TOS Mobile App, search topics of interest spanning more than a decade, share articles, browse interactive content, and follow the links to hundreds of related resources. Each issue can also be downloaded and read offline.
---
Share this newsletter with a friend, and be sure to let those CONSIDERING homeschooling know about the enormous FREE info-pack which awaits them here: www.TryHomeschooling.com.
---
If you liked today's Homeschool Minute, please email the editors and tell us what part you liked most. It's a huge blessing to receive feedback!
Please add publisher@theoldschoolhouse.com to your email contacts so that our emails to you don't land in spam.