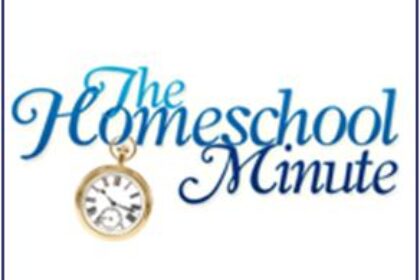 The Most Wonderful Time of the Year
December 1, 2021
Be sure to scroll to the bottom to enter the contest and see the freebies of the month!
---
Mercy Every Minute
Deborah Wuehler, TOS Senior Editor
Gifts From the Heart
December! Can it really be? It is always so nice to look forward to celebrating this most wonderful time of the year!
Here are a few holiday freebies to get you started in your celebrations:
Free Christmas supplement is filled with Christmas recipes (cranberry jello salad, holiday coleslaw, crab soup, chicken gumbo, many kinds of cookies and holiday drinks), coloring pages, and Christmas stories from around the world. Karen Andreola teaches us how to make a fabric yo-yo Christmas garland (p. 76), and Christine Hindle teaches us how to make Holiday Scrunchies (p. 80), and these "Bits and Pieces" cross-stitched ornaments connect family milestones to Christmas (p. 71) these are all from The Old Schoolhouse® Digital Holiday Supplement.
Gift giving:
Thinking outside the "Christmas" box, consider giving gifts that are much more meaningful, and I must say, more valuable as well (though not much money is involved).
We could give the gift of patience for that family member that tries our patience every year.
We could give the gift of forgiveness for that child or friend or spouse who said that unkind word.
We could give a special gift to that neighbor who doesn't understand us.
We could give the gift of friendship for those hurting and lonely at this time of year.
We could give the gift of time for those who need someone to listen.
And we could give the gift of the gospel to a lost and dying world.
These would be gifts fit for that Christmas Baby we celebrate: our King Jesus. They may take more effort than those easily purchased gifts that are soon forgotten, but their effects could very well last an eternity.
What about getting a gift for yourself? I suggest getting that very costly gift called wisdom. As one version of Proverbs 4:7 says, "Though it costs all that you have, get wisdom." Here is my gift to you on that subject: The Costly Pursuit of Wisdom.
Truly, this is a wonderful time of year to celebrate Christ! Enjoy your family times, and your children's laughter and wonder, as you keep them Home. Where They Belong.
~ Deborah
P.S. Check out these articles to find some more Christmas joy:
Christmas Legacies by Bonnie Rose Hudson
A Minimalist Christmas by Leslie Jacobs
Real Men Do Christmas by Todd Wilson
---
LeapFrog's On-the-Go Story Pal builds a strong imagination and love of reading with stories, songs, and poems kids can take anywhere. www.LeapFrog.com
---
Todd Wilson
Taking the Stress out of Christmas!
Stressed about Christmas? You should be!!! It's right around the corner . . . and it's going to be over before you know it. If it will make you feel better, scream right now. Feel better?!
If not, stop what you're doing, and read Luke 10:38-42. Here's the deal: some of you are "Marthas," and some are "Marys." Some get stressed and some don't. My wife and I are one of each, and let me just say that we "Marys" can cause even MORE stress for the "Marthas." The "Marys" tend to see all the fun, and the "Marthas" tend to see all the things to be done. I'm not sure how you can change who you are . . . but maybe there are things you can do to be less stressed.
That's why I'm asking my stressed-out wife to give her thoughts. (Secretly I'm thinking it might help her as well). Here's my lovely, stressed-out wife's suggestion:
"marry someone who's understanding and loving!"
Isn't she adorable? Well, anyway, I guess this turned out to be for those who DON'T get stressed. We need to be understanding of our stressed-out spouses, AND we need to avoid adding to their stress by having such high expectations of fun or by being bothered when they are stressed. That's just the way they were created. In fact, it's almost absurd to think that I, a non-stressed person, can instruct a differently-wired, stressed-out person to avoid the stress. Even Jesus, when he told Martha that she was missing out on the best, didn't offer any instructions . . . He just stated the fact.
So if you're stressed about all there is to do in the next twenty-four days, print this, and give it to your spouse. And if you're not stressed, try to be understanding. Let the comments roll off your back (easier to write than do) and ask your spouse how you might help lessen the stress.
Isn't marriage at Christmas fun?
Be real,
Todd
FYI – Still haven't gotten our world-famous You 'da Dad Daily Calendar for your husband? These amazing little page-a-day calendars are requested by dads and purchased by the box load. Get one now!
---
Bring the God Made Me lessons to life for your class with fun hands-on activities and crafts. https://familyhomechristianbooks.com/god-made-me.html
---
Sherri Seligson
The Holidays and a Renewed Perspective
Ah, the holidays. We all look forward to it. Fun, food, family, and a break from school! As a homeschool mom, I always joined my children in counting down the days until winter break. I love homeschooling but let's face it . . . it's work. There are many less-than-glamorous days filled with reviewing spelling words, grading math papers, and juggling all the things. Yet, the heart of our homeschooling was that "life" was an education. God gave us minds to learn history (which tells His story), science (which demonstrates His creative fingerprints), writing (which helps us express Truth), and even math (which illustrates His order). So the holiday season that included Thanksgiving, Christmas, and even New Year's Day was not without learning. I quickly realized that education was still happening during that time.
Even though our time was less structured, we were still learning together.
We were building relationships as we decorated the house. Math and science happened when baking Grandma's yummy pecan pie recipe but having to double the recipe to share with guests. History was recounted as older family members shared how their parents came over to the United States from other countries, along with what they experienced. We wrote Christmas cards, created crafts, and played. Honestly, that was the best way to learn.
As January loomed each year, I braced myself for the upcoming craziness of lesson plans, co-op days, music lessons, and more. But the holiday break gave me time to regain my perspective. I tried to remember that it was OK if we didn't always finish a curriculum or if we missed a field trip in order to slow things down and just be together as a family.
Homeschooling is more about "home" than "schooling."
Education can actually happen as you go about your days together. So use the upcoming holiday season to rethink what your homeschool looks like. Don't miss the amazing opportunities you have to build relationships with your children as you learn things together!
About the author
Sherri Seligson and her husband David homeschooled their four children for twenty-one years. Before being promoted to mother, Sherri worked as a published marine biologist at Walt Disney World. With an M.Ed. in Curriculum and Instruction, she has authored Apologia's General Science, Marine Biology, and several upper-level instructional video courses. An international conference and retreat speaker, Sherri uses transparency, truth, and humor, as she encourages moms on their homeschool journey and teaches families the importance of studying God's creation. www.facebook.com/SherriSeligsonAuthor www.sherriseligson.com
---
Laurelwood Books has the perfect Scripture copy book for each family member! Learn both excellent handwriting and Biblical concepts with Scripture Scribes. laurelwoodbooks.com
---
Diane Heeney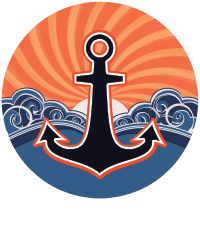 Pillar of Faith
Diane Heeney – Our Savior's Life Came Full Circle
Two caves.
The first, a makeshift lodging, was a place of life. Earthy smells and the aroma of sweet hay hung in the warm air. Tails twitched. Cattle lowed. It was a humble, one-star hotel . . . but that star was The Star. Where creatures sought fodder, a baby was born in the hay and wrapped in simple strips of cloth. Young Mary held Him adoringly. The angelic host announced the Messiah's advent, bursting forth with a jubilation that rang through the heavens. The door was open to wondering shepherds, arriving breathless, expectant—then exultant!
The second cave, a gift from one Joseph to the adopted son of another, was a place of death. The fragrance of myrrh and cassia lingered. The Savior was once again wrapped in simple strips of cloth, but this time cold stone replaced the soft hay. No loving arms embraced Him. Jesus opened the door of this cave Himself. A single heavenly messenger proclaimed to three women, "He is not here, for He is risen as He said." They ran and beckoned the wonder-filled disciples, who arrived breathless, expectant—then exultant!
Two wonder-full caves held Emmanuel, and now He reigns for ever and ever! Let us adore Him!
---
Increase your sense of God's peace in this 40-day devotional based on the writings of
beloved Corrie ten Boom. https://bakerbookhouse.com/products/277392
---
---
---
---
The Old Schoolhouse® Magazine is now available for FREE online! Click the graphic to read it cover to cover!
Download the free mobile apps at www.TOSApps.com.
Get the print issue here.
VIEW BACK ISSUES: Go here to access all back issues.
---
Come share what works for you and what you look for in homeschooling curriculum through a quick and easy homeschooling survey by The Old Schoolhouse®. All participants will receive a digital gift pack valued at over $200! Plus, each entrant will be entered to win a De'Longhi All-in-One Combination Coffee Maker and Espresso Machine (ARV $270.61). Grand prize is US only.
---
The Old Schoolhouse® Magazine gives thanks for 100 issues and 20 years! Read the 100th issue (Winter 2021/2022) for FREE to find steady and stable homeschool encouragement.
---
---
Congratulations to Carrie from Montana who won our October giveaway!
Contest Corner
for the month of December
Breaking the Spanish Barrier Online and Breaking the French Barrier Online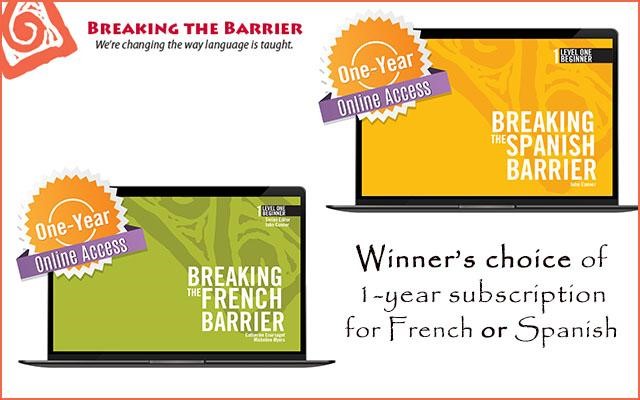 The Breaking the Barrier program consists of the online resource, where most of the work will occur. The homeschool package contains a print copy of the student workbook, a print copy of the answer key, the printed Oasis booklet for the respective language, a print copy of the test program, a print copy of the homeschool pacing guide, a disc of pronunciations, and a code for access to the online program. The online program code gives 12 months of access.
Breaking the Barrier Online does cover everything in the workbook. It also adds digital flashcards, audio samples, pronunciations, video clips, and interactive answers. In merging the online with the workbook, Breaking the Barrier Online immerses the student in the language through cultural experiences and images, showing the countries that speak that language. This benefits all students with a varied approach to learning. If the student learns best with written lessons, they are included. If the student learns best with audio lessons, they are included.
Both Breaking the French Barrier and Breaking the Spanish Barrier have three levels of instruction – beginner, intermediate, and advanced. The beginner level covers basics in vocabulary, grammar, and pronunciation. It is easier to focus on the trickier parts of the language, such as verb endings, by spreading it out over two weeks. One level in each language is one year's worth of material when a lesson is covered every two weeks. The pacing guide will help the homeschool family decide how quickly to work through the material.
---
Read the full review on our site from a mom with extensive details about the programs.
Go to the contest page of our site where you can ENTER TO WIN Breaking the Spanish Barrier Online and Breaking the French Barrier Online.
---
Freebies
Sally Matheny, www.SallyMatheny.com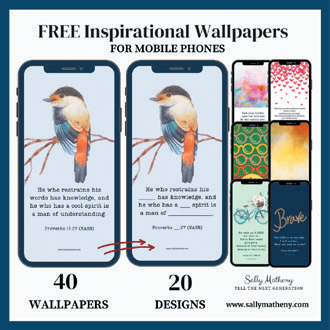 Writer and homeschool mom Sally Matheny offers inspiration, encouragement, and resources to help parents tell the next generation wondrous things. Get a free digital download of forty (twenty different designs) high-quality JPEG images sized 1242 x 2800 pixels, perfect for all mobile phone screens. Save the images to your photo files. Set them
as your mobile phone wallpapers. Use them to help with memorization. Most of all, enjoy reminders of God's truths every time you check your phone. Download the free digital file at www.sallymatheny.com.
This free product and more are found in our 2022 Freebie Directory: TOS Freebie Directory – The Old Schoolhouse®
---
FREE e-book!
Holiday Digital Supplement 2010
This FREE 176-page digital magazine is packed with all new content for 2010 and takes you around the world to explore Christmas in other lands. Inside you'll discover festive ideas, fun crafts, special recipes, and activity pages for your children. Plus, as a special bonus, we've included articles full of homeschooling advice and encouragement from our 2010 Fall Schoolhouse Expo speakers.
Find more freebies at The Old Schoolhouse Homeschool Store: Freebies Archives – The Old Schoolhouse®
---
Is there a product you have been wondering about and would like to hear someone's honest review? Or maybe you are looking for something new for a subject and would like to see what others are using. This is the best review site for homeschooling products and services: www.SchoolhouseReviewCrew.com.
---
With the TOS Mobile App, search topics of interest spanning more than a decade, share articles, browse interactive content, and follow the links to hundreds of related resources. Each issue can also be downloaded and read offline.
---
Share this newsletter with a friend, and be sure to let those CONSIDERING homeschooling know about the enormous FREE info-pack which awaits them here: www.TryHomeschooling.com.
---
If you liked today's Homeschool Minute, please email the editors and tell us what part you liked most. It's a huge blessing to receive feedback!
Please add publisher@theoldschoolhouse.com to your email contacts so that our emails to you don't land in spam.