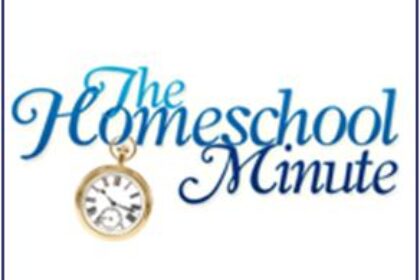 Waving Goodbye to the Big Yellow Bus
August 10, 2022
Be sure to scroll to the bottom to enter the contest and see the freebies of the month!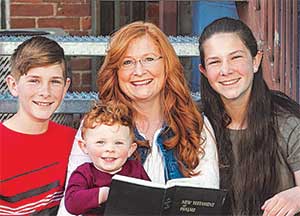 Mercy Every Minute
Deborah Wuehler, TOS Senior Editor
What The Yellow Bus Taught Us
Our family has learned that yellow school busses that drive by take children to unsafe places where they are taught things that go against Scripture. We learned that where the children are taken cannot even be compared to the home we safely cuddle up in while reading about Laura Ingalls and a boy who was stung by hundreds of yellow jackets, or how Walter Reed discovered that yellow fever was transmitted by mosquitoes or learning that the word yellow has two syllables and double consonants, and all while eating the little yellow pear tomatoes that we grew ourselves. We learned to love home.
I have learned that the pillars of true education stand on the firm foundation of the Word of God, and that prayer is a necessity, not an option.
I have learned that homeschooling is a way of life and not a rigid set of cookie cutter rules and curriculum.
I have learned that no matter how challenging or exhausting homeschooling can be, I am glad my children have not had to experience that life with someone else.
I have learned that young children are precious and grow up fast and I wouldn't want to miss anything they have done no matter how insignificant.
I have learned I wouldn't want to miss the friendship, deep conversations, and difficult questions of my older kids.
I have learned that if you can teach a child to stay curious by staying curious yourself, you can keep their minds alive with wonder.
I have learned to never give up; even when I think I can't do this—teaching them by example that they don't have to give up when they think they can't either.
I have learned that I'd rather have my kids wandering all over the house when they are supposed to be doing their schoolwork rather than wandering the halls of a Godless institution.
I'd rather have teen minds wandering and thinking about friends instead of fractions, rather than knowing they are wandering the streets with someone foolish.
I have learned that God desires me to teach my children that they might teach their children and that the obedience that keeps them home where they belong will bring the rewards of His blessing generationally (Psalm 78).
These articles from The Old Schoolhouse® Magazine are good reminders of all that I have learned:
The Troubling History of Public Education by Ruth Sundeen
5 Reasons We Left Public School by Angela Rudd
The Who, What, When, Where and Why of Public Schools by Joaquin Fernandez
~Deborah
---
Is writing papers a struggle? Your writing curriculum may be lacking. Use The Write Foundation writing curriculum to learn how to easily write well.
www.TheWriteFoundation.org
---
Todd Wilson
Close the Escape Hatch
First, let me say that the secret to getting through the rough spots of homeschooling is to determine that you're not quitting. You're going to stay the course (adjusting when necessary) but you're not quitting, tossing in the towel, choosing another route, or putting your kids on the yellow bus. There's no escape hatch.
You're a homeschooler, not because of what you do, but because of WHO you are. You believe home is the best place for your kids and that no one knows them better than you. Armed with that knowledge, your path does not change. The bumps, bogs, and prickles remain, but you never leave the path.
Mom, don't quit. Go ahead and take a day or two off to regroup, but don't quit. I've talked to many who regret their decision of leaving the hard path and choosing the easy one lined with yellow school buses.
Don't quit and be real,
Todd
About the author
Todd Wilson is a husband, dad, grandpa, writer, homeschool conference speaker, and former pastor. Todd's humor and down to earth realness have made him a favorite speaker all across the country and a guest on Focus on the Family. As founder of The Familyman and The Smiling Homeschooler, his passion and mission are to remind moms and dads of what's most important through weekly emails, podcasts, seminars, and books that encourage parents. Todd, and his wife Debbie, homeschool four of their eight children (the other four are homeschool graduates) in northern Indiana and travel America in the Familyman Mobile. You can read more at www.familymanweb.com.
---
Dive deep with Illuminate Bible Series. Reach your children's hearts with more than Bible stories—disciple them. Learn more and see samples at www.uniongospelpress.com.
---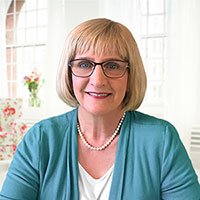 https://www.homehighschoolhelp.com
Why I Took the Plunge into Homeschooling
I was told that I shouldn't homeschool because I didn't know what a grading rubric was, or how a Venn diagram impacted grades. What? I still don't understand that! I was told I shouldn't homeschool because my son was shy, and socialization was a big concern for him. My grade school children were happy, but I was dissatisfied with the academics of public school.
What was happening in public school was chaos. Textbooks weren't finished; students ignored teachers; there were threats and bullying. Meanwhile the parent teacher conferences dismissed my concerns about academics and focused exclusively on my son's lack of socialization. For months every year, my children had a substitute teacher due to various teacher health issues, and every year the class fell farther behind their academic goals.
That's why I took the plunge into homeschooling when my children started 3rd and 5th grade.
After homeschooling for just a month, I learned the truth. I could help my children learn without grading rubrics or Venn diagrams. Homeschooling provided the opportunity for each of my children to learn at their own pace. Forced socialization with age-mates didn't teach interpersonal skills, and my children quickly learned how to develop friendships. My children literally became more pleasant to be around as they became socialized according to our family values, rather than the sketchy peer pressure of grade-school children. We had time to study the Bible together, include arts and electives, and grow closer as a family. How to Be a Better Home Educator can put you on the path to success.
We recognized the true success of homeschooling years later. After graduating from homeschool, my children were upright young men, strong in their faith, and kind and friendly to all. They both earned full-tuition scholarships to their first choice Christian University, allowing them to graduate college debt-free and pursue a career they would love. We have a close and loving extended family that we cherish even more as the years go by. My grown sons are very thankful they homeschooled. We were glad we waved goodbye to the big yellow school bus and jumped into the freedom of home education.
About the author
Lee Binz, The HomeScholar, is a speaker and author of more than 30 books about homeschooling high school. An expert on homeschool transcripts and getting scholarships, Lee's mission is to encourage and equip parents to homeschool through high school. Grab some of the complimentary homeschool resources from Lee and connect with her on Facebook and Instagram.
---
His Vessel Academy – Register now for high school and upper elementary live and interactive online math and IEW classes. Enter TOS21 for $20 off. www.hisvesselacademy.com
---
Roger Smith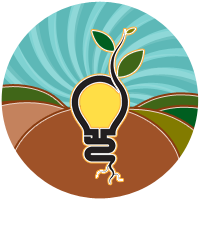 Pillar of Knowledge
Roger Smith – The Bus Is Now Departing
"I hated school. Even to this day, when I see a school bus it's just depressing to me. The poor little kids."
— Dolly Parton
It seems that Dolly Parton has gotten along pretty well with her hatred of whatever school is, or was, to her. Could it be that she and others learn more about how to succeed in life through other means?
Naturally, homeschoolers tend to agree. At least until things get hard!
The school days that are frustrating or tiresome are the ones we are probably trying to "do education" like the public schools, and we need to lighten up, go outside with a magnifying glass or a paint brush, or maybe listen to music for a few hours to get the school out of us.
Parents often think of the school bus when frustrations with the child mount. But remember you would never have been homeschooling if the yellow school bus was delivering a great product. So, it is time to say goodbye to the big yellow bus as an option (or a threat) for your child. Embrace the uncertainty of learning in a less measurable, less recognized way that research continues to show is good for your child.
About the author
Dr. Roger Smith is a family doctor in rural Louisiana, where he and his wife, Jan, raised four adventurous children who are all grown, making their own mark in the world. He speaks and writes on parenting issues and produces brief videos that can be found on Facebook @ParentingMattersNow.
---
Prepare your students for college and beyond with the "Pre-Med and Higher-Ed" Resource Guide in the Summer 2022 issue of The Old Schoolhouse® Magazine. This guide can steer homeschoolers with medical aspirations in the right direction, whether it's preparing for the ACT, researching Christian universities, or seeking a medical apprenticeship.
---
In too deep with a curriculum that keeps you swimming in circles? Homeschooling is smooth sailing as a SchoolhouseTeachers.com member! Code: BOGO22 secures new members a discounted rate of $199 for two full years AND a free stylish tote—your choice, red or silver. New members only. Sorry, no refunds. Totes are available in US only.
---
SchoolhouseTeachers.com Corner
Did you know?
Every class is INCLUDED for ultimate members!
No limits.
Just starting out with homeschooling? It can be overwhelming when you make the decision to keep your kids home. At SchoolhouseTeachers.com, we recognize these challenges and have resources that you can access for easy learning at home. Planning your schedule can be a breeze with courses like Daily Writing and Daily Grammar, which provide you with daily activities to get your students practicing the skills they need with no extra planning on your part. Try these courses today!
---
Read this article
in the summer issue of
The Old Schoolhouse® Magazine.
---
We've got your back—to school. Take your homeschool back to the basics, back to the Bible, and back to what matters with the "Homeschooling: You Are Not Alone" Supplement from The Old Schoolhouse® Magazine. Download FREE today. https://www.theoldschoolhouse.com/product/homeschooling-you-are-not-alone/
---

---
Congratulations to our June winner, Susanna Denninger of Charlotte, NC!
Contest Corner
for the month of August
His Vessel Algebra I Textbook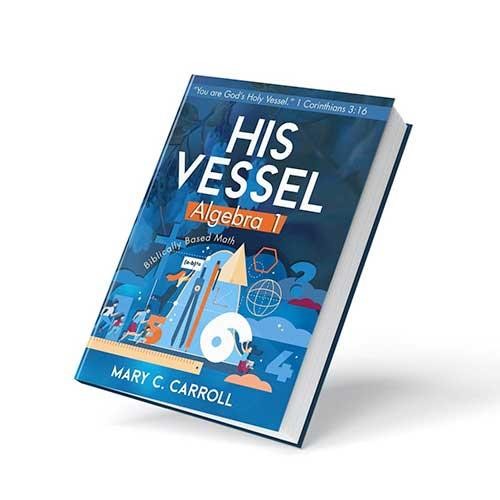 His Vessel Textbooks
http://www.hisvesseltextbooks.com/
At first sight, the His Vessel Algebra I textbook is like any other math book, except that it quotes 1 Corinthians 3:16 ("You are God's holy vessel") and says "biblically-based math" on the cover. But when you dive into the content, you will find Bible truths sprinkled throughout the book.
In Mrs. Carroll's definitions of mathematical terms, she uses faith-centered mnemonics and encouragements all over the place. For example, when talking about Absolute Value in chapter 1, students are first told the definition of an absolute value number (distance from zero; no negatives). Then she says: "Isn't it wonderful that God loves you so much that He sees your Absolute Value through Jesus Christ? You have Absolute Value."
His Vessel Algebra I covers all the main topics you would expect from an algebra curriculum: expressions to equations, graphing to statistics, exponents to the quadratic equation, etc. The lessons are included in the book so your student can read and study the information to learn it. If a topic is challenging for your child to understand, they can also go to the His Vessel YouTube channel for video lessons.
This fully formed high school algebra curriculum is a giant book, hardcover with over 550 pages. It will get your student the Algebra I credit they need for graduation but with a strong faith-based backbone that you will not find in any other math book anywhere.
---
This is part of a review of His Vessel Algebra I Textbook from His Vessel Textbooks. Read the full review on our site which has more details and pictures.
Go to the contest page of our site where you can ENTER TO WIN this algebra textbook.
---
Freebies
Math Mammoth Data and Graphs
Get a free book from Math Mammoth! Math Mammoth Data and Graphs is a worktext that covers common statistical graphs and some related topics for grades 2–5. As a worktext, it contains both the instruction and the exercises and problems. The book starts with the easiest topics: reading and making bar graphs, pictograms, histograms, and various kinds of line graphs. Toward the end of the book, we study average (mean) and mode, and how these two concepts relate to line and bar graphs. Lastly, we study circle graphs.
This free product and more are found in our 2022 Freebie Directory: TOS Freebie Directory – The Old Schoolhouse®
---
FREE E-Book!
Eyewitness History: Hunger and the Great Depression
What was the Great Depression like? How did people survive during those years and World War II that followed? How did that generation develop the "never give up" spirit and pass it along to the following generation? Are there lessons we can learn today from the Great Depression?
Learn and reflect on the Great Depression and WWII with Eyewitness History: Hunger and the Great Depression –A WeE-book™ By Deborah Wuehler and Dr. Ruth Beechick.
Find more freebies at The Old Schoolhouse Homeschool Store: Freebies Archives – The Old Schoolhouse®
---
With the TOS Mobile App, search topics of interest spanning more than a decade, share articles, browse interactive content, and follow the links to hundreds of related resources. Each issue can also be downloaded and read offline.
---
Share this newsletter with a friend, and be sure to let those CONSIDERING homeschooling know about the enormous FREE info-pack which awaits them here: www.TryHomeschooling.com.
---
If you liked today's Homeschool Minute, please email the editors and tell us what part you liked most. It's a huge blessing to receive feedback!
Please add publisher@theoldschoolhouse.com to your email contacts so that our emails to you don't land in spam.