Teachable William – Part 2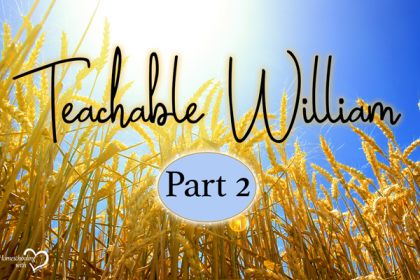 In part-one we witnessed the rocky beginnings of a very unlikely friendship between Mr. Roberts and the famous Christian abolitionist William Wilberforce, because of Mr. Roberts' openness and giving opportunity for a hearing. Why did this have such an effect on Wilberforce?
Openness
One of the greatest trust-robbers in any relationship is the fear that things may not be as they seem. You may say you were not offended, but were you? You may act patient and understanding, but are you? Scripture reveals "he that covereth a transgression seeketh love" (Proverbs 17:9). Which means covering rules out any room for simmering. It takes wisdom to discern but openness spoken from a true heart of love is essential for the longevity of any relationship.
Opportunity for a Hearing
While rare malevolent exceptions exist, most family members, friends, co-workers and neighbors do not lie awake at night thinking evil of us. "Innocent until proven guilty" is as good at the dining room table as it is in the court of law. Forbearing judgment until the one who has offended us can answer for themselves is a rare, but truly effective gesture of promoting goodwill. More could be said, but these two gestures is what inspired such thanks in Wilberforce that his sons would write years later,
"Mr. Roberts, though with no such intention, had taken the shortest road to his confidence. 'A friend who will frankly tell me of my faults in private' was a possession that he valued above all price."
Now how do we know Mr. Roberts truly held a Christ-like spirit in reproving Mr. Wilberforce? As it was a particular event gave a distinction between a brave reprover and a bitter railer.
"I [Wilberforce] had unhappily forgot an appointment made with him four days before; and just when  raw and fresh from this instance of my negligence, he met at my door a neighbour, who charged me with the most gross misconduct…Yet he [Roberts] had the firmness and Christian spirit of love to make him not credit this, and to ascribe what ground there was for it to my undertaking more than I could execute."
While we can't know what grievance caused a spirit of malice in this neighbor or how much fault lay at Wilberforce's feet, we clearly see contrasted spirits. One spoke bitter words in a stranger's ear; the other spoke openly and only to the offender. One imagined evil motives in his neighbor; the other refused the temptation to speak evil even when in doubt as to the motive.
In years to come Mr. Wilberforce and Mr. Roberts would enjoy a rich and open correspondence built on mutual respect and trust. Two hundred years later, such can be the story for our children as well when they embrace winning the other person more than winning an argument.
"Once more I thank you from the bottom of my soul for the friendly and Christian freedom which you have exercised toward me." William Wilberforce to Mr. Roberts
Quotations from The Life of William Wilberforce, Volume Three by Samuel and Robert Wilberforce, 1838
Kenzi Knapp is a follower of Christ, homeschool graduate and student of history. A fourth generation Missourian she enjoys writing about daily life enrolled in Gods great course of faith and His story throughout the ages at her blog, Honey Rock Hills.