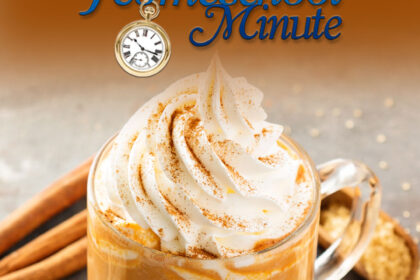 Raising Boys; Raising Girls
October 18, 2023
Be sure to scroll to the bottom to enter the contest and see the freebies of the month!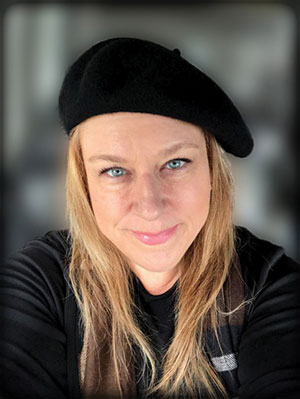 Hey, Mama!
Boys and Girls Both Need a Savior
Hey, Mama.
I had a big old passel of kids: four boys and three girls. They are so different! Then again, they are so similar. In fact, one of my grown son's best friends is his married-with-three-kids sister. They looked alike growing up, and they still look alike. 
When I was pregnant with each of the seven of them, it got to the point I could almost "tell" what I was having. The boys made me eat too much processed junk; the girls kept me eating a healthy diet of cabbage and salmon. With a boy, I wanted Taco Bell all day long; with a girl, I hated lettuce. I could not even be around the smell of lettuce until about three months after she was born.
Yet, there was one thing that was the same in all of those kiddos because of this world we live in and its fallen state: children have sin natures, just like their parents do. With each and every one of them, we had to teach them God's Word throughout their childhoods. We had to instill in them a Biblical worldview. We answered questions, had "heart talks," and discipled them the best we knew how. It all came down to Who God is and what His Word says. We need a Savior.
They need a Savior, and so do we. And only One great God can fit that need: Jesus. He is the only One we can turn to as our Redemption, to stand before us and beside us on that Day. He is our Rock in this life and our Brother in the one to come. He is our Family. Our children needed to hear that often and watch us model our own need for the Savior. Did we do that perfectly? Of course not. I am so thankful for a merciful Lord. It is all in His hands.
Now I have grandkids. My social media hashtag is #MumsieLand because I like being a Mumsie even more than I do a Mama. I love both roles, actually. And to be honest, being the mother of adults is precious to me.
When Paul and I were new parents, we learned quickly that when our children reached the toddler years, we'd better uphold a standard—and it needed to be a Biblical one. And we were not going to drop that standard, no matter the cost. Sadly, we see a lot of that today, where an adult child or teen abandons the faith—and then the parents do as well! I kid you not; I have seen it over and over again, and it's heartbreaking. The parent could not bear to speak plainly and risk the relationship. That would be too painful. But my children's souls are more important than my temporary pain. Duty-bound to God, you cannot modify His commands.
Keep the bar high, Mama. When we consider Who created the "bar," how can we lower it? That would be unauthorized compromise. His Word is the bar. I have no right to change it. I cannot reduce its meaning in any way—no matter what.
You can't just "wing it" as a parent. I mean, God certainly shows us grace, and in His great mercy, He teaches us continuously and works all things for good because we love Him. He loved us first, after all. Sanctification is all about that, anyway: growing in Christ. And the parents advance and mature in the Lord right along with their children; God is sanctifying us all if we are in Him.
Enjoy your children. Point them to the Lord. Whether male or female, they were planned by our great God and Savior, and He doesn't make mistakes. Eagerly, help them pursue their passions, show enthusiasm for their many interests and joys, and recognize this very short window of time for what it is: a gift. Don't squander it.
And as you lift your children's eyes to the One who is mighty to save, rest in Him because after all, it is He who does the work. He saves. Whisper that as you go about your day. Rest in that short statement, confident in the truth that He has your children in His hand—which by the way, is on your head today. He saves.
~gena
---
---
Raising Real Men
Hal & Melanie Young, RaisingRealMen.com
Homeschool Your Boys and Girls Differently
We had six boys. In. A. Row. Then two girls. So, we've thought a lot about the difference between raising–and homeschooling—boys and girls. This seems to surprise our culture, but boys and girls really are different. Of course, there are quiet, cautious boys and bold, adventurous girls—we shouldn't forget that–but God made two different genders and that affects us as their parents and teachers.
Girls tend to like a warm, softly lit, nurturing learning environment, for example, while boys tend to prefer a cool, brightly lit, exciting learning environment. How can you meet their needs when you have both, though? Perhaps give your daughter a lap blanket and make sure you speak gently when you are talking about school. For your boy, give him a lamp right next to him and maybe a fan and be sure to gin up some enthusiasm when you discuss math. (The origins of the term "gin up" are really interesting if you want to look them up!)
Boys struggle with sitting still for long periods more than girls do. Getting your guys up and moving around actually helps them learn better, research shows. It's tempting to say, "Okay, focus! We just have two more subjects!" but you'll both enjoy those two subjects more if you let him jump on the mini-trampoline first.
Boys develop small motor skills later than girls and big motor skills earlier. That means your little boy is going to struggle with handwriting a lot longer than your little girls. Consider doing work orally as much as possible so that he doesn't get discouraged and lose his love of learning.
The differences between boys and girls affect our homeschooling and our parenting. If you need encouragement, boy moms and dads, get the free download, "Teaching Your Boys to Love Reading and Writing," read one of our all-time favorite blog posts, "Dear Mama to Boys," and get our book, Raising Real Men. Use the coupon code THMBOYS20 to get 20% off the book – just for The Homeschool Minute readers!
Your friends,
Hal & Melanie
About the author
Hal & Melanie Young are the award-winning, best-selling authors of Raising Real Men, No Longer Little, and Love, Honor, and Virtue. They are publishers, writers, bloggers, and popular conference speakers internationally, known for their Christ-centered focus and practical, real-life stories. They are the parents of six real boys (five grown!) and two real girls and live in noisy, messy happiness in North Carolina.
---
Biblically accurate, fun, interactive board games. Ideal for family game nights & as gifts. Would you rather your kids play Uno or Exodus? – https://day40games.com/current-games
---
Heidi Mosher
Boys and Girls Are the Same, but Different
I've noticed a funny difference between raising boys and girls—food. My boys devoured it at every chance (especially during the middle school years when they couldn't last 45 minutes between snacks—even snacks with protein). My girls didn't care to snack much, but they loved prepping food (especially when given free range of the kitchen with each other or a friend).
I've witnessed many other differences in raising boys vs. raising girls. The boy vs. girl differences were noticeable already before birth. I was sick almost the entire time I was expecting each girl. I was sick for exactly the first 12 weeks of pregnancy for each boy. But my boys and girls all arrived early.
Even before they were walking, my girl babies naturally knew what to do with dolls. Before age one, my boy babies each showed a strong curiosity towards anything with wheels. Amazing! But my boys and girls were all eager to play, especially with me.
My neighborhood friend and I marveled at the structural differences in "paw" size between my son and her daughter who were very close in age. I noticed that size difference over and over when my kids were with their peers. The girls had such tiny hands and feet; the boys' hands were enormous by comparison. But both my boys and girls held my hand any chance they got when they were young.
As we homeschooled, I noticed more differences. The girls were content to sit and learn, the boys couldn't sit still and preferred to learn by doing and moving. The boys found spelling frustrating and useless; the girls actually enjoyed it. The boys preferred science. But my boys and girls all learned best when they were well-fed and rested, and when we invested a few minutes of fun and connection into our relationships before starting the school day.
So, who is easier to raise: boys or girls? Well, girls are pretty easy if you just give them a listening ear. And boys? You guessed it. What they really want is food, frequently. But boys and girls are both absolutely wonderful.
About the author
Heidi Mosher is the mother of four—two boys and two girls. Two have brown hair, and two are blonde. Two are adults, and two are still homeschooled. Two recently moved out of state, and two still fill her home. But all four will always fill her heart.
---
Easy to use and affordable, Structure and Style® for Students with Andrew Pudewa brings a successful solution to your writing lessons—guaranteed! – IEW.com/free-lessons
---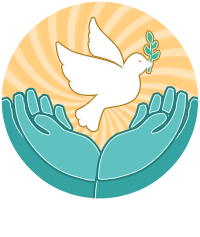 Pillar of Hope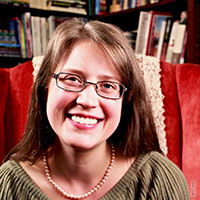 Danika Cooley
Raising Up Men and Women for Jesus
Today my husband announced that we have entered our golden years. It made me think about what a blessing it is that the Lord allowed us to raise four children to adulthood.
As a mom, I often considered how I was raising my children to be adults. They would soon be adult men and a woman, fathers and a mother, husbands and a wife. It was my job to point them to Jesus, to teach them his Word, and to equip them to live godly lives.
For me, that perspective infiltrated every interaction I had with my kids. When I interacted with my boys, I considered who God made them to be as men. I thought about what they would need to know to interact with the world in a godly, mature way. For our daughter, I thought about her future as a woman.
As you interact with your kids each day, pray that the Lord will help you consider who they are to become as men and women of God. Ask Him for guidance as you direct them each day. It's a seemingly small shift in mindset that leads to big changes in parenting.
Danika Cooley is an award-winning children's author who blogs about Bible books, crafts, activities, and snacks at Thinking Kids. Her books include Help Your Kids Learn and Love the Bible and the Who What Why Series, a line of Christian history for 8–11-year-olds. Grab your free three-week sample of her popular Bible Road Trip™ curriculum.
---
You have kept them home, taught them well, and prepared them for life. The time is coming when your high schooler will graduate, spread their wings, and fly. The team that has walked beside you through the homeschooling years is ready to illuminate the path into post-secondary education. The Old Schoolhouse® is pleased to offer Homeschool College Directory & Resources, filled with colleges vying for the attention of homeschoolers. Plus, discover invaluable articles specific to this stage of life and other helpful resources to keep your grad on the right path.
---
SchoolhouseTeachers.com Corner
Did you know?
Every class is INCLUDED for ultimate members!
No limits.
Does your preteen need to grow deeper in God's Word? With Bible Study for Preteens, daily lessons take upper elementary and middle school students through the lives of Bible characters such as Rebekah, Ruth, Mary, Daniel, Job, and Jonah. Build the habit of daily Bible study with your preteens with this course on SchoolhouseTeachers.com. Choose your study for girls or boys.
---

What unique challenges do you face while raising boys or raising girls? In Episode 38 of the Hey, Mama! Homeschool Show: Raising Boys; Raising Girls, boy mom Christine Weller shares valuable insight on this topic with special guest and girl mom Kristin Stewart. Despite the challenges, the benefits outweigh them all. Be inspired by Christine and Kristin's conversation today! Find the show notes on HomeschoolShow.com.
---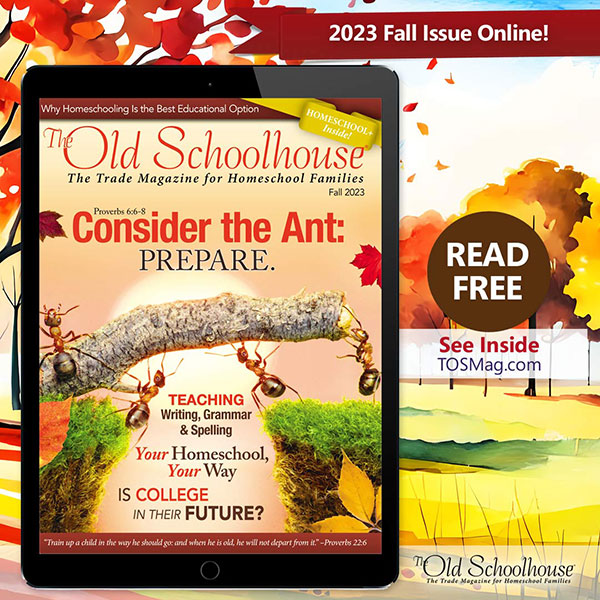 Hello, autumn, and hello to the TOS App. That's where you'll find the Fall issue of The Old Schoolhouse® Magazine, along with dozens of timeless, searchable back issues. Put it in your pocket for quick reads on the go. Topics this fall: teaching writing, grammar, and spelling; growing and canning food; homeschool dads; science; heritage; and college. More for your homeschool: HomeschoolApp.com. Or, if you're on your computer, go to our Digital Magazine Library. It's one more place to find the latest issue of The Old Schoolhouse® Magazine, and it's free here too. New issues every quarter. Scroll all fall for all things homeschool!
---
Contest Corner
for the month of October
Studio Art: Inspired by Art History
The Master and His Apprentices
https://TheMasterAndHisApprentices.com
Providing art curriculum from a Christian perspective, The Master and His Apprentices offers a unique learning experience. Between its two courses, Studio Art: Inspired by Art History is the core curriculum. Studio Art: Inspired by Art History is a self-paced, independent course that begins with ten foundational principles of art and concludes with thirty period specific projects.
Students learn value, lighting, texture, composition, perspective, proportions & grids, transferring, color, and sculpture before diving into exploring the people, places, world events, and incredible art that has been left behind throughout time. Students will have the opportunity to explore a variety of mediums and artistic styles as well as develop their art technique and creative approach. The students will create sea-inspired vases reminiscent of Aegean art and manuscript illuminations from the Proto-Renaissance Art Period. These are just two examples of the period projects students will complete.
Guidance is also provided to parents. There is a critique form in The Master and His Apprentices in Studio Art: Inspired by Art History with ten questions for the parent to answer. A question on the form asks, "Do the medium and style fit the chosen subject matter, period inspiration, and/or theme? If not, why?" Due to the subjective nature of art, grading will also be subjective. Grading tips are provided in the section "Instructions for Classroom Teachers and Homeschool Parents." Project length is also discussed. The project length will vary because this curriculum is self-paced, and each student has their own ability. Typically, projects take four to five hours to complete. Some projects take much less time while others take much longer. In addition to this information, all necessary supplies, modifications, etc. are thoroughly outlined in the book.
---
This is part of a review of the course Studio Art: Inspired by Art History. Read the full review on our site which includes more details about the content.
Go to the contest page of our site where you can ENTER TO WIN the digital version of the course Studio Art: Inspired by Art History.
---
Freebies
Fall Harvest: Where's the Fruit?
Is your cornucopia empty? Why doesn't your family exhibit the kind of fruit you'd expect to see? What kind of seeds are you sowing?
These are questions that Deborah asked herself. She tells us: "Seasons change in our lives, the weather changes in our circumstances, and what grows in each season is different too—not only for us, but for our children as well."
Gain new insight regarding the seasons of your lives and the developing harvest that's possible in each of us as you read the WeE-book™. . .
Fall Harvest: Where's the Fruit? By Deborah Wuehler Where is the fall harvest of God's goodness and righteousness in your heart and in your house? Go through each season/stage of development with the author as she shares her wisdom and experiences of what she has learned, and you'll see a pattern of things to be doing (or not doing) to ensure a good harvest in your children's lives and in your own heart. She promises to show you something optimistic and hopefully even beautiful.
In the pages of this WeE-book™, you'll find an abundance of wisdom, inspiration, and support:
Where's the Fruit in the Very Young?—We've sown into them day in and day out; when will we reap or even see any bounty? Prepare the soil; harvest time will come!
Overestimating—A true story illustrating what can happen if you overestimate. Don't let your child fall through the cracks.
Underestimating—Become intentional in the things you pour into your child. They are capable of learning so much!
Lazy Weeding—Faithfully and diligently "weed" that rich soil and be delighted with the outcome.
Where's the Fruit in the Elementary Years?—Learn from Sandy's wasted corn patch. When the soil is ready, water the hearts of your children.
Where's the Fruit Entering the Teen Years?—Is there a purpose for these turbulent years? Transforming hearts with God's Word.
Where's the Fruit in the Higher Education Years?—This teen-to-adulthood season is finally producing a visible harvest—and it's delightful!
Where's the Fruit in Us?—Don't just have the appearance of fruit in your life. Be fruitful and useful to the Planter!
Death Brings Forth Life—Die to become beautiful. Discover a precious promise from God's Word.
"May we be faithful to water our plants with Jesus, who is the Living Water, and in doing so, may we produce a harvest of much fruit." —Deborah Wuehler
Ensure a good harvest in your children's lives!
---
Homeschooling the Rebel Expo- Deb Wuehler
Hear from Deborah Wuehler as she shares on how she homeschooled her rebel and hear from the rebel herself – Hannah Wuehler!
Click on the image to watch the video!
---
Share this newsletter with a friend, and be sure to let those CONSIDERING homeschooling know about the enormous FREE info-pack which awaits them here: www.TryHomeschooling.com.
---
If you liked today's Homeschool Minute, please email the editors and tell us what part you liked most. It's a huge blessing to receive feedback!
Please add publisher@theoldschoolhouse.com to your email contacts so that our emails to you don't land in spam.
DISCLAIMER: The Old Schoolhouse® and its staff do not necessarily endorse or agree with the articles, images, advertisements, or other content appearing in The Homeschool Minute, on any linked website, or otherwise. The views and opinions or other matters expressed in this newsletter are not necessarily those of the publishers, editors, staff, contractors, associates, or other affiliates of The Old Schoolhouse®