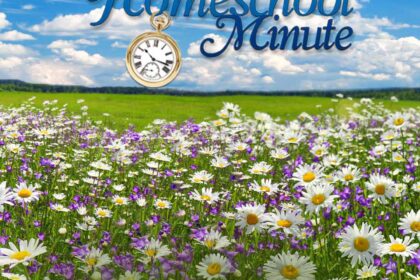 How Should We Celebrate the Homeschool Mom?
May 3, 2023
Be sure to scroll to the bottom to enter the contest and see the freebies of the month!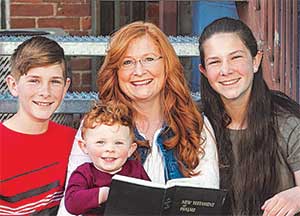 Mercy Every Minute
Deborah Wuehler, TOS Senior Editor
Unqualified for the Job
Cards and sentiments abound extolling motherhood, as they should. But I know I am not that perfect "Mother's Day" mom! The videos of my impatience and frustration and "woe is me" attitudes rewind and play through my mind. Knowing my frailty and weakness, God still chose me to be the mother of these children. Not because I am good enough, but because He is Good through me. He and I both know that I am unqualified for the job. But knowing the goodness of God, I know that I will find in Him what I require to be a mother that pleases Him.
From that first toothless smile to that first tooth; From reading board books to reading living books to watching them read on their own. From grade school to graduation and from being weaned to being wed, the joys of motherhood never end. I cannot think of any greater joy in this physical life than motherhood. Each day I am laughing or smiling with one or more of my children as they grow from baby to adult, and I praise God for His goodness.
The scripture that comes to mind on this subject is the one in 3 John 1:4, "I have no greater joy than to hear that my children walk in truth." If that is true for me, I know that it is probably true for my Father in heaven. He is joyful when we, His children, are walking in truth. I must walk in truth so that my children will walk in truth and please Him. This is eternal joy; that my children will one day surround the throne of God on their faces before Him in humble worship of their Father.
There is a place of honor in the position of motherhood, as it has been ordained by God. And He honors those mothers who honor Him. I pray you will be blessed beyond measure this coming Mother's Day with the joy God gives through His Son, His love, and His gift of these children as you labor to keep them Home. Where They Belong.
~Deborah
---
The True Story of the Pilgrims comes alive in this self-paced online course for students in grades 3-7. Save $20 now with code TOSSPRING23
---
Stacy Farrell
We See You, Momma
There's a meme we share on our Facebook page that is titled, "Invisible Mothers." It speaks of how the work we do as mothers is both significant and unseen. Like craftsmen laboring to build a great cathedral brick by brick, homeschool moms labor on tasks that often appear menial in the moment—but, as time passes, their cumulative effect is revealed to be profound. You're crafting character, Momma: your child's and your own.
Conflicting Voices Bombard Us
When much of our labor as homeschool moms is "invisible," we can struggle against the chatter of voices (internal and external) that seek to discourage us:
The Only Voice That Matters
Don't listen to those voices, dear Momma. Don't give in to fear. When all is said and done, there is only One Voice you must answer to. It's the One who says: "Fear not, for I am with you; be not dismayed, for I am your God; I will strengthen you, I will help you, I will uphold you with my righteous right hand." (Isaiah 41:10)
That Voice promises to tend to His flock like a shepherd . . . and gently lead those that are with young (Isaiah 40:11). You are not alone in your noble calling of motherhood.
The Truth About Motherhood
"Mommy" is the most important job title you'll ever possess. Perfection in your job performance is not attainable nor required. The One who blessed you with that title delights in you as you simply seek to do your best to educate and train your children and serve your family.
Hide that in your heart, and don't ever forget it. Your contribution to society—in the form of raising godly children—has a far greater impact than you'll ever know this side of eternity. That's why we celebrate you, Sweet Momma.
His love,
Stacy
About the author
Surprised by Jesus, Stacy went from an unmarried, childless, 30-something career woman to a Christ-following wife of more than twenty-eight years with two sons she homeschooled K-12. She battled fear and overwhelm, but survived and thrived. Author of more than books—including the award-winning Philosophy Adventure and newly released Food Prep Guide, she loves to equip and encourage homeschool families. Visit her at HomeschoolAdventure.com or at her newly-launched site: FoodPrepGuide.com.
---
BUY EARLY, SAVE BIG! We're offering huge savings today! Save big on Abeka Academy, Independent Study Video Lessons and Parent-Led Products! Homeschool Biggest Discounts (abeka.com)
---
Heidi Mosher
Hannah's View for Mother's Day
Early one morning, an expecting mother paused at her kitchen counter, careful not to wake the little ones sleeping upstairs. She was familiar with the pain that would surely result in her fourth child's birthday that very day. Yet she stopped to change the page on a small flipbook of verses and prayers to whisper that day's words:
A few weeks later, that same mother paused from readying her young family for church the morning of her newest baby's baptism. She turned the page on the flipbook and read Hannah's prayer from I Samuel 1:27, 28b:
Those sweet remembrances are my mother's, and I was that baby she met with love-filled eyes and for whom she prayed.
When I was little, she read a bedtime story of Hannah begging the Lord for a child. I remember crying that night as I listened to the unforgettable story of longing and offering. When I was in my twenties, my anguished tears mingled with Hannah's ancient tears as I waited many more long years than I expected for my first child to be born.
My very own little one finally arrived, and I met her with love-filled eyes. Already our quick years together are complete; she is grown. Three more children for whom I prayed still fill my home and days, but they'll soon be grown too. We couldn't possibly add one minute to our allotted time together, so we fill those minutes—together, homeschooling. We don't have to homeschool; we get to.
Mother's Day gifts and celebrations are welcome and likely deserved, though if we borrow Hannah's view, we see children as a gift. Thank God for filling our homes. We can celebrate that every day.
About the author