Preparing for Life After High School
July 12, 2023
Be sure to scroll to the bottom to enter the contest and see the freebies of the month!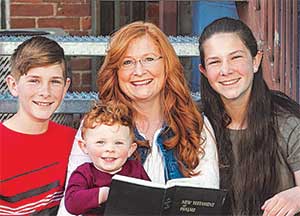 Mercy Every Minute
Deborah Wuehler, TOS Senior Editor
Basic Training for Life
I had to chuckle as I looked through my files to see if I had previously written about life after high school. This came up below from eight years ago. I have now graduated seven children and have one high school child with three years left in his home education. I clearly remember when he was seven and just at the beginning of his academic journey, and the house (and our schedule) was full to overflowing. But, the sentiments from those years ago have rung true, and the years really have flown by like days—and my house is much quieter.
September 2015
Although we've graduated three out of eight children from our private homeschool, and I have another graduating this year, some days it feels as if my younger children will never grow up and graduate, and my homeschool career will never end.
I have five I am still schooling—the youngest is seven—so I have at least another ten years left of homeschooling. But true reality sets in when my older children come home from their jobs or visit from out of town, and I see clearly how soon my homeschooling career will really be over. Ten years will fly by like ten days. Trust me.
The question becomes, how do I prepare these younger kids for life after graduation? If you look at military basic training, you see that everything essential for their military life is crammed into a few weeks. And, it is pretty basic! The leaders require and reinforce unquestioned obedience and they prepare them mentally and physically for possible future combat. Specialized fields with training come later. Ever thought of that in relation to your goals for homeschooling?
I want my children to unquestioningly obey God's commands and my commands, and I want to help prepare them in the basics for whatever the future holds. I want them to be able to combat the enemy of their souls: the world, the flesh and the devil! And, as I pray for each one, God will show me how to develop them in their specialized fields. As far as basic training in academics: they should be able to think and read well, write well, know some higher math, and represent their God with excellence.
Here are some very practical and helpful articles for your own homeschool career that will answer many questions you might have. They cover the topics of college prep, essay writing, exploring careers, testing and more:
Andrew Pudewa: College Applications: Steps to an Exceptional Essay
Mary Hood: Helping Students with College Entrance
Amy Barr: Four Crucial College Skills
Jeff Ober: Exploring Careers
Jeanette Ritch: Oh, the Places They Will Go! (Also explains the SAT vs. ACT)
Looking at what's going on around us in this culture, time is short in more ways than just homeschooling. Hold on for the fast ride as you prepare them for life and godliness from this educational discipleship program they attend at Home. Where They Belong.
Pray with me, "Lord, teach us all to number our days that we might gain hearts of wisdom. Show us how to prepare our children for Your service in this life. And we all pray, 'Even so, come, Lord Jesus!'"
~Deborah
---
The High School-to-College Road Trip
Some road trips involve "driving straight through" – racking up maximum daily miles and swapping drivers to avoid overnight stops. Others are full of leisurely side trails, exploration, and adventure.
Ideally, the high-school-to-college journey should be the latter. Yet we parents often try to "drive straight through." In particular, it's tempting to label our students early on, thinking they will pursue Career A or College Major B. Perhaps we're steering them toward a specific career because it's familiar or "safe." Or we see skills developing, assume that this is their "bent," and head for that well-marked highway.
But be prepared for growth opportunities that break these labels in surprising ways. While some students may indeed remain on the path you prophesied when they were 12 years old, others will make a 180-degree turn. The student who claimed to hate science may fall in love with chemistry. The artist may develop a keen business sense. In these dynamic years, don't minimize the joy by charting your student's itinerary in detail before they get to explore some side roads.
Still, you'll want to watch for areas of giftedness, and then maximize growth. Seek out specialized classes, brainstorm innovative projects, and identify adult mentors. Investigate internships, jobs, volunteering, and entrepreneurship possibilities. And realize that exploring a potential passion but then crossing it off the list yields valuable information too! The journey of a lifetime deserves a personalized GPS. Homeschooled & Headed for College is a comprehensive guidebook covering everything you'll need for a rewarding trip, complete with fascinating side roads. You'll gain insights on course planning, credits, extracurriculars, leadership, application essays, and more! Best of all, you'll learn that there's no "right way" to homeschool–because there's no one else quite like your student.
Gain momentum for your own adventurous homeschool-to-college road trip!
https://homeschoolroadmap.com/
---
Come and discover Christ as Life. Are you ready for a life-changing Bible School experience on the West Coast of Canada? Apply today at capernwray.ca
---
Raising Real Men
Hal & Melanie Young, RaisingRealMen.com
Preparing for Life After High School
Six of our eight children have graduated from homeschool and launched into their own lives, so we've thought an awful lot about preparing them for life after high school.
Of course, they all need an education, and we try to give them one that will let them go whatever direction the Lord calls them in.
They need a lot more than academics, though. They need life skills like managing finances, maintaining a car, doing laundry, cooking, cleaning, and repairing things. Our list even includes things like swimming, backing a trailer, and dancing well enough to take a turn on the floor at their wedding!
Most of all, we want our kids to know God before they leave our home. Spending time in the Word with our kids, discussing all kinds of things in the light of the Scripture, making sure they are in church—these are all critical parts of discipling our kids.
But they're not likely to follow our discipling unless we have a good relationship with them. That's the part of preparing our kids for adulthood that is both the hardest and the most critical. When they leave our home, it's not algebra, but relationship that will draw them back. And it's not their grasp of history that saves them, but their relationship with God.
We want to do whatever it takes to have a relationship with our kids that will make them want to listen to us and be willing to follow us as we follow Christ (1 Corinthians 11:1).
It can be scary to think about preparing our kids to be adults, but it has been an amazing thing. The Word says, "I have no greater joy than to hear that my children are walking in the truth," (3 John 4) and it's true. It's been one of the deepest blessings of our lives to know our kids as adult brothers and sisters in Christ. May the Lord give you the same blessing!
Our workshop, "How Not to Lose Your Teens," can be downloaded free. It'll give you practical help in building that kind of relationship with your kids.
Your friends, Hal & Melanie
About the author
Hal & Melanie Young are the award-winning, best-selling authors of Raising Real Men, No Longer Little, and Love, Honor, and Virtue. They are publishers, writers, bloggers, and popular conference speakers internationally, known for their Christ-centered focus and practical, real-life stories. They are the parents of six real boys (five grown!) and two real girls and live in noisy, messy happiness in North Carolina.
---
Unleash your potential with NOLS' Outdoor Leadership Course. Experience nature, enhance leadership skills, and forge lasting friendships. Escape the classroom, embrace adventure.Nols.edu 307-335-2283
---
Dara Ekanger
Mom, Are You Ready to Graduate?
As a homeschool parent, how many hours have you spent reviewing curriculum to find just the right one? How many hours explaining complicated math or grammar? How many grading assignments? Homeschooling becomes such an integral part of our lives and our identities that it's almost surreal when those days come to an end. But they will end.
Truth be told, we need to be preparing for that transition long before it happens. Jesus took three and a half years (a slightly abbreviated high school term) to prepare His disciples for life after He left them. Jesus did teach them directly, but he also had them practice those lessons when he sent them out on short-term mission trips without him. It was then that they learned to rely on their faith in God and what He had taught them. We must do the same: teaching and training while gradually releasing the reins.
My oldest, Brent, graduated from our homeschool in 2021. As he grew, I had to learn to let him (sometimes force him to!) take on more responsibility for himself, his education, his money, his time, his friendships, and his relationship with God. When he reached high school, I realized that lectures were no longer effective (if they ever truly had been). But asking leading questions (the Socratic method) led to thought-provoking conversations and wiser decision-making—although it took a lot of practice for me to learn to do it well.
"If you had it to do over, would you do anything differently?" "What did you learn from that?" "What options do you have?" "Would you say that if Grandma were standing here?" "What do you think Jesus would do in that situation?" and the best one: "Have you prayed about it?"
If we can help our high schoolers internalize these questions, especially the last two, and gradually accept the responsibilities God intends young adults to have—as we release them to Him—we will help them be prepared to face the future as confident, God-honoring men and women when we graduate from home-educating parents to home-educating alumnae.
About the author
Dara Ekanger is a homeschooling mother of three, one soon to graduate college who is engaged to be married. A homeschool graduate herself, she has two BA degrees and has been a writer and copyeditor for almost thirty years. She loves to encourage parents that they can successfully educate their children at home, and those strong-willed kids will eventually grow up to bring you joy if you trust the Lord and don't give up.
---
Easy to use and affordable, Structure and Style for Students® with Andrew Pudewa brings a successful solution to your writing lessons—guaranteed! IEW.com/free-lessons
---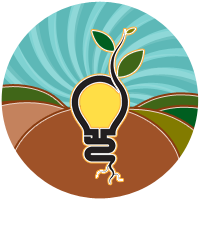 Pillar of Knowledge

Roger Smith
Look Out LIFE! Here We Come!
The best time to plant a tree is 25 years ago. The second-best time is TODAY!
"Begin with the end in mind," is one of the 7 Habits of Highly Effective People by Steven Covey. Envision what your child will be like as an adult. It will help you motivate him to get there. The clearer your image of him as an adult, the clearer will be the path to get there.
Preparing your child for adulthood starts years before they get there. Yet, somehow, we think launching a child from your home happens in the final year or two.
Think differently!
Talk with your child, regardless of age, about what they think it means to be "grown up." They want to be grown, and it is our job to help them envision becoming a "healthy" adult.
Conversation and practice, not rules or protocol, is the path to helping them toward adulthood. No one else can help them as well as you, the parent.
Ask open-ended questions, and listen intently as they describe adulthood (they will likely be describing you). Be careful as you comment with encouragement and guidance, rather than criticism.
You are planting, as it were, a tree. May it be by a refreshing, inspiring stream! (Psalm 1)
About the author
Dr. Roger Smith is a family doctor in rural Louisiana, where he and his wife, Jan, raised four adventurous children who are all grown, making their own mark in the world. He speaks and writes on parenting issues and produces brief videos that can be found on Facebook @ParentingMattersNow
---
Foundations for Biblical Discipleship – A year-long course for high schoolers, equipping students to understand the problems of life biblically. 15% off with code TOS15 biblicalcounseling.com/foundations
---
Wanted: Homeschooling parents to spread the word about homeschooling products. The Old Schoolhouse® is launching the Homeschool Influencer Network, and recruitment is happening now. Apply for this exclusive opportunity at: https://bit.ly/ApplyTOSNetwork.
---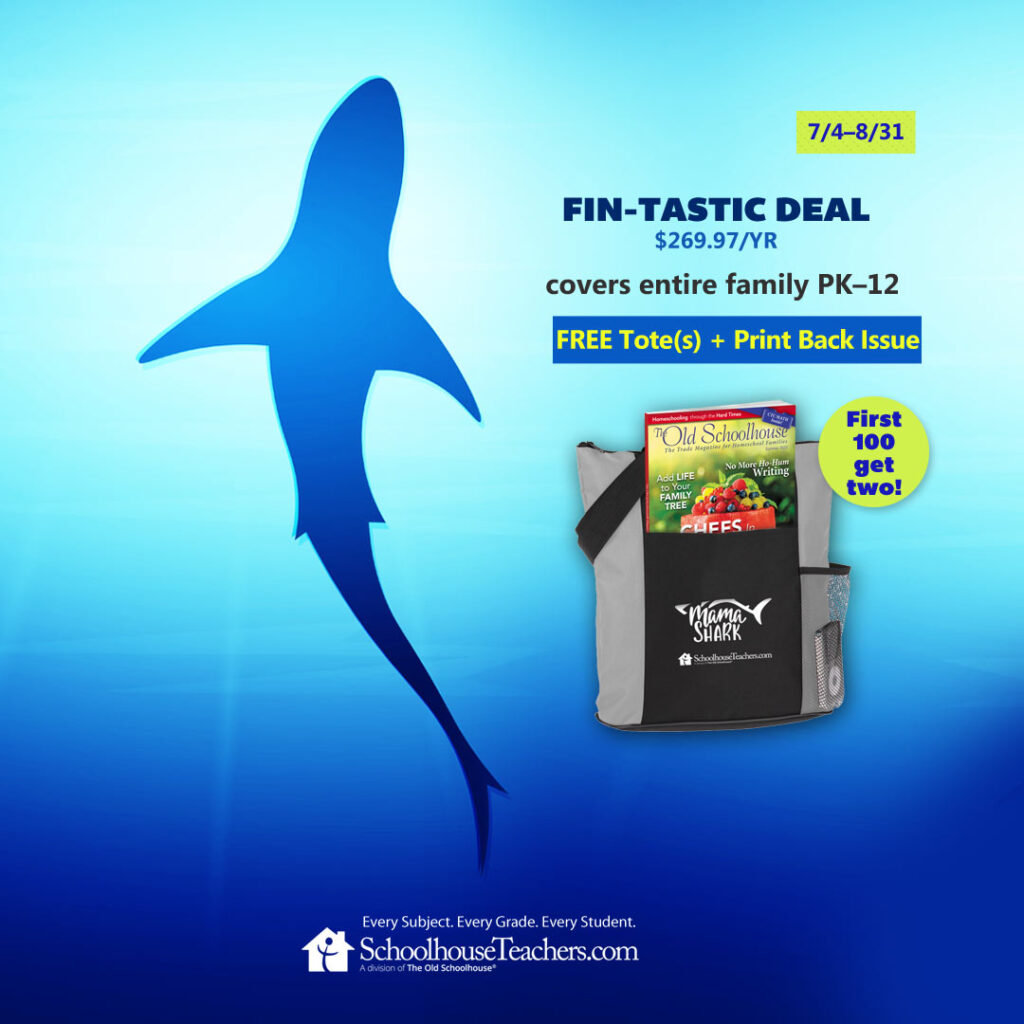 Drowning in curriculum choices? Stop swimming in circles and purchase a SchoolhouseTeachers.com membership today. A single membership covers your entire family—no limit on the number of children. Access over 400 courses spanning every subject, from the core courses of science, history, English, and math to electives such as photography, guitar, and podcasting. Become a member today during the Shark Event for $269.97/yr and receive immediate access to all the basics, electives, high-quality enrichment courses, and summer resources. You can even use some of the courses to help your child with remedial work over the summer! What are you waiting for? Get a headstart on an exceptional year now!
---
SchoolhouseTeachers.com Corner
Did you know?
Every class is INCLUDED for ultimate members!
No limits.
Do you have a student about to enter the workforce? Is your high schooler planning on getting a summer job? How to Write a Resume on SchoolhouseTeachers.com is a great help to those who are planning on applying for a job in the future. Learn all about different types of resumes and how to format them, and be prepared for life after high school.
---
Hey, Mama! Wouldn't you like to pause from your busy day and listen in to experts and homeschool parents like you about the beautiful world of homeschooling? This new podcast is designed for you. Each episode connects you to the best conversations that will give you courage and fill your cup so you can keep pouring into your family every single day. Introducing, the Hey, Mama! Homeschool Show—brought to you by The Old Schoolhouse®—your trusted homeschool partner for over twenty years.
How can you help your homeschooler get ready for adult life? What are the options? When to start? Stephanie Morrison and Barbori Garnet discuss aspects to consider for "Preparing for Life After High School" in Episode 24 of the Hey, Mama! Homeschool Show. If you have a teen, tune in! Go to HomeschoolShow.com for show notes filled with resources for you.
---
"Homeschooling has proven to be the best, most important thing I ever did, as a parent and as a Christian," says one mom. She shares her perspective from the vantage point of completion. Her boys are now successful adults. Moms, you are going to love this piece. (It's even better on TOSApps.com.)
---
You have kept them home, taught them well, and prepared them for life. The time is coming when your high schooler will graduate, spread their wings, and fly. The team that has walked beside you through the homeschooling years is ready to illuminate the path into post-secondary education. The Old Schoolhouse® is pleased to offer Homeschool College Directory & Resources, filled with colleges vying for the attention of homeschoolers. Plus, discover invaluable articles specific to this stage of life and other helpful resources to keep your grad on the right path.
---
Summer reading is right in your hands with the TOS App from The Old Schoolhouse®. Soak up the latest issue of The Old Schoolhouse® Magazine. Dig in to ideas for next school year from a decade of back issues with search and share features. Keep smiling with The Homeschool Minute—now available on the TOS App too. Content updated weekly. Discover why the TOS App is better than ever. Grab it today at Google Play or the Apple store. Sunny days are ahead for your homeschool with TOSApps.com.
---

---
Congratulations to our May winner, Carrie F. from Montana!
Contest Corner
for the month of July
The Pilgrim Story
Dayspring Christian Academy
https://courses.dayspringchristian.com/
The Pilgrim Story course is an online resource from Dayspring Christian Academy. It is a well-put-together, self-paced audio history course. These lessons cover the history of the Pilgrims, including their purpose in leaving England, their journey overseas, and their time after arriving in America. It highlights the facts that led to their decision to leave England and the key people who helped make it all possible. Each lesson contains visual slideshows that help the students follow along. The program will not allow students to advance to the next slide until the audio for the current slide is completed. This ensures that the student listens to the lessons. It is perfect for kids ages 9 to 13; even my 5-year-old sat and listened to the material.
Each lesson is around half an hour and easy to understand. Worksheets are available to be printed out to help the students follow along. Following each lesson is a quick quiz that covers the key points from the lesson they just learned. The quiz questions are related to the lesson they learned. The tests that follow each unit are quick and cover the material learned in the lessons for that unit, which help ensure the students understand the information they are learning.
Our favorite feature about this course is how Mrs. Stauffer incorporated various activities and options to engage all learning styles. Each lesson and the corresponding activity helped us to understand the Pilgrims' need and desire for such a significant life change. It made us appreciate the life we can live because of their sacrifices and choices. I appreciate that Mrs. Stauffer used authentic sources. It is evident how passionate she is about getting the facts correct.
---
Go to the contest page of our site where you can ENTER TO WIN access to the online course The Pilgrim Story.
---
Freebies
Homeschooling the High Schooler
Intimidated by upper level courses? Just starting to think ahead to those high school years? Packed with answers, encouragement, and resources, this eBook will equip you to homeschool through high school with confidence!
---
Weekly Planner
Click on the image for the full free printable pdf.
---
Share this newsletter with a friend, and be sure to let those CONSIDERING homeschooling know about the enormous FREE info-pack which awaits them here: www.TryHomeschooling.com.
---
If you liked today's Homeschool Minute, please email the editors and tell us what part you liked most. It's a huge blessing to receive feedback!
Please add publisher@theoldschoolhouse.com to your email contacts so that our emails to you don't land in spam.
DISCLAIMER: The Old Schoolhouse® and its staff do not necessarily endorse or agree with the articles, images, advertisements, or other content appearing in The Homeschool Minute, on any linked website, or otherwise. The views and opinions or other matters expressed in this newsletter are not necessarily those of the publishers, editors, staff, contractors, associates, or other affiliates of The Old Schoolhouse®