Your Mission Statement – A Homeschool Resolution
January 4, 2023
Be sure to scroll to the bottom to enter the contest and see the freebies of the month!
Hey, Mama!
Your Mission: Point Your Children to Christ
Hey Mama,
As we begin the new year, I just want to remind you to rest in God's sovereignty. When God set you on this mommy-path, He had big things planned. He told us He works all things together for GOOD for those who love Him. This is going to be a GOOD year because He has good plans for you and your family. In other words, you are on a good track.
That doesn't mean homeschooling will always be easy. There will be holes. There will be deep valleys. Some days you will believe you're a failure. But deny the lie, Mama. For as you love the Lord and serve Him, who is the one true God, He has indeed written YOUR story. And it is good.
So continue to follow the Lord. Love Him with all your heart, mind, and soul. And teach your children to do the same. It's the main reason we educate them at home. Sure, math and writing and science and history are important. But the most important thing is to teach your children about the Lord so they can learn to walk in His ways. That is your mission, today, tomorrow, and always.
These articles from The Old Schoolhouse® Magazine are a good reminder of that.
The How and Why of Home Education by Deborah Wuehler
Why This Dad Loves Homeschooling by Clifford Marlowe
Remind Me Again: Why Are We Homeschooling? by Dr. Heather W. Allen
Mama, don't stop praying. You're made for it. And one day your children will surely know you prayed for them and that you loved them with all your heart. Turn it all over to the Lord, who loves you more than you can even imagine. You love them so fiercely, but that is small compared to the love He has for you (and them). So pray without ceasing. He is in this thing, this beautiful mess called discipleship.
"The one who calls you is faithful . . . (I Thessalonians 5:24a, NIV)"
Is this not true? Remember, He put you on this path. He dreamed up this journey you are on with your family. These children . . . He gave them to you. He is the Master Artist, the Loving Author of your faith. Keep waiting. Keep walking. Take faith in the One who loves you. If you're His, you can walk confidently, knowing His hand is on your head today.
~gena
---
Todd Wilson
Resolutions to Make You Smile
For the record, I hate New Year's resolutions. Oh, I know at least one homeschool mom (not my wife) who loooovvvveees making New Year's resolutions. She loves making lists for herself, her kids, and her husband (that's just not right). Most resolutions involve working harder, denying herself, and other painful disciplines to better herself and her family. Gives me the willies!
But here's what I'm thinking: maybe there is some merit to making EASY, shackle-breaking resolutions that bring freedom, eternal rewards, and smiles.
So here is my Smiling Homeschooler list of New Year's resolutions:
Remove ONE subject from your schedule that neither you nor your children like.
Remove tests and quizzes from your homeschool. (You already know how they're doing, Mom).
Institute Fun Fridays . . . which means you don't do school on Fridays.
Have your children skip every other problem in math from now on.
Begin a new policy that if you miss a day of school, you will not make it up . . . you'll just do the NEXT thing.
Announce to the kids that when the public school gets a day off . . . so do you (I know you take other days that they don't . . . I'm not talking about those days).
If your homeschool group or co-op isn't bringing you or your children smiles . . . find a new one.
Plan to attend at least ONE homeschool convention this year.
Find another homeschooling mom that you can be REAL with.
Smile at each member of your family every day, whether you feel like it or not.
There you go. You don't have to do them all . . . just pick ONE, and do it. I'm telling you, this resolution will not only make you smile, it should also be easy to keep.
Be real,
Todd
About the author
Todd Wilson is a husband, dad, grandpa, writer, homeschool conference speaker, and former pastor. Todd's humor and down to earth realness have made him a favorite speaker all across the country and a guest on Focus on the Family. As founder of The Familyman and The Smiling Homeschooler, his passion and mission are to remind moms and dads of what's most important through weekly emails, podcasts, seminars, and books that encourage parents. Todd, and his wife Debbie, homeschool four of their eight children (the other four are homeschool graduates) in northern Indiana and travel America in the Familyman Mobile. You can read more at www.familymanweb.com.
---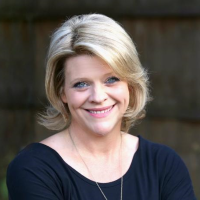 Kerry Tittle
A Theologian's Resolutions
Resolutions typically come around at the beginning of August and January. It seems those are the most practical times to start with a clean slate for homeschoolers.
I'm not entirely sure why it took a half of a century living on this earth to realize that (for me) resolutions are nothing more than a self-concocted idea of self-betterment that dissolved in the light of my self-awareness. By self-awareness I mean my mindfulness of realizing I don't have the ability to better myself or my family without the resolute submission to Jesus Christ.
The last couple of years I have begged Micah 6:8 as a resolution for my life.
He has told you, O man, what is good;
and what does the Lord require of you
but to do justice, and to love kindness,[a]
and to walk humbly with your God?
Though I still cling tightly to that verse, I have lately pulled a valuable gem from the shelf and blown off the dust.
"Being sensible that I am unable to do anything without God's help, I do humbly entreat him by his grace to enable me to keep these Resolutions, so far as they are agreeable to his will, for Christ's sake. Remember to read over these Resolutions once a week."
The theologian Jonathan Edwards then goes on to pen his collected resolutions . . . or at least the seventy that he narrowed down. Edwards took great care to guard his heart and his mind from things of the world. I am so thankful he penned his resolutions that kept God central and glorified. My heart grows faint at the very thought of keeping seventy resolutions . . . but I do resolve to read one a day, and after seventy days or so begin again. It will be a good reminder to prioritize my homeschool life (as well as every other area) properly alongside reading the truths of God's Word.
These Resolutions of Jonathan Edwards are easily found in printable pdf online. I hope you find them as much of as a treasure as I do!
Happy New Year!
About the author