Surviving Winter Depression
February 22, 2023
Be sure to scroll to the bottom to enter the contest and see the freebies of the month!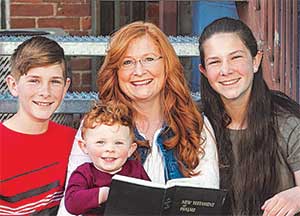 Mercy Every Minute
Deborah Wuehler, TOS Senior Editor
Buried in the Covers or in the Word?
Sometimes depression calls for the courage to just get up from out of the covers. Courage and strength to face another day. Homeschooling often requires courage in the face of persecution, as well as courage to fight against our own minds that tell us we are failing; courage against "depression of spirits" and courage to bear through difficulties to the end. The only way to find this kind of courage is to dig ourselves out of our own thinking and become buried deep in the Word of God. Here are a few of the many verses on distress and courage:
"Be of good courage, and he shall strengthen your heart, all ye that hope in the LORD" (Psalm 31:24).
"Be strong and of a good courage, fear not, nor be afraid of them: for the LORD thy God, he it is that doth go with thee; he will not fail thee, nor forsake thee" (Deuteronomy 31:6).
"Why art thou cast down, O my soul? And why art thou disquieted within me? Hope in God: For I shall yet praise him, Who is the health of my countenance, and my God" (Psalm 42:5; 11; Psalm 43:5).
"Who shall separate us from the love of Christ? shall tribulation, or distress, or persecution, or famine, or nakedness, or peril, or sword?" (Romans 8:35).
Have you lost sight of the true eternal priorities of educating your children, and fallen back into "filling their heads with knowledge"? Did you forget that it is your obedience and not your strength or ability that God rewards? Now is the time to repent for your lack of desire to be obedient, your lack of courage to continue, or your lack of vision for what is eternally important, and return to training up His children for His glory. And where will you find this courage and refreshment needed when you feel anything but encouraged? Through repentance and from His Presence!
"Repent ye therefore, and be converted, that your sins may be blotted out, when the times of refreshing shall come from the presence of the Lord" (Acts 3:19).
Let's pray for the courage to remain fixed in purpose, determined in our minds, and resolute to follow through even when our feelings don't follow us there.
COURAGE, n. [L., the heart.] Bravery; intrepidity; that quality of mind which enables men to encounter danger and difficulties with firmness, or without fear or depression of spirits; valor; boldness; resolution. It is a constituent part of fortitude; but fortitude implies patience to bear continued suffering. (Websters Dictionary 1828 – Webster's Dictionary 1828 – Courage)
Let's courageously dig out of depression and into the Word of God together as we keep His children Home. Where They Belong.
~Deborah
P.S. For more encouragement, check out these articles from The Old Schoolhouse® Magazine:
Navigating the Mid-Winter Doldrums, by Mary Hood, PhD
When the Season Changes, by Sheila Campbell
10 Tips to Persevere Through Your School Year, by Brigitte Brulz
---
Schedule a free session and talk with an experienced homeschool mom and coach today! Accountability, high school help, schedules, curriculum planning, special needs. bransonacademy.net
---
Todd Wilson
The Long Winter Stretch
Christmas is over . . . New Year's is past . . . and the winter blues have set in. Even before I got out of bed this morning, my wife lamented the fact that there's nothing on the calendar except a long, boring stretch of school.

"I want to go to Florida for a month," she announced, half-joking but mostly serious. Unfortunately, we're not going to Florida for a month (we're looking at a few days . . . maybe), and I'm pretty sure that for those of you who live in Florida, the 'winter homeschool blues' may find you there as well.

I'm afraid the answer to these blues isn't taking a trip somewhere . . . but merely remembering the truth. The truth is that these coming days with your children are the best days and that homeschooling isn't a season to be endured but a relationship to be enjoyed.
It's going to be over before you know it, and then you can lounge your winter away on some tropical beach somewhere . . . wishing you were back homeschooling your children. 🙂
Be Real,
Todd
About the author
Todd Wilson is a husband, dad, grandpa, writer, homeschool conference speaker, and former pastor. Todd's humor and down to earth realness have made him a favorite speaker all across the country and a guest on Focus on the Family. As founder of The Familyman and The Smiling Homeschooler, his passion and mission are to remind moms and dads of what's most important through weekly emails, podcasts, seminars, and books that encourage parents. Todd, and his wife Debbie, homeschool four of their eight children (the other four are homeschool graduates) in northern Indiana and travel America in the Familyman Mobile. You can read more at www.familymanweb.com.
---
Wondering how to classically educate through high school? VSA Academic Advisor Susan explains AP, dual enrollment, credits, and our Diploma Program! https://veritaspress.com/highschool
---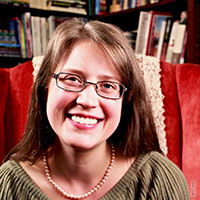 Danika Cooley
Living Contentment
Winter can be rough, can't it? I live along the Pacific Ocean, where winter can mean weeks upon weeks of sideways rain. There's nothing easy about being inside for long periods with all your kiddos!
When my kids were struggling emotionally, we would read Philippians aloud together. It was written by the Apostle Paul as he was imprisoned under house arrest in Rome. His situation could not have been easy to endure, yet he repeatedly talks about joy.
In Philippians 4:12-13, ESV, Paul writes:
"I know how to be brought low, and I know how to abound.
In any and every circumstance, I have learned the secret of facing plenty and hunger,
abundance and need. I can do all things through him who strengthens me."
Paul could live in any circumstance because he knew the secret of true joy is that Christ strengthened him in all things. When we look to Jesus, we can live joyfully through anything—even walls of snow, gray skies, and sideways rain.
Our family has employed a few other tricks to live with contentment and joy, even when the seagulls are blowing past the living room windows.
Tips to overcome the winter blues:
Praise! – We loved turning on hymns or praise music and dancing it out in the kitchen before breakfast and lunch.
Stay in the Word –Even if you only read one of the short Psalms to your kids, make a habit reading the Bible together daily.
Thank God! –Acknowledging aloud what the Lord has given you has a way of orienting your heart toward gratitude and contentment.
Count the Days –Make a big show of marking off the days on the calendar. Kids need to know that "this too shall pass." It can be easy to forget that children don't instinctively know new and exciting days are coming. We must tell them!
Hard times don't last forever. In the end, all things will be made new (Revelation 21:5). Our hope is in Jesus, and he will never let us down (Romans 5:5). You can make joy a lifestyle.
About the author
Danika Cooley is the author of Help Your Kids Learn and Love the Bible (Bethany House) and Bible Road Trip™, a three-year Bible survey for preschool to high school. An award-winning children's author, Danika's new line of Christian history is for 3rd to 5th graders (Who What Why Series, Christian Focus Publications).
---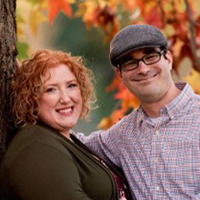 Adam and Dianne Riveiro
Pillar of Future
Adam and Dianne Riveiro – Tips for Fighting Seasonal Blues
As someone who lived for twenty-five years in Florida, the concept of "winter depression" seemed like something from an alternate dimension. How could someone struggle with depression simply because of a change on the calendar?
Then I moved to New England!
Friends, I can attest that Seasonal Affective Disorder (SAD) can be a real thing, particularly for those in harsher northern climates. Why? Because during the deepest part of winter, you only get a few hours of daylight a day (if you're blessed enough to get a sunny day to begin with!). Mix in some frigid temperatures that confine you indoors for days at a time, and you've got a potent recipe for winter depression.
Thank the Lord, He's given us several tools to combat winter depression, including:
Maintain a personal devotional time of Bible reading, prayer, and meditation on God's Word. In the darkness of winter, remember, "​​Thy word is a lamp unto my feet, and a light unto my path." (Psalm 119:105)
Move around and get out of the house. Your home should feel like a sanctuary, not like the state lockup!
Mix things up and keep homeschooling fresh. The next couple of months are the most monotonous of the school year, so guard against stale routines. It will do your kids . . . and you . . . a world of good!
-Adam
About the author
Pastor Adam and Dianne Riveiro live in Easton, Massachusetts, where Adam leads Liberty Baptist Church. They're the authors of several books, including Hope from Our Heart to Yours: A 30-Day Devotional Journey for Special Needs Families, available from their family's publishing label at www.readyscribepublications.com. They have four children: Bethany, Kaylee, AJ, and Peyton. They're passionate about helping their fellow special needs families find joy and contentment in Christ.
---
SchoolhouseTeachers.com Corner
Did you know?
Every class is INCLUDED for ultimate members!
No limits.
Looking to get more copywork into your curriculum? Everyday Copywork from SchoolhouseTeachers.com gives you almost 200 homeschool language arts worksheets, in print and cursive, to trace and copy, and covers a variety of themes like American History, Bible, and holidays. You'll even find some for winter like "Dust of Snow" (Frost), "Picture Books in Winter" (Stevenson), and "Stopping by Woods on a Snowy Evening" (Frost). Visit SchoolhouseTeachers.com today!
---
Here's a worthwhile read: "Healthy Living: 5 Ways to Keep Technology Our Servant." Click on the link to find it on the digital side of The Old Schoolhouse® Magazine.
---
Hey, Mama! Wouldn't you like to pause from your busy day and listen in to experts and homeschool parents like you about the beautiful world of homeschooling? This new podcast is designed for you. Each episode connects you to the best conversations that will give you courage and fill your cup so you can keep pouring into your family every single day. Introducing, The Hey Mama! Homeschool Show – brought to you by The Old Schoolhouse®—your trusted homeschool partner for over 20 years.
In seasons of discouragement or winter depression, turn to God as the provider of comfort and encouragement. Deborah Wuehler, homeschooling mother of eight and senior editor of The Old Schoolhouse® Magazine, hosts Episode 4 of the Hey, Mama! Homeschool Show: "Surviving Winter Depression." The Old Schoolhouse® Magazine publisher Gena Suarez adds a reminder: "Eyes up, Mama." Find even more encouragement for surviving winter depression in the show notes available on HomeschoolShow.com.
---
The Old Schoolhouse® Magazine is now available for FREE online! Click the graphic to read it cover to cover!
Download the free mobile apps at www.TOSApps.com.
Get the print issue here.
VIEW BACK ISSUES: Go here to access all back issues.
---

---
Congratulations to our December winner, Sarah Southard from Tecumseh, Michigan
Contest Corner
for the month of February
The Spirit of a Revolution, Boston: Liberty's Cradle
Note: The climax of this novel is the Boston Tea Party which celebrates its 250th anniversary later this year. The novel is full of factual information that can be used with related studies about this time in history.
Cam Molineux
https://cammolineux.com/
In our homeschool, we are doing a deep dive into American history. So, the novel The Spirit of a Revolution, Boston: Liberty's Cradle, by Cam Molineux, was perfect for exploring beyond the typically taught ideas. Focusing on William Molineux and the events preceding the Boston Tea Party, this novel takes the reader into the daily life of prominent Boston residents and the struggles they faced as the conflict between the colonies and Great Britain grew.
From the first chapter, the novel draws the reader into scenes of personal conflict and struggle. What should one do when faced with growing antagonism between a governing body and individual freedoms? The reader can sympathize with Mr. Molineux as he tries to best combat Parliament's tyrannical laws. Beginning with the summer of 1764 and moving through the Boston Tea Party, it is an easy read and flows well. We used it as a family read-aloud and often made notes to stop to look up more information on specific events.
As a homeschooling mother, I appreciated the author's ability to draw the reader into the story. As well-known as the Boston Tea Party is, much day-to-day information about this time was not found in a typical textbook. The author is also a descendant of the main character and incorporated that knowledge of her family.
The novel best kept the attention of my ten-and-older children. It was an excellent way to set the tone for a deep dive into American history.
---
Go to the contest page of our site where you can ENTER TO WIN the book The Spirit of a Revolution, Boston: Liberty's Cradle.
---
Freebies
The Homeschooling Primer: What Home Education Looks Like & How to Start
The Old Schoolhouse® has released a booklet to help you succeed in your homeschooling journey.
The Homeschooling Primer: What Home Education Looks Like & How to Start helps to answer the common questions associated with home education. See the numbers from stats and graphs that prove homeschooling is on the rise, helping students succeed in education and in life.
---
Free Coloring Page
Find more freebies at The Old Schoolhouse Homeschool Store: Freebies Archives – The Old Schoolhouse®
---
With the TOS Mobile App, search topics of interest spanning more than a decade, share articles, browse interactive content, and follow the links to hundreds of related resources. Each issue can also be downloaded and read offline.
---
Share this newsletter with a friend, and be sure to let those CONSIDERING homeschooling know about the enormous FREE info-pack which awaits them here: www.TryHomeschooling.com.
---
If you liked today's Homeschool Minute, please email the editors and tell us what part you liked most. It's a huge blessing to receive feedback!
Please add publisher@theoldschoolhouse.com to your email contacts so that our emails to you don't land in spam.