When You Need Help: Where to Find Support
August 9, 2023
Be sure to scroll to the bottom to enter the contest and see the freebies of the month!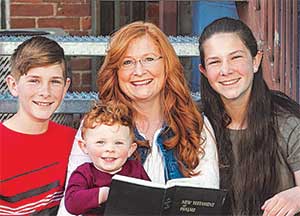 Mercy Every Minute
Deborah Wuehler, TOS Senior Editor
We Need Each Other
You would think I would have a handle on home education after thirty years. I know what each grade needs, I know how to keep records and create transcripts, and I have bookshelves that are bulging with all the educational things. But even with only one child left in my little school, I still find myself in need of the insight of others who have done this. I have never had a year where I didn't say, "I need help!" We all need help. Where do we find it?
Today, there is an overwhelming number of resources, helps, and opinions available. But the best help I have found has been through God's Word, time in prayer, and discussions with my spouse. Time with support group or co-op families, and time listening to podcasts has also been helpful. (Be sure to listen to our newest podcast as I share my thoughts on this topic at www.HomeschoolShow.com).
When others share the details of their curriculum, their schedules, and their struggles, it brings a sense of community and reinforcement for those seasons when you feel inadequate, overwhelmed, or discouraged.
There are many benefits for you and your children in being part of a local group that go beyond just "socialization." It just takes that first step of getting connected. I have been blessed to be part of some wonderful support groups, as well as had seasons of aloneness. I have learned and grown in each season.
Even with the best tools and support from others, I have sometimes felt alone because of heavy trials. Feelings of aloneness can suddenly overtake us whether real or imagined. Here is the good news: we are never, no never, left alone (Hebrews 13:5).
We can build each other up and bear one another's burdens while we homeschool our children. We need each other. We need the wisdom of God. If you have been doing this for a while, be the person others can come to for help as you keep God's children Home. Where They Belong.
"And the LORD, He is the One who goes before you. He will be with you, He will not leave you nor forsake you; do not fear nor be dismayed" (Deuteronomy 31:8).
~Deborah
More support from the pages of The Old Schoolhouse® Magazine:
Supporting My Wife's Choice to Homeschool by Todd Wilson
Homeschool Support Groups: Do You Need One? By Pamela Greer
When You Feel Alone (And You Will) by Deborah Wuehler
---
Try our Basic Therapy program and save 35% with code TOS this month. Join 300,000+ families who have trusted Lexercise to identify and treat dyslexia and other learning difficulties. Learn more at Lexercise.com.
---
Stacy Farrell
Where to Find Support (When You Need it Most)
Bust the Myth
Have you ever felt that asking for help was a sign of weakness? Or worse . . . that it signaled failure?
Quite the opposite is true. It takes strength, courage, and godly humility to recognize when you need help—and to ask for it.
Inevitably, when the need for help arises, Satan loves to whisper deceitful words of guilt and shame. Don't fall for those lies.
Seek First the Kingdom
The Bible says to "seek first the kingdom of God and his righteousness, and all these things will be added to you" (Matthew 6:33).
The phrase "all these things" is all-encompassing. Homeschool matters are no exception. When you need help, first and foremost, seek the Lord.
"God is our refuge and strength, a very present help in trouble" (Psalm 46:1).
Look to Your Husband
After seeking the Lord, seek the counsel and support of your husband. Our husbands can often provide a perspective that we simply cannot see in the moment.
If you, like some of my dearest friends, struggle because your husband is not engaged with your homeschool, pray. (No doubt, you already are praying, but please keep praying).
"The Lord holds the heart of the king in His hand" (Proverbs 21:1).
Follow in Godly Footsteps
Pray, also, for the Lord to lead you to a mentor. Although it can feel awkward to approach someone, a mentor relationship could be the answer to those tear-stained prayers you've been praying.
I was drawn to my mentor because she loved Jesus and had articulate, well-mannered teens.
Anyone can be a mentor, but be discerning. Look for someone further along in their homeschool journey—with fruit that you respect.
Join a Co-op—with Caution
Whether you're just starting to homeschool or are a veteran, look for local support groups such as homeschool co-ops. If possible, connect with fellow homeschoolers in your church.
Today's culture places much emphasis on socialization. However, beware. It's easy to get involved with so many homeschool groups, co-ops, and extracurriculars . . . that we're never home to homeschool!
Don't lose sight of your original goal: to lovingly nurture and equip your children.
His love,
Stacy 
FREEBIE: Need to Manage Your Time More Effectively?
As a veteran homeschool mom, I've learned a few things you can do to maximize your time and achieve your priorities. These strategies work because they're realistic—no "Super Mom" superpowers needed. Download for free here: https://homeschooladventure.com/op/5-time-management-strategies-for-homeschool-moms/
About the author
Surprised by Jesus, Stacy went from an unmarried, childless, thirty-something career woman to a Christ-following wife of more than twenty-eight years with two sons she homeschooled K-12. She battled fear and overwhelm, but survived and thrived. Author of more than fifteen books—including the award-winning Philosophy Adventure and newly released Food Prep Guide, she loves to equip and encourage homeschool families. Visit her at HomeschoolAdventure.com or at her newly-launched site: FoodPrepGuide.com.
---
Who knew writing could be so much fun? We give high schoolers and middle schoolers the tools they need to communicate effectively. https://clearwaterpress.com
---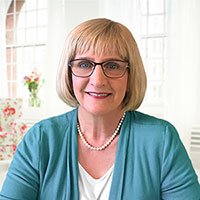 You Are Not Alone
Being a homeschooling parent can be both rewarding and challenging. It's natural to encounter moments when you need extra support. Remember, you are not alone! There are many resources available to assist you. Take a deep breath and know that assistance is within reach.
Local Homeschooling Groups and Co-ops: Connecting with fellow homeschooling parents in your area can be a great encouragement. These groups often organize regular meetups, workshops, and field trips, providing opportunities for networking, sharing ideas, and receiving guidance from experienced homeschoolers. Co-ops can provide opportunities for parents to pool their resources and expertise, offering specialized classes or shared teaching responsibilities.
Online Communities and Forums: The internet offers a vast array of resources and online communities specifically designed for homeschooling families. These platforms allow you to connect with like-minded parents, ask questions, and seek advice. Online forums, Facebook groups, and homeschooling websites can be excellent sources of support, irrespective of your financial background.
Curriculum Providers: Many organizations offer homeschooling curricula and resources that cater to various subjects and learning styles. These providers often have support networks, including online forums or customer support channels, where you can seek guidance on curriculum selection, lesson planning, and teaching strategies.
Local Libraries and Community Centers: Libraries and community centers often host homeschooling support groups, educational programs, and workshops for parents and children. Explore the offerings at your local library or community center, as they may have resources to assist you in your homeschooling journey.
Financial Assistance Programs: Financial constraints should not hinder your ability to provide a quality education for your children. Investigate local, state, and national programs that offer financial assistance, grants, or scholarships specifically tailored to homeschooling families. Non-profit organizations, homeschooling associations, and government initiatives may provide financial aid, curriculum subsidies, or access to educational resources.
Seeking support when needed is crucial for your success as a homeschooling parent. Remember, you are not alone in this journey. Embrace these opportunities for guidance, encouragement, and connections with fellow homeschooling families. Together, we can create a strong and supportive community that empowers our children's educational growth.
About the author
Lee Binz, The HomeScholar, is a speaker and author of more than 30 books about homeschooling high school. An expert on homeschool transcripts and getting scholarships, Lee's mission is to encourage and equip parents to homeschool through high school. Grab some of the complimentary homeschool resources from Lee and connect with her on Facebook and Instagram.
---
The best homeschooling online safety solution – Real-time filtering and prevention of inappropriate content, app/website blocking, screentime management, & more! Visit www.canopy.us for more info.
---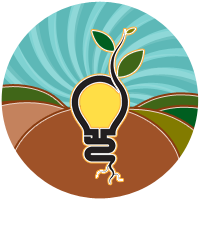 Pillar of Knowledge

Roger Smith
Lean on Me
Finding help is important! But real help comes with skin. Online resources and organizations are good. A friend to lean on makes all the difference. And that is what I mean by skin.
Every homeschooler needs to belong to a local support group, even if it is just two other families. Because homeschooling is widespread, everyone is near someone else who has homeschooled longer. Find them. Google it, Facebook it, Instagram it. Find your state organization (every state has one) and ask them to connect you to a real person in your area.
"It is not good for man to be alone," and that includes homeschool moms. We all need someone to listen to us, and to offer a different perspective, resource, or reason to continue or to change.
Help is closer than you think, no matter what the issue. We are better together, and life is more fun doing it with others. Find someone and invite them to meet at the park for PB&J sandwiches while the kids play. It could change your life, . . . and you may find a friend to lean on.
About the author
Dr. Roger Smith is a family doctor in rural Louisiana, where he and his wife, Jan, raised four adventurous children who are all grown, making their own mark in the world. He speaks and writes on parenting issues and produces brief videos that can be found on Facebook @ParentingMattersNow
---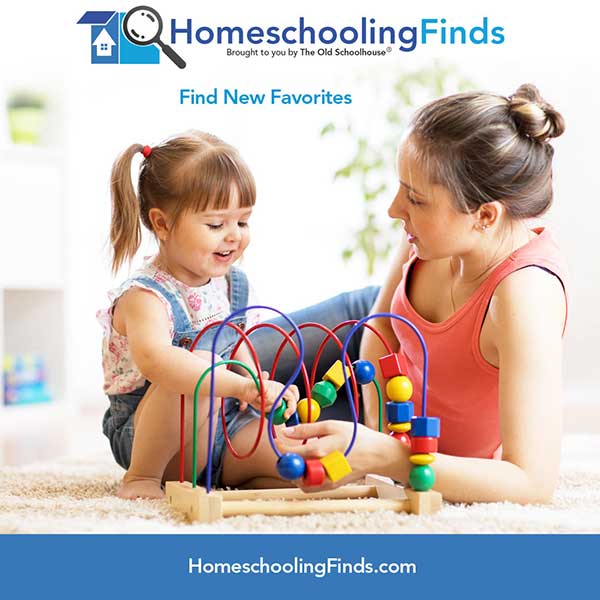 Find new favorites for your homeschool on HomeschoolingFinds.com, a new site brought to you by The Old Schoolhouse®. We're all homeschoolers here, and we love spreading the word about homeschool products we've discovered that may serve your family well.
---
Have you made your decision to homeschool your children but not sure how to get started? Join The Old Schoolhouse® family as we show you the resources you need to start off strong, along with encouragement from veteran homeschoolers who understand this part of the journey. We'll help you build a strong foundation so you have the confidence to homeschool successfully. Come with your questions on August 8–10 at 1–3 p.m. ET. RSVP here.
---
SchoolhouseTeachers.com Corner
Did you know?
Every class is INCLUDED for ultimate members!
No limits.
Stuck on how to teach writing to your learner? The Learning to Write with the Charlotte Mason Method course on SchoolhouseTeachers.com will cover the "why" of teaching writing, narration, copywork, dictation, living books, descriptive writing, expository writing, narrative writing, persuasive writing, imaginative writing, spelling, and grammar. Get confident with teaching writing and discover the possibilities of exploring these avenues of writing with your child.
---
Hey, Mama! Wouldn't you like to pause from your busy day and listen in to experts and homeschool parents like you about the beautiful world of homeschooling? This new podcast is designed for you. Each episode connects you to the best conversations that will give you courage and fill your cup so you can keep pouring into your family every single day. Introducing, the Hey, Mama! Homeschool Show—brought to you by The Old Schoolhouse®—your trusted homeschool partner for over twenty years.

Feeling alone or overwhelmed in homeschooling or motherhood? Here's your support! All moms will appreciate Episode 28 of the Hey, Mama! Homeschool Show as Deborah Wuehler points listeners in the right direction in "When You Need Help: Where to Find Support." Don't miss the show notes, overflowing with hope and resources, on HomeschoolShow.com.
---
How can you help other homeschool moms? Here's a worthwhile interview with a homeschool mom who shares the resources she uses to support others. She offers advice for newer homeschool parents too. (It's even better on TOSApps.com.)
---
Let this be the year that you teach your child using a curriculum rather than teaching a curriculum, hoping your child learns a thing or two. Be intentional with every child that you are homeschooling—and make it fun with SchoolhouseTeachers.com! Sign up during the Shark Event for $269.97/yr and receive an adorable tote bag mailed to your door—YOU choose the style and color from our selection. BONUS: Your tote comes stuffed with a back issue of The Old Schoolhouse® Magazine. (US only. While supplies last.)
---
Everything homeschool is in your hands with the TOS App from The Old Schoolhouse®. Access the current issue of The Old Schoolhouse® Magazine—plus more—any time, any place. Search and share articles from a decade of back issues. Content updated weekly. The TOS App is better than ever. See why: download today at Google Play or the Apple store. More for your homeschool at TOSApps.com.
---

---
Contest Corner
for the month of August
21st Century Triad Math
Triad Math Inc.
https://homeschoolertoday.com
Math can be extremely challenging, especially if you are a parent that struggled with math yourself. The online program 21st Century Triad Math taught by Dr. Craig Hane (aka Dr. Del) and his course Triad Math Inc. may be a solution to your math dilemma.
The courses are taught through tutorial videos, PDFs, notes, and exercises to print out. Answer keys are available for each online exercise. Each Tier also has a printed Notes and Exercise book if you prefer not to print out the notes and exercises yourself. Looking through the Dr. Del's Math: Tier 1 Notes and Exercises physical book we received, I see the same material as found in the online PDFs. A few of the online exercises had a slight variation from the book. The book is not a stand-alone workbook, and you will need the online lesson portions.
21st Century Triad Math is unique and unlike any math curriculum we have used. The aspect that makes this unique is that the lessons move at a faster pace. At the same time, Dr. Del breaks the lessons into steps to help master topics. Surprisingly, the fast pace does not diminish the learning aspect of it. Some topics are not covered as they are obsolete; Dr. Del felt the topics did not need to be covered. The whole delivery of teaching the topics is different than other programs. My son likes the way the program teaches the concepts. He is doing well in the course and wants to continue moving forward with it. I must admit that I am a bit old-school in my ways. The reality is my son is not old-school and more technically adapted to today's world. He plans on going into a career where he will need the skills that heavily rely on math and engineering. I want to give him the tools he needs to succeed in the future.
---
Go to the contest page of our site where you can ENTER TO WIN 1-year access to Tiers 1-3 of the online program 21st Century Triad Math, the Tier 1 and 2 books, and a bonus TI-30Xa calculator recommended for the course.
---
Freebies
Homeschool 101 Digital Supplement
In Homeschool 101, get a broad overview of homeschooling in general or enjoy reading articles from some of the best authors and homeschool companies that TOS continues to bring you. Buy and enjoy the Homeschooling 101 today!
---
Bible Study Tips
Click on the image for the full free printable pdf.
---
Share this newsletter with a friend, and be sure to let those CONSIDERING homeschooling know about the enormous FREE info-pack which awaits them here: www.TryHomeschooling.com.
---
If you liked today's Homeschool Minute, please email the editors and tell us what part you liked most. It's a huge blessing to receive feedback!
Please add publisher@theoldschoolhouse.com to your email contacts so that our emails to you don't land in spam.
DISCLAIMER: The Old Schoolhouse® and its staff do not necessarily endorse or agree with the articles, images, advertisements, or other content appearing in The Homeschool Minute, on any linked website, or otherwise. The views and opinions or other matters expressed in this newsletter are not necessarily those of the publishers, editors, staff, contractors, associates, or other affiliates of The Old Schoolhouse®