Should Preschoolers be Homeschooled?
August 23, 2023
Be sure to scroll to the bottom to enter the contest and see the freebies of the month!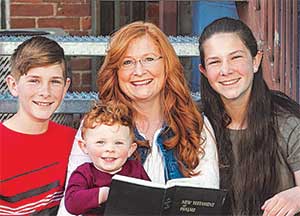 Mercy Every Minute
Deborah Wuehler, TOS Senior Editor
Homeschooled from Birth
I count homeschooling years from the birth of a child. Why? Because children start learning even before birth, and that just carries on as a natural lifestyle of learning in a homeschool family.
With a nurturing environment that promotes curiosity, allows for messy experiments, room for exploration, as well as having a parent with time and a listening ear, you will have what it takes for a preschool child to really thrive and love learning.
The phrase that preschoolers are like sponges isn't quite right. I think sponges don't really hold as much as a preschooler can. You will see this when you read aloud to your older students or study a subject together with your preschooler around. They will begin to understand amazing amounts of information just by listening and watching and participating in your learning environment.
Preschoolers are capable of memorizing Scripture and understanding the concept of sin. They can be taught the holiness of God, man's depravity and need for a Savior, as well as the redemption found through Jesus Christ. Don't limit them to "God is love" when you can discuss so much more.
Preschoolers learn obedience first (it is very difficult to homeschool a disobedient child!), cooperation, servanthood, sharing, Godly thinking, healthy habits, and so many other wonderful life lessons at this tender age.
They are learning to clean up and do simple chores (but might end up making a bigger mess). This can be a demanding age as they need our time and attention to "train them up" and to explain the "why" of everything, to play puzzles or card games or count bears with them, to teach them the form and sound of letters, or what words mean. But the time spent training them at this age goes a long way in helping them transition to more formal, independent learning later.
Don't be weary in well doing during these preschool years. Your efforts now will shape who your children will become. The LORD is with you in those sometimes very long days (but very short preschool years) as you nurture them at Home. Where They Belong.
"He shall feed his flock like a shepherd: he shall gather the lambs with his arm, and carry them in his bosom, and shall gently lead those that are with young" (Isaiah 40:11).
~Deborah
Favorite Preschool Resources:
Learning Activities: Busy Bags 101- and Lots of Busy Bag Ideas! and Busy Bags Kids Will Love: Make-Ahead Activity Kits for a Happy Preschooler and Stress-Free Parent
Reading and Math: Preschool Prep Company's resources
Full Preschool Curriculum: Christ Centered Publications
Bible: The Old Testament in Pictures for Little Eyes and The New Testament in Pictures for Little Eyes
Deborah talks about homeschooling preschoolers in this Homeschool Compass Podcast
From the pages of The Old Schoolhouse® Magazine, read: The Spiritual Instruction of Preschoolers
---
Homeschooling starts at conception. It is NEVER TOO EARLY to pass on the faith with academic excellence to your children. (Deuteronomy 6:6-9) www.christcenteredcurriculum.com
---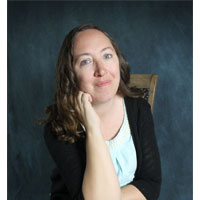 Heather Vogler
They Learn Through Play
Think back to your formative years—your education. What are your most memorable experiences that helped you fall in love with learning? Most likely you are not going to praise the history tests administered every Friday or that book report on a topic you were stuck with because your last name fell at the end of the alphabet–those kids never had much of a choice.
What do I remember? I remember learning about sustainability through a hands-on diorama I made after reading a book based on survival. Pioneer days stand out in my mind where we made corn husk dolls and homemade ice cream from scratch. Reading contests where the whole class was involved also stand out in my mind. We learn through doing, and it begins in preschool. Let's break down the word "preschool." School is the root word and pre is the prefix. Since pre means "before" we need to remember that preschool means "before school." Formal education has taken the term "preschool" to mean something completely different. When we hear that term, we think of classrooms painted in primary colors with letter charts, number charts, and sitting on the floor reading books and doing circle time. Sounds like school to me. Nothing "pre" about it. Let's remember that our preschoolers are still developing. We don't need to force education on them. If they are eager to learn to read, introduce them to books; if they aren't ready, enjoy pre-reading activities focused on colors and shapes. Focus on games that allow their eyes to track from left to right to prepare them for reading. Let your kids creep and crawl on the ground and play animal games to allow for the strengthening of visual pathways needed for reading and writing. Sitting a young child in a chair for hours on end at a young age can actually hinder the growth needed for him to be prepared for learning. Let him play!
About the author
Heather, her husband, and five kids homeschool and homestead in the Blue Ridge Mountains of Virginia. In addition to writing on her blog, Thrift Schooling (ThriftSchooling.com), Heather has been published in several publications including Focus on the Family Magazine, War Cry Magazine, and Brio Magazine. Heather holds a BA in Christian ministries and currently works in the marketing department of The Old Schoolhouse®.
---
Diane Heeney
This Lovely Season
Should we homeschool our preschooler?
This question is being answered in our home once again, after having been out of the loop for educating littles for some years. Our youngest child is a rising senior in high school this fall. I can hardly believe it! It seems like only yesterday I was teaching her how to hold a pencil and write her name.
I babysit our nearly 4-year-old grandson every day for our older daughter while she works. I told her I'd be willing to begin teaching him this fall, if she'd like me to. She happily agreed! I'll gratefully embrace the opportunity to vigilantly guard his innocence and preserve his love of learning, just as I did for our own kids.
Historically, I have not rushed "formal" schooling. Compulsory age in our state is 7 years old, and we usually try to luxuriate in the spontaneity of that lovely season of discovery and wonder. When my kids began to exhibit interest in learning more, I gladly accepted their invitation to teach them!
We learned plenty of things . . . colors, shapes, numbers, letters, manners, ordering, matching, measuring . . . and we played outside and checked out stacks and stacks of library books. Our grandson's book choices are already shaping the trajectory of our delight-directed learning style. Right now, his selections include trucks, cars, animals, and trains. He understands that letters make words, and he's curious about it. So, we'll begin reading earlier, most likely. He knows that the clock tells us when to do things. So, we can start learning how it works. He understands the basic idea of electricity . . . something like Snap Circuits will be a great fit for him!
Being with our little ones in these precious formative years affords us the privilege of observing their strengths and weaknesses, and nurturing their passions and gifts. Am I already tired, thinking about getting back in the saddle for homeschooling so soon? Maybe a little. Smiles. But the joy of having him safely home with us, learning that God loves him and has a perfect and beautiful plan for his life is priceless.
About the author
Diane Heeney is a graduate of Bob Jones University, where she served on the faculty for ten years. She has been Assistant to the Director of Advertising Sales at The Old Schoolhouse® Magazine since 2016. She's homeschooled her three children over the course of the past eighteen years, having graduated their two oldest. Diane, her husband Patrick, and their youngest child, Katie, reside in eastern Wyoming.
---
Pillar of Future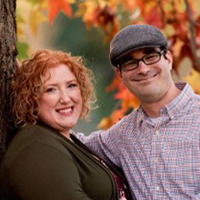 Adam and Dianne Riveiro
Homeschooling Preschoolers: Yes or No?
Should preschoolers be homeschooled? This question will have a different answer depending on who you ask. However, the beauty of homeschooling is you get to decide what's best for your family structure!
For example, if you are schooling a second and a fourth grader, you may need your preschooler to do some table work while your other children need your attention. On the other hand, if you're just starting with your first, you may find you have room for a much looser type of environment.
Here are some of my favorite quick tips for learning with preschoolers:
Get outside. Look at God's creation and talk about it together.
Have fun in the kitchen. Bake cookies together and work on basic math skills.
Play pretend. Nothing builds a strong imagination better than play.
Read out loud together every day. This is a wonderful way to build vocabulary and comprehension.
Have a theme of the week. Maybe all your learning that week revolves around the color red or the letter B.
So, should preschoolers be homeschooled? That is entirely up to you! Just find what works for you and don't compare your journey to anyone else's.
-Dianne
About the author
Pastor Adam and Dianne Riveiro live in Easton, Massachusetts, where Adam leads Liberty Baptist Church. They're the authors of several books, including Hope from Our Heart to Yours: A 30-Day Devotional Journey for Special Needs Families, available from their family's publishing label at www.readyscribepublications.com. They have four children: Bethany, Kaylee, AJ, and Peyton. They're passionate about helping their fellow special needs families find joy and contentment in Christ.
---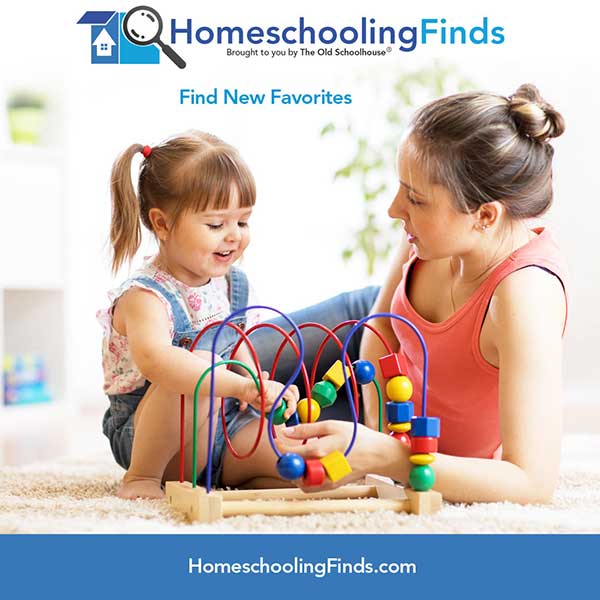 Find new favorites for your homeschool on HomeschoolingFinds.com, a new site brought to you by The Old Schoolhouse®. We're all homeschoolers here, and we love spreading the word about homeschool products we've discovered that may serve your family well.
---
SchoolhouseTeachers.com Corner
Did you know?
Every class is INCLUDED for ultimate members!
No limits.
Get your preschooler learning the alphabet in a fun way! On SchoolhouseTeachers.com, we've got just the thing that incorporates crafts, sensory activities, math, and sometimes even science, to help preschoolers learn their ABCs while also expanding their knowledge of the world through different professions. Try our ABC What Will I Be? course today!
---
Hey, Mama! Wouldn't you like to pause from your busy day and listen in to experts and homeschool parents like you about the beautiful world of homeschooling? This new podcast is designed for you. Each episode connects you to the best conversations that will give you courage and fill your cup so you can keep pouring into your family every single day. Introducing, the Hey, Mama! Homeschool Show—brought to you by The Old Schoolhouse®—your trusted homeschool partner for over twenty years.

Should Preschoolers be Homeschooled? Christine Weller says, "Yes!" She shares ideas for educational explorations to help you homeschool preschool. Moms of littles, don't miss out on the quick years with your preschoolers, and don't miss Episode 30 of the Hey, Mama! Homeschool Show. HomeschoolShow.com.
---
Homeschooling isn't only about academics. We're also covering important character traits like responsibility. Read this article for five simple lessons even the youngest of children can learn from. (It's even better on TOSApps.com.)
---
Have your 2023–24 curriculum secured with SchoolhouseTeachers.com. Sign up today ($269.97) and receive a stunning tote bag mailed to your door—YOU choose the style and color. BONUS: Your tote comes stuffed with a back issue of The Old Schoolhouse® Magazine. (US only. While supplies last.) Hurry, limited quantities are available!
---
Everything homeschool is in your hands with the TOS App from The Old Schoolhouse®. Access the current issue of The Old Schoolhouse® Magazine—plus more—any time, any place. Search and share articles from a decade of back issues. Content updated weekly. The TOS App is better than ever. See why: download today at Google Play or the Apple store. More for your homeschool at TOSApps.com.
---

---
Contest Corner
for the month of August
21st Century Triad Math
Triad Math Inc.
https://homeschoolertoday.com
Math can be extremely challenging, especially if you are a parent that struggled with math yourself. The online program 21st Century Triad Math taught by Dr. Craig Hane (aka Dr. Del) and his course Triad Math Inc. may be a solution to your math dilemma.
The courses are taught through tutorial videos, PDFs, notes, and exercises to print out. Answer keys are available for each online exercise. Each Tier also has a printed Notes and Exercise book if you prefer not to print out the notes and exercises yourself. Looking through the Dr. Del's Math: Tier 1 Notes and Exercises physical book we received, I see the same material as found in the online PDFs. A few of the online exercises had a slight variation from the book. The book is not a stand-alone workbook, and you will need the online lesson portions.
21st Century Triad Math is unique and unlike any math curriculum we have used. The aspect that makes this unique is that the lessons move at a faster pace. At the same time, Dr. Del breaks the lessons into steps to help master topics. Surprisingly, the fast pace does not diminish the learning aspect of it. Some topics are not covered as they are obsolete; Dr. Del felt the topics did not need to be covered. The whole delivery of teaching the topics is different than other programs. My son likes the way the program teaches the concepts. He is doing well in the course and wants to continue moving forward with it. I must admit that I am a bit old-school in my ways. The reality is my son is not old-school and more technically adapted to today's world. He plans on going into a career where he will need the skills that heavily rely on math and engineering. I want to give him the tools he needs to succeed in the future.
---
Go to the contest page of our site where you can ENTER TO WIN 1-year access to Tiers 1-3 of the online program 21st Century Triad Math, the Tier 1 and 2 books, and a bonus TI-30Xa calculator recommended for the course.
---
Freebies
Homeschool 101 Digital Supplement
In Homeschool 101, get a broad overview of homeschooling in general or enjoy reading articles from some of the best authors and homeschool companies that TOS continues to bring you. Buy and enjoy the Homeschooling 101 today!
---
Bible Study Tips
Click on the image for the full free printable pdf.
---
Share this newsletter with a friend, and be sure to let those CONSIDERING homeschooling know about the enormous FREE info-pack which awaits them here: www.TryHomeschooling.com.
---
If you liked today's Homeschool Minute, please email the editors and tell us what part you liked most. It's a huge blessing to receive feedback!
Please add publisher@theoldschoolhouse.com to your email contacts so that our emails to you don't land in spam.
DISCLAIMER: The Old Schoolhouse® and its staff do not necessarily endorse or agree with the articles, images, advertisements, or other content appearing in The Homeschool Minute, on any linked website, or otherwise. The views and opinions or other matters expressed in this newsletter are not necessarily those of the publishers, editors, staff, contractors, associates, or other affiliates of The Old Schoolhouse®