Summer Service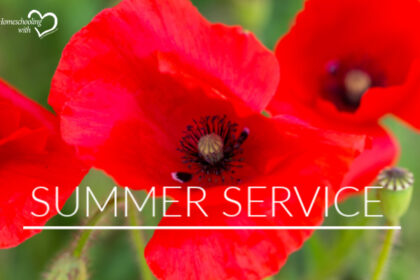 What is your blessing location? The place where you live is what we like to call our blessing location. Where has your family been placed in order to serve others? Sometimes we need to find fresh purpose in our living circumstances and in those around us. For our family, we have been placed in a large, mature subdivision in the rural Atlanta outskirts. We have neighbors of all races, ages, and seasons of life. We have neighbors with health crisis and neighbors that love to walk their dogs. We must realize we are all placed where we are for a greater purpose. What can we do about that?
My 9-year-old daughter has become close friends with a retired couple across the street. Her yard looks like an English rose garden, and I must say, I love opening my curtains each morning during this season to see her beautiful array. It began with a simple note shared by my daughter, a picture she colored for them. Now, a few times per week, she is over while Mrs. English Garden is doing yard work. Olivia has learned how to play chess, drink some fine lemonade, listen to audio books, and just be a good listening ear. This is teaching my daughter many things about being available for others. Their conversations have even moved toward God, and that is so exciting!
I've always lived in a subdivision setting, but this is the first location that I have encouraged my family toward a service attitude based on that. In the past, neighbors were just neighbors, without priorities in our own day-to-day agendas. The Lord really brought this group of houses to the forefront for us. 
I would like to share some tips to help your family also prioritize others in these roles around you. First, identify your neighbors. Who lives around you? Maybe that is an easy answer, just look out your windows! Maybe you are on some land and cannot visually see your neighbors. They could be the grocery store employees you see each week, or your coworkers. Next, pray about having a servant's heart. This is a tough one because of our culture, which leans toward busy schedules. It may mean setting aside some minutes to ask the Lord to provide opportunities. Lastly, ponder the ways you will begin to reach out. This is the fun part! The kids can get involved and make pictures, cards, baked items, etc. It turns out a couple of our neighbors are not into sugary items, so we have picked our wildflowers for them. The cool part is getting to know them over time, and finding out about their preferences. Showing your neighbors you care about them is the bridge in showing them what true love looks like. When we find out needs, and help to meet those needs, we are then able to share Jesus with them! So, this summer, plan one or two neighbors to get to know better and show them some love!
Hi! Laura here, enjoying writing, crafting, baking and outdoor time with my kiddos! Growing up in East TN, I am drawn to the mountains and anything with trees and woods. I am a novice gardener and enjoy experimenting with what will grow in our area. Speaking of, my little family of 4 currently lives right outside Atlanta, GA with our coonhound Dixie. My daughter Olivia (9 years old) and I have incorporated a side business into our school time, making kits for families to get back to hands-on craft time! I look forward to sharing some of our craft ideas and other creative thoughts with you!
Link to our Facebook page:
https://www.facebook.com/groups/133835950644792/
*This is a public group that should be available in the Facebook search bar when typing: Kit Crafts*