Tell A Story Day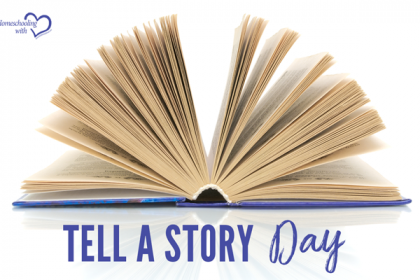 Do you recall the funny family stories told around the fireplace in your grandmother's living room, or the time you eavesdropped on your great uncles telling their childhood tales in lawn chairs out in the backyard? The art of telling a good story is not lost; we learned this great skill from listening to our elders explain experiences they went through, or reminiscing over their pasts. Telling stories are part of how we were raised.
Some of us have those relatives or family friends tell such good stories! The stories evoked emotions and in turn, our attention was immediately captured. This is what we hope to do for our children, especially in this technology-heavy and device-driven age, when the story-telling has been absorbed by apps, games, online books and the like. Yes, these tools are excellent for 21st century learning, but do any of them tell a story that gets the room laughing like Uncle Billy can?
April 27th is "Tell a Story Day." So, go ahead and give a good story to your little ones, maybe before bed tonight. Recall a fun time from when they were just born, or something humorous they did at the dinner table. Let's revive the skills of our elders and become the story tellers the new generation needs, in order to recall times of the past. Then they can pass down these stories to their children, and we have done our story-telling job.
Dr. Jeanette Moore is a certified educator in New York, Vermont, Connecticut and South Carolina. She is an established author and frequently contributes to magazines and lesson compilations, including The Old Schoolhouse Magazine, Spider Magazine, Highlights for Children, and the lesson guide for the National Fragile X Association. Jeanette has published math games for Nasco, including the P.E.M.D.A.S. Color Code. She also writes math and science books for Nomad Press, as well as workbooks for Carson Dellosa Publishing. Jeanette is a member of the International Dyslexia Association and the National Council of Teachers of Mathematics. She is the mother of little Maya Jillian.