Celebrate Cheese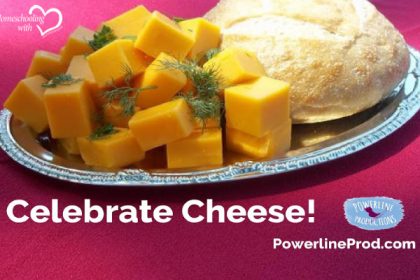 Did you know that June 4th is National Cheese Day? Folks all over the world are encouraged to eat cheese. So go ahead and eat macaroni and cheese, fondue, grilled cheese sandwiches, cheese soup, or cheese and crackers.
You can also turn National Cheese Day into a learning experience.
History of Cheese
We have records of ancient Romans, Greeks, and Egyptians making cheese. However, my guess is cheesemaking goes back to the early days of the world, after Adam and Eve left Eden.
During the Middle Ages, monks made cheese in the monasteries, ladies in the manor homes, and peasants in their huts. Charlemagne was a big fan of cheese.
Europe continues to have a great love of cheese. They are the biggest producers of cheese in the world, and you can enjoy a great variety if you visit Europe. Each nation has its specialties.
The United States is the second-biggest cheese producer in the world with Wisconsin being the biggest cheese producing state. Thomas Jefferson loved cheese and had his favorite French dish macaroni and cheese served regularly at Monticello. President Andrew Jackson served a 1,400 pound Cheddar cheese at a White House party.
Hands-On Cheese History Fun
Celebrate cheese history by making a colorful timeline of cheese with magazine or Internet photos! Research dates together. Here are some dates to get you started: Parmesan was already popular in the 1200s,there is a record of Henry II purchasing Cheddar cheese in 1170, and Camembert was first made in 1791. 
Of course, after you study the history of cheese, you have to eat it!
Cheese & Geography
Celebrate cheese geography by exploring some cheeses that got their names from the location where they were created.
Do you like Parmesan cheese on your spaghetti? Well, the original Parmigiano-Reggiano cheese is made in the Italian provinces of Parma, Reggio Emilia, Bologna, Modena, and Mantua. 
One day, a little shepherd boy left his bread and cheese lunch in a cave near Roquefort in Southern France to pursue a lovely shepherdess. When he found it several months later, it was quite moldy, but oh so delicious. Roquefort cheese is aged in caves in Roquefort-sur-Soulzon, France.
Franciscan friars near Monterey, California created a mild white cheese that was discovered and sold by David Jack, a wealthy land owner in Monterey.
In Colby, Wisconsin, cheesemaker Joseph Steinwand adapted his cheddar cheese making process to include cold water washing, which gave the cheese a milder flavor and was renamed Colby cheese.
Just north of Copenhagen, Denmark, Hanne Nielson lived on her family's farm, Havarthigaard. She created a cheese that would be known as the Danish equivalent of Switzerland's semi-hard cheeses. The result: Havarti named after the family farm.
Farmers in Cheddar, England aged their cheese in nearby caves and created a favorite for people all around the world, including British kings like Charles I, who bought up most of the cheddar cheese for his palace.
Gouda cheese, a mild yellow cheese from Gouda, wasn't created in Gouda, Netherlands, but was traded in the Gouda market.
Hands-On Cheese Geography Fun
Find all the places mentioned on a world map. Then dig a little deeper, and learn more about each place and the cheesemakers.
Hands-On Cheese Fun
Making cheese starts with raw milk from cows, goats, or sheep. The milk is mixed and treated with heat to kill any unneeded bacteria. An enzyme called Rennet is added along with good bacteria, which makes the milk coagulate, or look like pudding. Salt is added next, to give flavor. The cheese is then pressed, molded (to give it a shape), and aged. Cheese can be aged from one week to several years.
You can find a video on YouTube and make your own cheese at home. Now that's what I call celebrating!
Until next time, Happy Homeschooling,
Warmly,
Meredith Curtis
Meredith Curtis, homeschooling mom, writer, speaker, and publisher, loves to encourage families in their homeschooling adventure. She is the author of HIS Story of the 20th Century,  Travel God's World Geography curriculum, American History Cookbook, Let's Have Our Own Medieval Banquet, and Ancient History Timeline. You can check out her books, curricula, unit studies, and Bible studies at PowerlineProd.com. Free Reading Lists for all ages are available at JSHomeschooling.com. Read her blogs at MeredithCurtis.com and PowerlineProd.com.Listen to her podcast at Finish Well Radio.