Teaching Kids About Money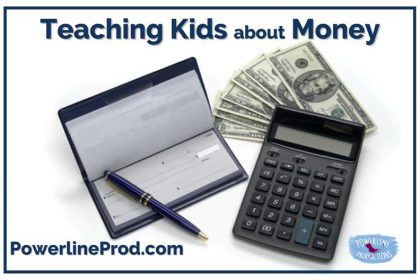 In teaching children about handling money God's way, more is caught than taught, so make sure you model what you are teaching. Be humble about mistakes.
Here are some practical ways to impart wisdom to your sons and daughters.
Stewardship
Everything, including our money and possessions, belongs to God because He made it and we are just His stewards. One day we will give Him an account.
When unexpected money arrives, do your children see you and your spouse pray and ask the Lord what He wants you to do with it? I tell my children, "All our money belongs to the Lord and we are accountable to Him, so we try to honor Christ every time we spend or give money."
Hard Work
We live in a culture that wants to play now and have someone else pay later, but God wants his people to work hard.
Work is fulfilling and children acquire their work ethic in their homes. Seeing Mom and Dad enjoy their work and having their own chores from a young age imparts a solid work ethic. I don't pay my children for their chores, but I do give them opportunities to earn extra money from the time they are little like editing a book, helping me clean out a closet, cleaning out the car, tidying the school totes, or washing my car. Yikes! Can you tell we struggle with the messies?
Tithing
When I was a little girl, I received $1.50 and I was required to give 50 cents in the offering plate each week at church. That lesson stuck with me and I was shocked as an adult that God only required ten percent. It didn't seem like very much. Mike and I have done the same with money our children earn. They give 10%, or more if they want to.
Saving
We are big savers and live debt-free. In fact, it makes me laugh to see all the little compartments my husband has in our savings budget: car repair, medical, future appliances, gifts, and 20 more categories! When our children want something, we give them the opportunity to do work for us so they can earn the money to save up. We encourage them to save lawn cutting and babysitting money after they tithe so they have money available when they need or want something.
Generosity
When Shine was a little girl, she would take something that belonged to us and wrap it up to give as a gift for Christmas or birthdays. We laugh about it, but it reminds me so much of how God gives us everything and when we give Him a gift, we are just giving back something to Him He already owns.
The Bible says that when we give to the poor, we lend to the Lord. (Proverbs 19:17)
Christmas and birthdays are the best way to start training children to be generous. It is human nature to want to keep things they like, not pick out something awesome for a sibling. I try to make it fun. "Let's pick out something special for Jimmy." Maybe after we shop, we go share an ice cream cone together so the day is a happy memory.
As children grow in making and giving gifts, we can teach them to give to the poor. I started sponsoring a Compassion girl in college and we have continued with Compassion. Our children have each had a season where they write the letters to our sponsored child. Another thing we do is donate to food drives and fill shoeboxes at Christmas.
Handling money God's way definitely goes against the grain, but in the long run, we honor Christ and we live lives that are far less stressful than those around us. God honors those who honor Him.
Here are some resources for you:
Financial Wisdom for Hard Times
Economics Explained so You Can Understand It
DG: The Secret to Success Podcast
Meredith Curtis, homeschooling mom, writer, speaker, and publisher, loves to encourage families in their homeschooling adventure. She is the author of Economics, Finances, and Business Course for high school and HIS Story of the 20th Century. You can check out her books, curricula, unit studies, and Bible studies at PowerlineProd.com . Free Reading Lists for all ages are available at JSHomeschooling.com. Read her blogs at MeredithCurtis.com (http://www.meredithcurtis.com/blog ) and PowerlineProd.com and listen to her at Finish Well Radio.