Here's One for the Books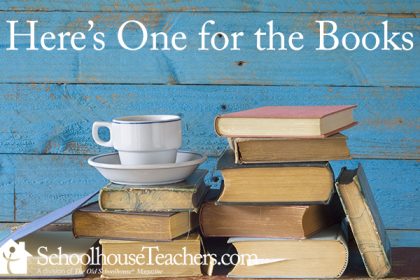 Do you want to hear something absolutely amazing? SchoolhouseTeachers.com now has a Literacy Center! There is no need to look elsewhere for a curriculum to help teach your child to read. Your membership now includes one. Our Literacy Center is designed to help you determine where to begin reading instruction with your child. You will find links, techniques, and/or strategies to guide your instruction. The Literacy Center covers pre-reading and reading from preschool to a second-grade level and reading comprehension through a fourth-grade level. Of course, grade levels are simply a suggestion. You will also find a wide assortment of free downloadable readers, suggested book lists, and more. Many of these downloadable readers have accompanying comprehension questions so you can gauge your child's level of understanding.
Tammie Bairen
Editor, SchoolhouseTeachers.com
A division of The Old Schoolhouse® Magazine
---
It's time for the annual The Old Schoolhouse® Excellence Awards, and we need your input! Please take a few minutes to vote in such categories as your favorite homeschool literature book, preferred online learning tool and best app. The Old Schoolhouse® will send you a FREE WannaBe series as a thank you just for taking the time to vote:
https://docs.google.com/forms/d/1le293Knqh6NPKgiDHf5LohyGAdaH9bgfty5dtnoWiUw/edit?usp=sharing_eid&ts=571aaae3
Be sure to vote by July 1, 2016.